VoIP caller: A simple feature with complex benefits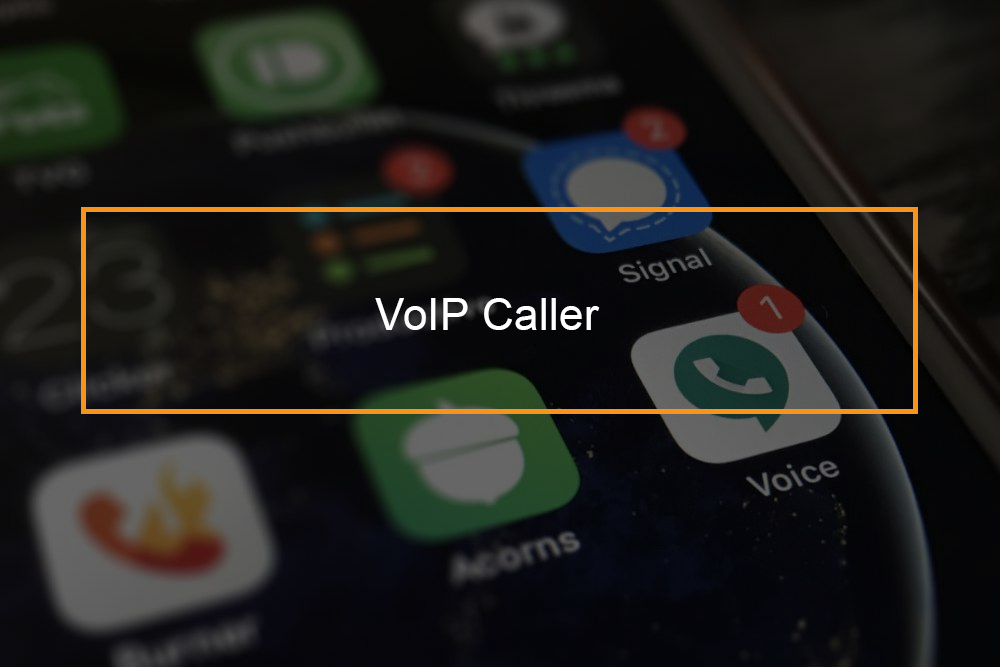 A VoIP caller enables you to avoid the trouble of contracting someone to do phone wiring via your business to connect your phone system. Instead, you can utilize cheap applications through the cloud. This indicates there is no hardware to install and no special phones that you need to use.
Besides, it is simple to add or remove users from wherever in the globe. When you increase your number of office staff or add remote employees, you can allow users to access a convenient web portal. It is excellent for a growing business and employees on the move. VoIP callers allow call transfers to be made to any person, any place, you can break via geographic growth barriers.
Connecting with prospective and existing customers through friendly phone calls has played a significant part in business growth and maintenance for many years. However, that does not mean that today's communication should be the same old. Whereas you may have initially thought of the phone resting on your desk, today's version of business telemarketing and customer communication is happening through Voice Over Internet Protocol (VoIP).
Voice over Internet Protocol offers the essential phone technology of traditional, only that it provides more additional features by using broadband internet connections instead of traditional manual dialers. Keep reading to learn more about VoIP caller.
---
What is VoIP caller used for?
Advantages of VoIP caller to a business
In case you are pondering why you should install a VoIP caller and not your traditional call system, it is essential to know that VoIP caller will impact your business in many ways.
You are accustomed to advanced features
VoIP caller allows you to keep and enhance your favorite familiar features such as call hold, transfer, conference calling, auto-attendant phone menus, find me call routing, and many more.
Moreover, the Voice over IP caller eliminates the need for frustrating features of traditional phones such as:
Intrusive reconfiguring

Expensive updates

Restricted flexibility

Time-consuming physical maintenance and repairs

VoIP caller helps you save cost
Deploying a VoIP caller enables you to save bundles of money on installation costs. Besides, its long-term use is also notably cheap. Using a VoIP service, you can call landlines or cell phones, though computer to computer. The automated procedure of a VoIP caller easily outperforms manual efforts.
VoIP callers enhance quality communications
Another beneficial feature of VoIP callers is that they mix the best of multiple communication methods. In addition to regular phone calls, you can select to incorporate other classic and current technologies such as voicemails, faxes, and emails. The virtual IP faxing of documents eliminates the need for traditional fax machines and restores it with easy document transfers via your email account and VoIP system. Leaving quality voicemails becomes fast and easy with just one click. Rather than repeating the same voicemail script over and over you can pre-record a polished, company-approved voicemail. Then you can initiate that text message and move on to the next call. This saves you time and reduces stress.
VoIP improves business productivity
Because VoIP callers are internet-based, it is easy to integrate your regular business software such as customer records, emails, lead lists, and follow up calendars into one system. With cloud-based calling, you can use high-speed internet-connected devices and get the freedom to customize how you do business. In case you want to open a new office on the other side of the state, the country, or the world you can place cheap calls, access localized phone numbers and increase or reduce your features as required.
VoIP caller makes a business grow with technology
Just as the internet advanced the possibilities and opportunities accessible to business owners over the last times, a VoIP caller will make a great impact on the way you do business today.
---
What does a VoIP phone number mean?
VoIP phone number definition
Voice over Internet Protocol technology supports a VoIP phone number. It is an innovative way of placing and receiving calls via the internet. They are sometimes known as a virtual phone number. VoIP phone number enables business phone system to offer features and benefits that are not accessible in traditional analog phone systems.
A VoIP number is a real phone number that is given to a subscriber, but not to a specific phone line. Most cloud-based VoIP phone service providers offer many types of VoIP numbers, especially catering to the business phone-related needs of small-time business enterprises.Such providers allow small businesses to set up a virtual call center and grow to reach both local and international customers.
Turn to a provider to get a VoIP number. A VoIP phone service provider assists you get a VoIP number when you sign up for a VoIP service program. Some programs are cheaper than a mobile phone or regular telephone service. Thus, you decrease your communication costs while accessing more features and functionalities.
How to get a VoIP phone service?
If you want to upgrade to VoIP phone service, there are some steps you have to take to configure phone service. First, you have to ensure you have a good internet connection. You will require to select the kind of VoIP subscription that suits your situation and needs, then choose a VoIP service. Then buy your VoIP equipment. After that, contact a provider to get a VoIP phone number and lastly, configure your VoIP system.
---
What is a VoIP phone number used for?
Advantages of VoIP phone
A VoIP phone system has several advantages that traditional phone service cannot provide. With such benefits, you will save, enjoy accessibility, discover flexibility, and most of all, calls will clear.
Area code choice
Unlike traditional phones, you can select an area code for your VoIP phone number that is not in the same state or town you work or stay. This feature enables an individual or business owner to place calls to an area code of their liking and not get charged for long-distance calls. This also indicates a business owner can assign themselves a local number to establish credibility.
Voice quality 
With a reliable and robust internet connection and high bandwidth, voice quality would be the same or close to the traditional analog phone connection. However, in rural regions with no stable internet connection, your conditions may suffer.
Accessibility
A VoIP phone system does not depend on distance or location to place calls. Its efficiencycomes from a stable internet connection. This makes communication possible across the country around the globe. Sign in to your broadband account from any device, and you are ready to communicate.
How to protect against VoIP fraud
Even though VoIP technology is easy and cheap to maintain, this modern-day business phone application is not immune to defrauding a user. The issue with these types of VoIP number frauds is hard in tracing the call. If you do not know to look for or expect from a VoIP scammer, you too may become a victim of VoIP fraud.
https://www.youtube.com/watch?v=I3K5SN33nRY&t=56s
---
VoIP phones vulnerabilities
Since VoIP become more popular around the globe, security issues and fraud keep on rising. VoIP phone systems, even though they are easy to use, have a share of vulnerabilities.
System vulnerabilities

Fraudulent schemes

Hacking attempts

Data-driven attacks
In case you are aware of the security landscape in which VoIP operates, you will not think that VoIP phones do not require security.
---
VoIP phishing
VoIP vishing VoIP phone scam. The fraud starts with the appearance of a real VoIP caller ID displayed with a valid phone number from an identified and trusted source.
Then the scammer tries to convince the unsuspecting person to disclose critical personal data and financial data. Frequently, the callers will prey on two key factors to gain the information they require an individual's fear and financial stability. You can trick a fraud victim easily since they tend to trust caller ID and telephone service.