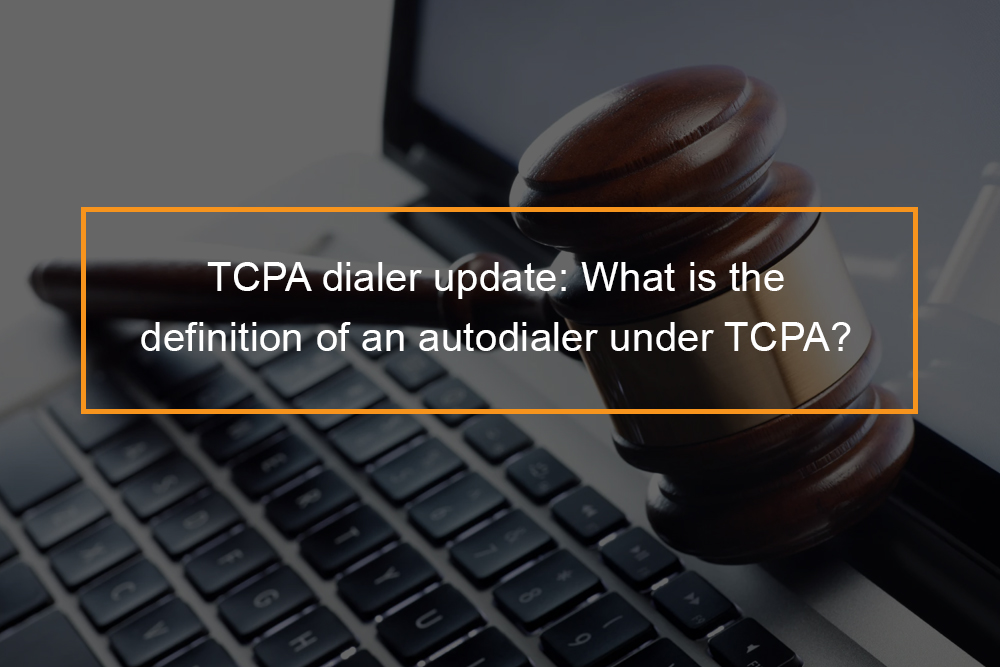 Under the TCPA, an autodialer is defined as any device with the capacity to store and produce telephone numbers that are random or sequentially generated. Any device with the capacity to dial stored phone number qualifies as an ATDS- automatic dialing system. In 2015 the DC circuit concluded that the Federal Communications Commission implemented an overly expansive view of TCPA definition. FCC defined a piece of equipment as an autodialer in case it has the potential capacity to dial random or sequential numbers in its 2015 declaratory ruling.
In the same year, the FCC chairman Pai considered the issue of ATDS definition as over-inclusive and overbroad. Chairman Pai then positioned that if a piece of equipment cannot store or produce telephone numbers, it could not be used in generating random or sequential numbers. Thus it does not meet the statutory definition. Pai believed that the statutory definition of autodialer was limited to the present equipment capacity, not to its potential capacity.
---
Telephone consumer protection act rules and regulations: What is an autodialer?
The definition of ATDS under the TCPA
Companies need to understand predictive dialers and autodialer definition. The expansive definition of autodialer has been a hot issue for organizations that mainly operate through calls and texts. Last year, D.C split the FCC ATDS definition in ACA intl v.FCC. This leads the courts to diverge in opinions regarding the interpretation of ATDS. We will look at relevant details of the court's decision in ACA International concerning autodialer definition.
Declaratory ruling and order on auto-dialers by Federal Communications Commission 
Concerning the separate views of what courts regard to be autodialer as defined by the Telephone Consumer Protections Act TCPA, below are some of the evolving interpretations. The Federal Communications Commission determined that the statutory definition of dialing equipment's capacity should be limited to the equipment's present capacity in its 2015 declaratory ruling and order. Nonetheless, rather, it should be viewed as a function of the equipment's possible functionalities. The challenge to the order by industry participants,made the D.C Circuit split the Federal Communications Commission's broad definition of ATDS.
What is the ninth circuit definition of an ATDS?
The Ninth Circuit declaratory ruling is relevant to a more expansive definition of an autodialer. The Ninth Circuit defines any device that can dial stored telephone numbers, whether or not a random or sequential number generator generated the number as an autodialer or automatic telephone dialing system ATDS.
The Ninth Circuit ruling contradicts the second and the third circuit ruling. In 2008, a California court held in light of aca international that the ATDS should be interpreted as it was before the 2015 order. This restricts ATDS to equipment with the present capacity to function as an autodialer. However, in September 2019, 2003, and 2008, predictive dialer rulings were held as defunct by the court of appeal. The court held that the TCPA's ATDS definitions need random or sequential number generation. After the ninth circuit ruling, the FCC began seeking comments from the public on ATDS definitions.
Organizations that use auto dialers are advised to be careful in interpreting the definition of an autodialer. While the ninth circuit's adoption of ATDS expansive definition matches with DC circuit, it still can change in the higher courts or may be expanded further in the future. You may be surprised to realize that your call center software dialing feature falls under what FCCs interpretation defines as an autodialer under the TCPA regulations. Thus, your company could be charged with illegal robocalls without you even realizing it.
---
Does your dialer help you achieve TCPA compliance?
How does TCPA dialer work for call center?
TCPA dialer is a vital tool of contact. A contact center needs to take control of TCPA compliance. And to do so, a company uses human intervention, intelligent technology, and risk management. Whereas it is essential to stay compliant, you will also be required to maintain your contact center's efficiency and productivity. Typically most cloud TCPA compliance solutions are either cumbersome, limiting output, slowing productivity, or so they do not reliably facilitate compliance.
---
The Telephone Consumer Protect Act of 1991 explained
What is TCPA rules and regulations?
The Telephone Consumer Protection Act (TCPA) is a federal ruling signed into law to manage the growing trend of unwanted telemarketing calls to clients. Telephone Consumer Protection Act was signed in 1991 and aimed to curb unwanted solicitations and illegal robocalls, specifically telemarketing, with the adoption of automated dialers and automated phone equipment. TCPA limits the use of voice messages, robocalls, SMS, and fax by advertisers and marketers, mainly to sell goods and services. Changes have been made to the act since 1991, which includes the creation of TCPA safe harbor and reassigned telephone number databases by FCC. The TCPA rules and regulations emphasize that without explicit consumer consent, an organization must strictly follow prescribed solicitation rules and regulations for contact center compliance. Customer consent is the fundamental part of the law, and each business that directly communicates with clients should focus on it.
---
Is auto dialer illegal? TCPA autodialer restrictions
Autodialers are not unlawful, but TCPA prohibits contact with consumers before they express consent. This applies to robocalls, faxes, text messages, telemarketing faxes, and prerecorded calls. Your business should be familiar with the following when it comes to TCPA compliance:
There are still instances where the telephone service organization automatically dials calls or where a dialer sends text messages to wireless phones even when there is no customer consent and is not considered illegal. Such a situation is only relevant to alerts and notifications about possible fraud, white collar criminals, and important reminders such as medication refills. Even though companies still have to provide consumers an alternative to opt-out notifications.

Phone service organizations can provide blocking to clients.

Consent does not survive when the telephone number is reassigned. You may still violate the law if the number dialed is allocated or a wrong number.

A customer can nullify consent at any time in a reasonable way. It also shows that your company has to provide consumers with a reasonable way to opt-out of their approval.

Organizations that use preview dialers may still be held accountable if their contact center can make automated calls, and their customer's consent is not established.

No phone calls deploying auto dialer or prerecorded or artificial voice may be made to food and drug service, healthcare facility, hospital, any emergency line medical physician, fire protection, or poison control agency.
---
How to tell if a call was made with predictive dialers?
It can be hard to tell when an autodialer has been used. However, the Federal Communication Commission defines an automated telephone dialing system to incorporate predictive dialers software. Most systems utilized by telemarketing organizations will autodial many telephone numbers at one time. They will result in a live person to come to the line immediately when the call is answered. In that case, there will be a delay and maybe a clicking sound after you receive it. In a situation where a live person answers, the predictive dialer will have possibly dialed you. Nonetheless, although there is no click or delay, the phone call might still be illegal. If you receive a type of telemarketing call that you feel was aimed for a large group of people, then the application that was used to call you was an automated telephone system. It is worth noting that prerecorded messages or some artificial voice is utilized to call your landline phone; the call is illegal., in spite of the software that was used to dial your number.
---
Does the national do not call registry work?
What is the national do not call registry ?
The national do not call (DNC) registry concerns to a list of registry of phone numbers from customers who communicated their desire to restrict the number of solicitation and telemarketing calls they receive.  DNC registration is free for customers and is viable for both home and mobile phone numbers. DNC compliance and meeting the needs of the federal is a fundamental part of telemarketing. The Federal Trade Commission FTC controls the registry, the nation's consumer protection agency. The registry is enforced by the FCC, FTC, and state officials. The registry subscribers who still get unwanted calls when their number is already registered for 31 days can report the situation to FTC. TSR covers any plan, program, or campaign to sell goods and services through interstate telephone calls. This incorporates calls from telemarketers who solicit consumers, often on behalf of third party sellers. It also incorporates sellers who offer, or plan to provide goods or services to clients in return for some payment as part of a telemarketing transaction. The National Do Not Call Registry also covers intrastate telemarketing calls under the Federal Communication Commission rules.
---
Things call centers need to do to be TCPA complaint
Best practices for call centers to be TCPA compliant and reach out customers
For a call center to be TCPA compliant is all about securing consumer consent. It shows constant vigilance when it comes to the integrity of your customer contact information list. Call centers should be informed in case their customers have been reassigned, merely wrong numbers, or have been ported. Checking and verifying information can be tedious, but not doing so can sacrifice the productivity and efficiency of your contact center. Fortunately, even though the advantages of safe dial solutions, your organizations can get a TCPA dialer that is built with compliance supporting tools. This will allow your company to strike a balance between controlling and directing contact center compliance while enhancing productivity.