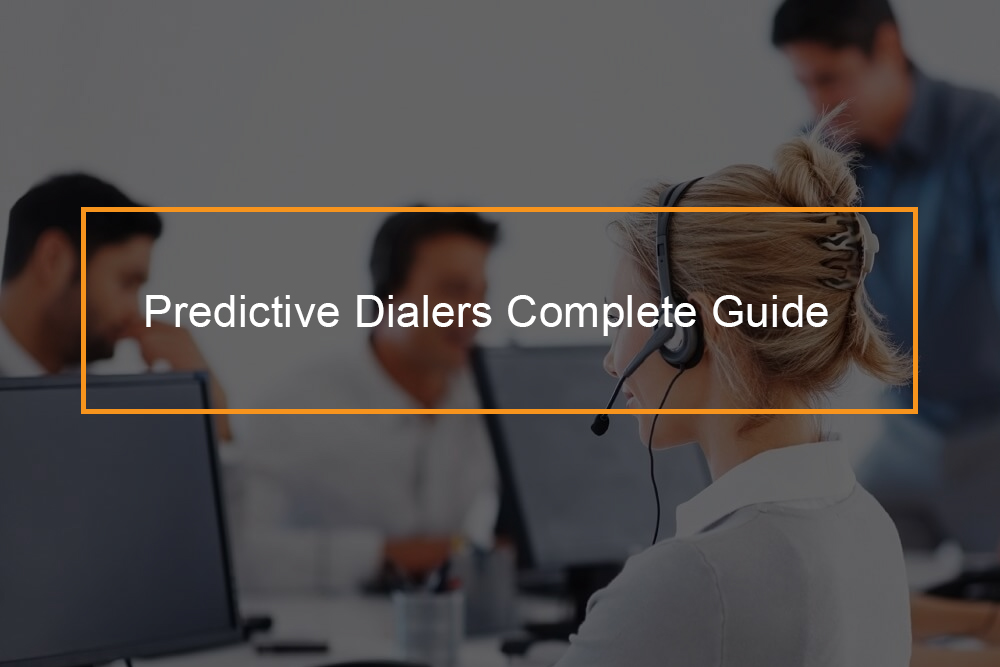 A predictive dialer is a type of automated dialer that increases agent efficiency by placing phone calls even before the agents are available. It is designed to offer more productive talk time to call center agents.
Outbound call center agents can use a predictive dialer software to enhance productivity with an autodialer system that recognizes clients who are available for conversations. With a predictive dialer software, agents will not waste time on busy lines, unresponsive numbers, or voicemail.
Predictive dialers have been in the market for around thirty years and were mainly used in the banking industry for debt collection. Read through to find out how to reap improved productivity for your call center from predictive dialing solutions.
---
How predictive dialer software work for businesses?
Let's look at the factors that influence how predictive dialer solutions work for the company.
Call center size and calling campaigns
Typically predictive dialers are more effective in large calling campaigns. Large calling campaigns have more room for the prediction algorithm to be improved and bigger statistical data to learn from, thus resulting in increased productivity.
Pacing algorithm
The effectivity of the predictive dialer software depends on its capacity to attain a balance between the number of outbound calls placed and free agents. To understand the pacing algorithm, better think of it as a mathematical formula that recognizes the amount of calls that should be placed on when the call center agents are available.
The agents awareness
The business time zone is everything in predictive dialing. Thus, the dialing software requires significant agent call details and agent data, for example, the average call duration and the number of live and idle agents.
Abandoned call rate
Whereas it is significant for predictive dialing software to be trucent in dialing numbers, it should also be precise. In case it takes long before a potential customer is connected to a live agent, the agent might start to hear busy signals and abandon the call. Therefore, call center managers should implement calling campaigns to reduce the number of abandoned calls, increase the dialing rate, and cut back idle time among agents.
---
Predictive dialer call center software implementation
A cloud-based predictive dialer automates the dialing procedure, using analytics and reports to amplify the number of calls and enhance outbound call center efficiency. However, to maximize predictive dialer usage, your company should exceed the minimum required number of contact center agents, or you might experience prediction failures.
Predictive dialers aids increase the efforts of every sales team or sales rep in a center setting. However, it is even more beneficial to companies and projects that prioritize volume. Examples include public awareness, debt collection, political canvassing, and fundraising.
---
What advantages to autodialers offer?
Benefits of predictive dialing solution
Predictive dialers are popular for resulting in increased productivity. One study showed that predictive dialers could improve agent productivity by 200-300 percent. With the rise of inside sales team teams, businesses need to be empowered with predictive dialers. Below are some of the advantages of predictive dialing solution. 
Predictive dialer increases call center efficiency
With predictive dialers, agents spend time speaking with people instead of waiting for calls to connect. By doing this, it reduces idle time, and aids businesses achieve more with cloudbased call center solution. Typically with predictive dialing mode, agents do not spend time on manual calls, ringing, or waiting tones. They are connected with live calls only. After the conversation is over, the system routes the agent to the next subscriber.
Increases inbound and outbound call rate
Predictive dialing mode recognizes and skips fake numbers, busy signals, and answering machines, ensuring agents spend most of their time productively. 
Increased productivity 
As efficiency grows, so does business productivity. However, some businesses may experience higher productivity gains than others. Businesses with blended call campaigns (inbound and outbound calling, for example, often witness greater productivity than companies with only inbound calling efforts. Predictive dialers also improve quality assurance, with closed feedback loops from readily accessible automated call recordings.
Data quality
Predictive dialers can improve data quality through call recording and recording customer data. The best part is data helps agents and call centers understand customers, analyze calling campaigns, and enhance business goals and strategies.
Predictive dialing reduces downtime
The only way to stop the call flow is to pause it manually. Thus, agents not only manage more calls in a day but also stay focused during the shift and eventually close more deals.
A predictive dialer can help you make stronger connections
With automated dialers and blending in the background driving the way to increased productivity and live prospects, thus stronger connections.
Predictive dialer saves call centers money and labor cost
Maximizing the efficiency of existing employees negates the need to hire extra people to work with the same outbound call volume.
---
What to look for when buying a predictive dialer software?
The best predictive dialing software is a combination of reliability, versatility, and reliability. When purchasing this dialer for long-term use, you should spell out the needs of your business and select the solution that will fulfill them. Also, make sure that the predictive dialer integrates well with your business phone system.
The most useful features for your outbound call center include:
Built-in CRM

Appointment scheduling and call recordings

Local caller ID

Click to call

Campaign management system

Real-time call monitoring

DNC management

Call management

Historical reporting

API and Webhooks

DTA import and synchronization
Some of the best providers of predictive dialers in 2019 include vvc lives, dialerAI, KooKoo CloudAgent, Adversus dialer, and Newsfies dialer.
---
What is the difference between the predictive and progressive dialer?
Predictive dialers vs. progressive dialers
Progressive and predictive dialers are the most popular automatic dialer systems used by businesses. Both have their advantages and disadvantages. But which one is more ideal for your business. To understand the difference, let's look at the following features:
When it comes to outbound calling predictive dialer dials numbers even before an agent is available while progressive dialer dials numbers only when an agent becomes available.
A predictive dialer places multiple calls for every available agent while progressive dialer places a call for each available agent.
A predictive dialer uses a pacing algorithm to recognize the availability of agents, while progressive dialer does not use an algorithm because dialing is done in real-time.
Note that based on your individual marketing needs, your contact center can switch between these two different outbound dialers, instead of getting intelligent call center software, which offers comprehensive contact center solutions. That is the reason; you will not have to look elsewhere for different dialing modes.
---
What is the cost of a predictive dialer?
A predictive dialer is not expensive. Most outbound call centers can afford it if they pick the right provider.
Call center dialers are available as both hosted solutions and on-premises. When you choose to install it on your PC and have it managed by your in-house IT team, an on-premise solution can take up a lot of your resources. After all, you will be the one responsible for upgrade and maintenance costs.
A standalone predictive dialer can cost around $5,0000 for a system that can accommodate only a small number of agents. A large call center can spend a few hundred more dollars. That does not include maintenance and installation costs that could take up a significant portion of your budget. 
To learn more about call center efficiency, you can read blogs and get information from predictive dialers providers to learn how you can economize while boosting call center performance with software that includes multiple dialing modes, preview dialers, and progressive.
---
How effective is hosted predictive dialer?
Predictive dialers started as hardware solutions, but for current, omnichannel contact centers, it is hard to ignore the advantages that come with hosted dialers. These include decreased upfront capital expenses and IT costs and more time spent talking to clients.
Predictive dialer tools for increased productivity. Apart from call recording, call routing, automatic call distribution, and call transfer the best hosted predictive dialer software provides call centers with the following functionalities:
Answering machine detection: enables agents to leave a message and move on to other clients.

Time zone awareness: Delays calls until optimum answer times.

Voice broadcast- conveys essential messages to multiple customers simultaneously

Local presence caller ID- to improve answer rate

CRM integration- allows seamless lead generation.
---
What are the different types of call center auto dialers?
Manual dialers
Manual dialers may appear to be outdated; however, they are considered necessary in today's call center. They are particularly essential in industries with regulations oversight. Manually dialing dialers combine machines and humans, enabling the machines to do the heavy lifting of calling numbers that depend on human input about whether to complete abandon calls.
Autodialers
An autodialer is a comprehensive solution offering businesses the ability to improve inbound and outbound communication efforts. This technology often integrates with interactive voice response and other cloud based call center components.
Predictive dialers
As discussed in the previous section, predictive dialers dials customers, assign connected calls to appropriate agents. Based on the average call duration of an agent, a predictive dialer starts dialing multiple numbers at once, even before the agent ends the previous call. This capability reduces downtime, maximizes agent productivity, and reduces worries of idle time, answering machines and time zone navigation. From a proactive customer service call center to outbound sales teams, market research, telemarketing and debt collection teams, contact centers that use cloudbased predictive dialers can increase their connection rates.
Inbound outbound blended call centers
Blended call centers use various autodialer technologies to facilitate inbound and outbound calls in a mix that boosts agent productivity.
Power dialer
A power dialer is an automatic dialing system that connects customers with agents more effectively by allowing agents to focus on live connections rather than manual dialing. A power dialer differs from a progressive dialer or predictive dialer in that it uses manually configured calls to agent ratio. The system gives a call center ultimate control calls by automatically dialing the next contacts when an agent is not available.