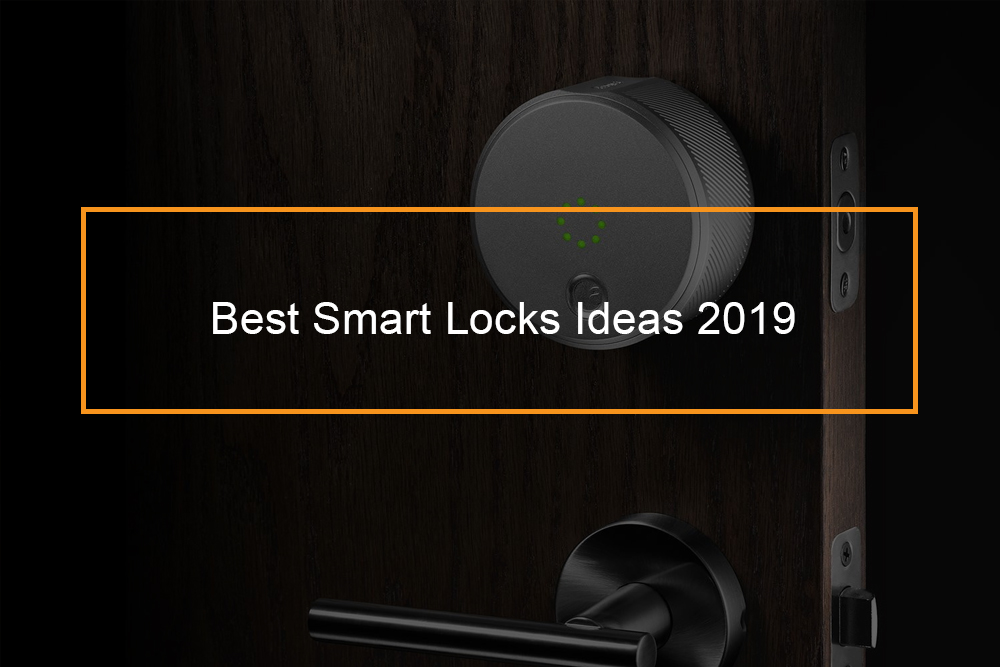 Smart locks are really becoming popular-the appeal of not worrying about keys is becoming actually resonate with homeworkers. However, unlike other aspects of connected smart home technology there is so much to consider with smart locks than you might think.
---
How does a smart lock work?
Smart locks-how digital door locks works
We are well ventured in the digital world where from your refrigerator to your car is connected to the internet.The most popular smart technology today is smart locks. Various deadbolts have popped up in the market.
But why do you need to upgrade from your regular lock. Afterall, the lock on your door serves its purpose. But consider these, how many times have you lost or misplaced keys? How many times do you drag yourself  not feeling like answering the door? Smart locks will fix these problems for you as you can control a lock with a phone from the comfort of wherever you are.
However, not all smart locks are the same. Here are a few factors to consider before purchasing a smart lock.
Is your door compatible with the smart lock you want to purchase?
Smart door locks are designed to enable your deadbolt automatically lock and unlock , although not every single door will work well with all smart locks. Ensure that the smart lock which you buy you can operate it in an easy motion without any difficulty.
A door which you need to push or pull on so that you can open or lock well may not be compatible with a smart lock. This is because with smart lock you will not always be there to push and pull when unlocking itself.
Do you want to replace your deadbolt or upgrade it by adding  a smart lock?
You should know that not every smart lock functions as a deadbolt-however most smart locks do. However, some smart locks such as August smart lock, generally attach onto your existing deadbolt and do the manual locking and unlocking for you.
These types of smart locks are easy to install but it is important to make sure they are compatible with your door before you purchase.
Decide if your want your smart lock to connect to the internet or your phone?
Most of the smart locks connect to your phone and other home devices. However, you should first check the smart lock before you purchase. The most popular is Bluetooth. The best part about Bluetooth connection smart locks is that it does not use much power, compared to Wi-Fi. This is an important factor to consider as smart locks will be battery powered. 
A downside of Bluetooth connection locks, possibly a factor which you should consider before buying the lock is that, they only work within a certain range. That means if you are not near your lock you will not be able to unlock. If not bluetooth you can opt for standard Z-wave, a smart lock which requires a separate hub in order to be able to control the lock from your smartphone.
Apart from the two connection is Wi-Fi, which is usually available as an optional add-on-like on the August Smart Lock. In this case, you will have to purchase a  separate component that connects to a power-outlet. The outlet should bridge the connection between the locks Bluetooth and your Wi-Fi. The main reason why you should consider this option is that you can control the lock from any point as long as you have Wi-Fi. You do not have to be within your compound to unlock the door.
Before buying a smart lock know how you want to unlock the lock so that you get the best
There are different types of smart locks, some have traditional keyhole, while others are keyless, it is important to decide the type that you need so that it is worth the investment. Some smart locks are more modern where you can install a PIN code to unlock them.
Consider the reason why you are upgrading your door lock to smart lock before buying
Before shopping for smart lock, it is important to know just why you need the smart lock. Remember that some locks still use traditional deadbolts, such a smart lock may disappoint you if you are a smart lock to secure your home. 
---
Which is the best smart lock?
Five best smart locks 2019
One area of smart technology which actually flourishes is smart security, an in particular smart locks. Smart locks have really advanced over time both in technology and design.
The most popular locks on the market today are not only effective but also add a touch of design, modernisation and class to your home.
There are actually a wide variety of smart locks to consider. From touchscreen to those smart locks which you do not know there is a lock from outside. All you have to do is find the right one.
Best smart locks in the market in 2019
Buy the august smart lock pro
August smart lock is one of the best smart locks in the market, which you will never know it is there by looking from the outside. The lock attaches from the existing deadbolt and looks exactly the same on the exterior while the lock rests in the inside.
The bulb offers simple app with Apple's HomeKit, Nest and IFTTT integration which you can use to check whether the door is closed and locked. The best part is if you are approaching the house the device will automatically unlock, granting you easy access without a key. In addition you can send keyless codes to visitors or anyone who is visiting your resident in regular basis and track who is coming to your house.
To unlock the full potential of the August smart lock pro you will need a Wi-Fi bridge  and a Connect device-they are usually included during purchase of the lock.
Upgrade your door lock with Kwikset kevo smart lock
There is no key required with this screen touch kwikset kevo smart lock. You can create a log in codes for your family. This bulb adds look to your door and secures you.
Basically, the lock has a patented Kwikset safety feature known as SecureScreen that generally prevents someone from seeing where you have touched the screen to input your code. Provided you have the right accompanying smartphone, all you need to do is touch the deadbolt-replacement lock to unlock the smart lock.
Smarten up your home door with schlage sense smart lock
Schlage bulb is popular in the market as it is easy to install, has great compatibility and slightly bulky. The best part about this bulb is that you can unlock your doors straight from the app, or just entering codes on the keypad. Even better there is a deadbolt on the inside section of the lock for when you want to lock the door from inside your home.
Thanks to the smart lock HomeKit integration and the ability to build guest entrance codes, the sense is great for the iPhone user on the go. Moreover, you can use the app to create and delete codes, which makes convenient if you have to generate codes for visitors. 
Although to use this feature, you have to access Wi-Fi or the locks built-in Bluetooth. The smart lock supports google assistant and Amazon Alexa, which empowers you to use your voice to unlock and lock the device.
Buy Yale living smart lock bulb to smarten and secure your home
Yale smart bulb is easy to install and connect to the internet. You do not need a key to access your house rather you use a code.
One unique feature with yale living smart lock is Yale logo which allows you to lock your door just by pressing it. To open your door, you can press the logo and then follow a few steps then the door will be unlocked. The best part is that you can set the time to lock the door.
The lock comes with Z-Wave and Zigbee connectivity making it ideal for those who want to lock other smart home devices. This bulb can easily fit your style as you can find it in Satin Nickel, Oil Rubbed Bronze and polished Brass.
Dive in smart locks technology without straining your pocket with Lockitron bolt
This is one of the most inexpensive smart locks on this list. Lockitorn bolt smart lock only connects via Bluetooth. It will cost you about $99.
---
What is the most secure smart lock?
Best smart lock for door security 2019
There are various smart lock bulbs in the market. However, not all of them manage to keep your home safe.
Below is a list of locks which have features for home security to guide you in your shopping. Some of the locks have been discussed above.
Secure your home with best smart lock with camera-2ng Gen August. This lock has been discussed above

Secure your home with kwikset kevo smart lock- This lock has a share of its own disadvantages but it is worth the investment for home security.  The system comes with a physical key for those members of the house who are not particularly tech-savvy. Check details above.

Buy Yale touchscreen deadbolt smart lock to secure your home. The unique thing about this smart lock is that if you do not have access to the internet you can still use the traditional key to unlock the door. In addition it has a privacy mode for locking people out when you need some time alone.

Consider securing your home with the best affordable door smart lock-Sohomill YL 99. This lock is easy to install and durable, it is also very affordable.

Samsung SHS P18- best smart lock 2019 -Despite being expensive Samsung SHS P18 will provide you a choice to giving a lot of people access without compromising on security and you still remain as the controller.
---
What smart locks are compatible with a ring?
Ring app compatibility with smart locks system
The ring app is compatible with smart lock systems from kevo, LockState, Kisi and Lockitron.
All you need is to receive a call from your Ring doorbell, then an option to launch the smart lock app from Ring app will pop up. It will then remotely unlock the door for your visitor.
See the steps below on how to use:
Step 1: Make sure your Android or iOS device has both the Ring App and the lockstate, Kisi or Lockitron app installed. All the devices must be on the same Wi-Fi network.
Step 2: When you get an active call from your Ring doorbell, tap the menu button 
Step 3: Tap the icon for your smart lock system ,you will be taken to the app so that you open the door for your guest (In some cases you will have to swipe right or justify instead of tapping icon)
Step 4: Return to the ring app once you have finished unlocking the door.
---
Can a smart lock be hacked?
Hacking smart locks
First thing first, smart locks can be hacked! Well that i8s bad news. That means that smart locks are not really smart enough. 
The worst part is that there are even bluetooth hacking devices which are available in stores.  Such as ubertooth one, Bluetooth smart USB dongle, Raspberry Pi, High gain directional antenna. In case , the smart lock is a proprietary encryption, the cyber attacks exploit the change of the byte so as to put the smart lock in an error state, which will lead to unlocking the lock.
Common reasons why locks can be hackable
If they have a n added backdoor into the lock by a visitor this makes a smart door easily compromised.

If your smart lock has a master API admin code which is hard in the lock then it can be easily hacked.

Replay attacks expose your smart locks  to hacking

A smart lock which is vulnerable to fuzzing can easily be compromised

Device spoofing and brute forcing also make a smart door hackable
Features that you can use to make your locks code unhackable
No smart home devices are perfect in practicality. For a smart lock it entirely depends on the security which you are willing to trade off for the convenience of controlling the lock remotely.
Cases of hacking have been reported, but they have not outweighed the benefits of smart locks. Furthermore, amart locks are more secure compared to traditional locks. The following features will increase your smart locks security.
Have long passwords so that hackers can find it difficult to hack your smart lock

Remember that hard coded passwords make it easy for smart locks to be compromised

Ensure you have 2 factor authentication to lessen cases of smart lock hacks

Ensure you have proper AES encryption feature to reduce chances of smart locks hack