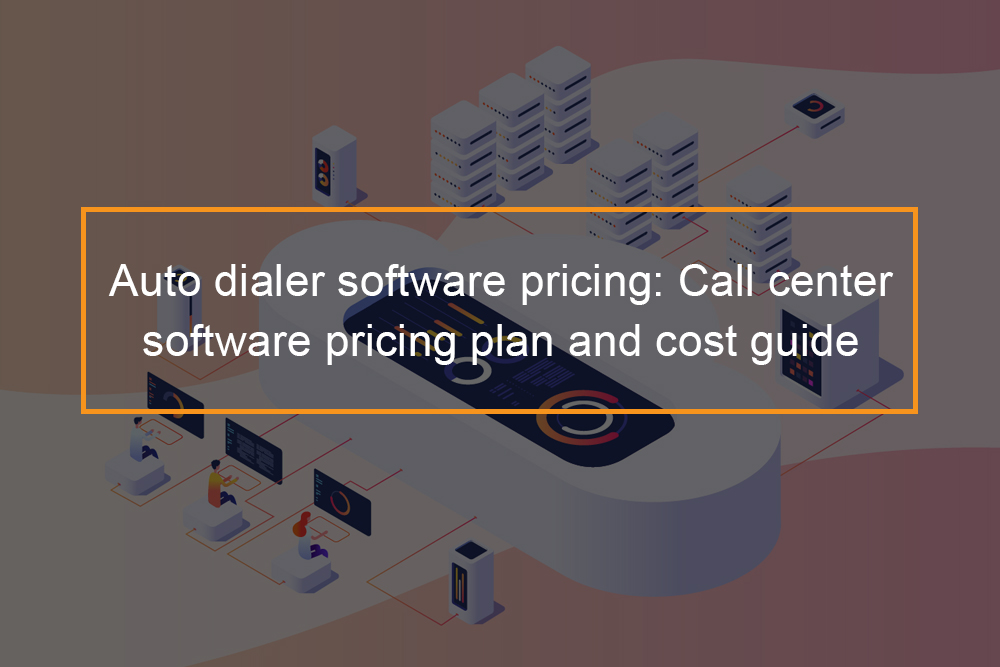 The price of an auto dialer software begins at around $300 for a standard version that places one call at a time. Professional automate dialing versions start anywhere from $500 for a single channel and the range can go up to $40 000 for seventy-five to one hundred channels. Different auto dialer vendors offer different pricing. For instance, Voicent costs anywhere from $300 to $400 for the standard version that calls one number at a time. The professional version that allows call center agents to dial four calls at once costs from $900 to $1000, while the enterprise version with 30 channels costs $4, 2999. If you plan to buy one hundred lines, then you will spend 9,000 to 10 000. In-house auto dialer systems cost anywhere from 10, 000 and can go up to $100,000, based on the number of lines you need and the features and services you choose. Database Systems Corp estimates that automated dialers with the ability to place thousands of calls with thirty-second recorded messages in twenty-five minutes or even less can cost around $48,000.
---
Outbound call center software pricing: Auto dialers price reviews
Cheap auto dialer
Buying the right auto dial system based on features and pricing can be challenging. Some of the best auto dialing software that is worth the investment include: Adversus dialer, Five9 omnichannel contact center, Kookoo Cloudagent, ChaseData, and Zapier integrations.
ChaseData sales dialer price review
ChaseData is one of the best auto dialer contact center solutions. It offers auto dialing service as part of its cloud call center plan. ChaseData's small enterprise edition is priced at $89 for each user per month. The plan includes one voice channel for each sales agent. Their professional version costs $139 per user per month and has four voice channels for each call center agent.
Five9 auto dialer price review
A five9 dialer is a cloud-based software that does not require expensive equipment to use. While Five9 does not market its pricing, customers, and reports show that the Five9 plan begins at around $185 per month for each user. However, since this is only an estimate, companies should request a quote from FIve9.
Velocify Dial call center software cost
Just as Five9, Velocify Dial-IQ is only accessible by request of a quote. However, customers online report that Dial-IQ costs about $100 per user, for a month and 1.5 cents for each minute. Each phone calling minute charges are higher than Voicent's and about the same fees as CallHub. Velocify Dial is built with sales teams in mind. It comes with tailored live coaching, call transfer, call routing, call recording, and call prioritization.
Voicent auto dialer application pricing
Voicent is a full-featured auto dialer software. Voicent price varies from $29 for every agent monthly. The base plan incorporates automatic dialer systems and a sales agent dashboard. Voicent cost is initially less compared to other dialers in the i8ndustry, but it can increase faster after options like calling campaigns tools workflow automation tools are included.
Below are more features accessible for an additional cost.
Caller ids- charged $2 for every ID

Workflow automation which is charged $99 for each account

Inbound calls package with a phone number which is charged $15 for each number

Interactive phone messaging with a phone number which cost $15 for each number

Inbound call center management costing $10 for every user
After selecting a base plan and alternative features and services, then a client will choose a phone dialing plan. Voicent clients can select various options like inbound calling tools, call automatization, predictive dialing mode, and add to their primary platform and calling plan. This can save the company money, unlike tiers from Five9 and PhoneBurner that come with features like touch tones, dialer CRM integration, and lead filtering tools at a fee.
PhoneBurner price reviews
PhoneBurner auto dialer software pricing starts at $149 for each user per month. Discounts are accessible based on term length and team size. PhoneBurner features and functionalities include: Unlimited power dialing, call recordings, interactive voice response, and email tracking. PhoneBurner supports call automation; however, it does not have Velocify Dia-IQ inbound lead call routing feature. Similar to upper tiers of ChaseData, PhoneBurner also supports analytics, call monitoring, call tracking, click to call, and call recording feature. But, unlike voicent, it does not charge extra.
Callhub price review
CallHub telemarketing software is built to connect nonprofits and advocacy organizations. The pay as you go plan of this dialer is based on thirty-second billing increments. Outbound sales calls are $1.4, an inbound is $1.2. There are no subscription fees. Though its price is less than other dialers, it lacks features such as pre recorded voicemails, call transfer, call routing, and automatic call distribution software integration. 
---
What is an auto dialer software?
Autodialer explained
An autodialer is an automatic dialer software that dials telephone numbers automatically. It utilizes an organization's computers to automate outbound calling through voice over Internet Protocol, or regular business phone systems. Autodialers can be used to conduct surveys, deliver notices, broadcast a mass message, send an emergency notification, or send marketing audio messages.
After the phone call has been answered, the auto dialer software plays a prerecorded message or connects the call to a live person. You can save time with automated and manual dialing phone banks provided by automate dialing. The price of automated dialers varies from a few hundred dollars to many thousands of dollars. Autodialers that are responsible or automatically dialing many calls at once are expensive.
---
How to outbound call centers buy the right auto dialer?
The term autodialer can be confusing since it is used to mean various things. The different types of auto dialing software include predictive dialers, progressive dialers, preview dialer, and power dialing. The kind of phone dialing where a prerecorded message is played when a person answers the telephone is called voice broadcast. If the call is connected to a live person, it is known as predictive dialing. A predictive dialer can detect busy signals, unanswered calls, and voicemails, thus increasing agent talk time to customers. If the caller is requested to take a survey, it is called outbound interactive voice dialers response.
Autodialers are customized to meet the needs of all companies. Automated phone calls can be placed over PSTN, internet, or phone line. Invest in the right auto dialer system based on the price and needs of your business. Some sales dialers come with answering machine detection, appointment scheduling, CRM system integrations, and appointment reminders features while others do not.
---
Predictive dialer for an outbound call center: Predictive dialers cost reviews
Predictive dialers price begins at $99 per month. Predictive dialers allow businesses to increase call center efficiency and make more sales at an affordable price. Most predictive dialers come with a free version or free trial- no credit card required. Often there are three different packages: small business edition, professional edition, and an enterprise edition that each blend features to accelerate your call center solutions. A predictive dialer enables the efficiency of a call center by increasing the dialing rate and talk time of agents to customers. It also eases the work of a call center manager by offering features such as live call monitoring. Predictive, progressive, and preview dialer can be purchased as part of a comprehensive call center software package. On-premise predictive, progressive dialers price begins at anywhere from $5,000 for a system that supports a few agents and runs upwards to $300 to a big call center.
---
What is the cost of a power dialer?
The price of a power dialer for outbound call centers varies from vendor to vendor. However, when buying an autodialer, note that the price and call quality are not linked. A power dialer accelerates the call initiation process and the number of outbound calls for outbound call centers. Often the price of a power dialer falls within $100 to $150. However, there are better phone dialers with less cost. It depends on the tier you choose and the features offered. How much-automated outbound calls talk time in a month is also a factor.