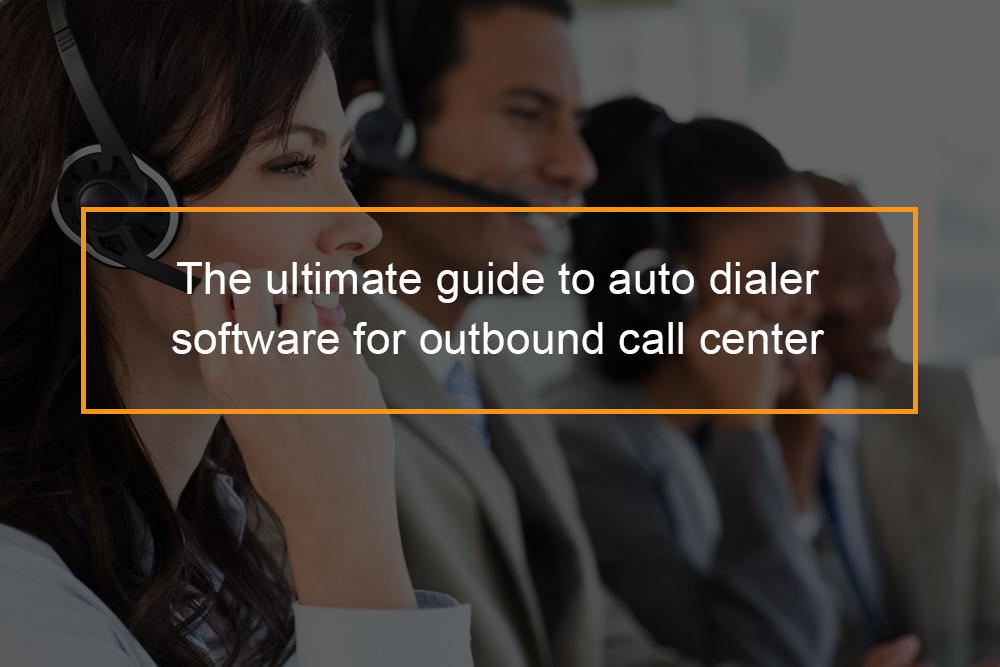 An automatic dialer (also written as an auto dialer, autodialer, and auto-dialer) is an electronic device or software that automatically dials telephone numbers. After the call has been answered, the autodialer either plays a prerecorded message or connects the call to a live person.  When an autodialer plays pre recorded voicemails, it is frequently known as voice broadcast. Some voice broadcast messages ask the person who answers to press on their phone keypad, like opinion polls in which receivers are asked to click one digit in case they support one side of a problem or another digit in case they support the other side. This kind of call is often known as an outbound interactive voice response.
When an automatic dialer connects an answered call to a live agent, it is known as a predictive dialer or power dialing. A predictive dialer uses real time analysis to examine the optimal time to dial more numbers, while a power dialer dials a pre-set number of lines when an agent completes the previous call.  An automatic dialer can also be used for appointment scheduling to deliver personalized messages. An automated system can send appointment reminders by text, voice, or email. Typically auto dialers are great for political campaigns, school emergency notifications, weather alerts, support workforce management for business, event notification solutions, and city government code enforcement.
---
What are the features of auto dialer call center software?
Features of an auto dialer software
Auto dialer has some key features that can benefit your business phone system and maximize your business productivity. Below are a few.
Answering machine detection
Essential technology for auto dialer systems is the ability to distinguish call pick-ups from answering machines. Because there is no indication of a hardware signal when an answering machine or voicemail system answers a call, auto dialer systems have to analyze incoming audio messages for a prediction.
In real-time, each time an agent has to reach the answering machine, it affects the talk time. For example, call center agents dial the number, wait for the call to be picked, and the call goes to the answering machine. The agent will have to call that number again, maybe different times of the day, to make a sale or send a message.
Automatic opt-out feature
With the help of auto dialing, an agent can simply press a key to place a customer who does not wish to receive calls from your organization in the Do Not Call list. It will ensure that your cloud call center adheres to all regulations. It also has an automatic opt-out option that allows the recipient of a voice message to press a number and automatically place them in the do not call list. It is mandatory to offer caller ids on all sales calls. This number can automatically be answered by an auto dialers integrated opt-out program. This indicates a customer does not have to wait in line to speak to an agent to place a Do Not Call request.
Pre-Qualification of calls
Auto dialing software can be used to check if a particular customer is interested in your product or not. This feature is particularly important to organizations where many automated outbound calls are necessary. With the help of IVR, when customers respond to your text, they can be taken through a series of questions to check if they are genuinely qualified customers. This will help the agents not to waste time with unqualified customers. Thus, agents can truly focus on who qualified to make a sale. This will help in increasing the productivity of agents, sales acceleration, and workflow automation.
Inherent in the need to dial many customers is the need to maintain compliance with the laws for call centers or business or anyone in the United States using an autodialer. The ability to maintain reports, demonstrate drop call percentages on calling campaigns, and avoid calling numbers listed in any state, federal, or company Do Not Call lists is significant for continued legal use of any autodialer. Certain organizations are exempt from specific compliance laws. Still, the bulk of automated dialers or phone dialers are built for the bulk of users who are needed to comply, and in many cases, must be able to demonstrate their compliance upon demand of regulatory entities.
---
Telephony boards vs. Modem 
A regular computer can be turned into an autodialer by using a modem or telephony board. There are software programs that can set up an autodialer such as function over a physical telephone line deploying such hardware.
Traditional benefits of using telephony cards over simple modems include transferring calls directly to the caller and touch tones. With the development of computer software technology, many hardware-based telephony capabilities for auto dialing can be adopted in software. Voice modems are cheap, and some computers have them pre-installed already. Call transfer, call routing, touch tones, detection of answering machines, call progressive detection and voice mail, and other telephone card features are accessible in voice modem-based auto dialing systems.
With the ever-increasing power of modem PCs, particularly those with many cores and multiple processors, autodialers that use Voice over Internet Protocol can be scaled up well. Today call centers, autodialers that do not use the telephony board can easily place thousands of calls. Besides, call transfer to a remote agent is much easier with Voice over IP technology since no physical telephone wires are required.
---
How does CRM dialer integrations work for call center?
The best contact center software should include a web API to make different dialer CRM integrations fast and easy. A powerful auto dialer can be a front end for Customer relationship management. With automated call systems, your existing CRM will operate faster and will be effective when handling calls and more sophisticated interaction data. You do not have to change your telephone or install new hardware to get an automatically dialing system. Cloud-based dialer CRM integration means no money expenditure and no need for IT projects.
---
What is a predictive dialer?
Predictive dialers explained
A predictive dialer is a self-regulating outbound call centers application that predicts the availability of the agents and automatically dials the phone numbers from the queue. Today a predictive dialer is the vital requirement of each leading call center. The best thing about predictive dialers is that it reduces human efforts and increases talk time between the calls.
The best predictive dialer software should have essential features such as calling campaigns features, agent dashboard features, and dialer CRM integrations. It should also have phone messaging and call recordings features. This software is more beneficial for both outbound and inbound calls and also supports calling campaigns. The automated dialing software should also be able to offer various dialing modes like predictive, progressive, and preview dialer.
It integrates easily with automatic call distribution software and other software like UCS and IVR. It supports a live call monitoring facility, which is much required by the call center manager to control the agents. Kookoo Cloudagent, Zapier integrations, Adversus dialer, omnichannel contact center, and Five9 are some of the best providers in the market in 2019.
---
Types of auto dialers
Smart auto dialer software
A smart auto dialer software is an autodialer that is capable of personalizing messages and collecting touch tone or speech feedback. To customize messages, a smart auto dialer system uses a message template. For example, a time variable in the message template can be replaced by the actual time when a phone call is placed.
Semi-automatic dialer
A semi-automatic dialer is a human-controlled dialer. All actions, like playing audio messages, dialing, recording are initiated by humans, usually by the press of a key. It is a telemarketing software that is mostly utilized as a productivity tool by sales agents. The semi-automatic dialer was offered on the commercial market in 1942. It was a manual dialing model and stored twelve numbers.
Natural predictive dialer
Natural predictive dialing has the advantages of all of the dialing modes. With natural predictive dialing, call progress analysis happens in parallel with the agent connection. This results in the advantages of CPA automation as in predictive dialing, whereas also enabling an agent to always be accessible in power dialing. The main advantage of natural predictive dialing is that it is patented and is only accessible via a single vendor.
Power dialer
A power dialer is an automated phone dialing system that connects customers with agents more efficiently by enabling agents to focus on live chats rather than manual dialing. A power dialer differs from a progressive and predictive dialer in that it utilizes a manually configured call to agent ratio. When an agent becomes accessible, the contact center solution automatically dials the next contacts based on that ratio. Businesses that take advantage of this powerful phone calling system and their contact center departments have ultimate control over the automatic dialing rates.
By automating outbound dialing, power dialers maximize the amount of time agents spend on the phone with leads during outbound sales prospecting. You can increase the dialing rates up or down, choosing between predictive and progressive dialers as well as power dialing modes. Besides, most power dialers rule along with the vertical and list dialing features so that you can customize dialing behavior to your business needs and compliance and access free trials. No credit card required.
Click to call dialer advance automated outbound calling mechanism
Click to call dialer is a fully integrated outbound dialing application. It can prove beneficial for sales teams agents to reach potential clients. Click to dialer system integrations is seamless with customer business applications, third party, CRM, and enterprise resolution planning for automating the dialing process.