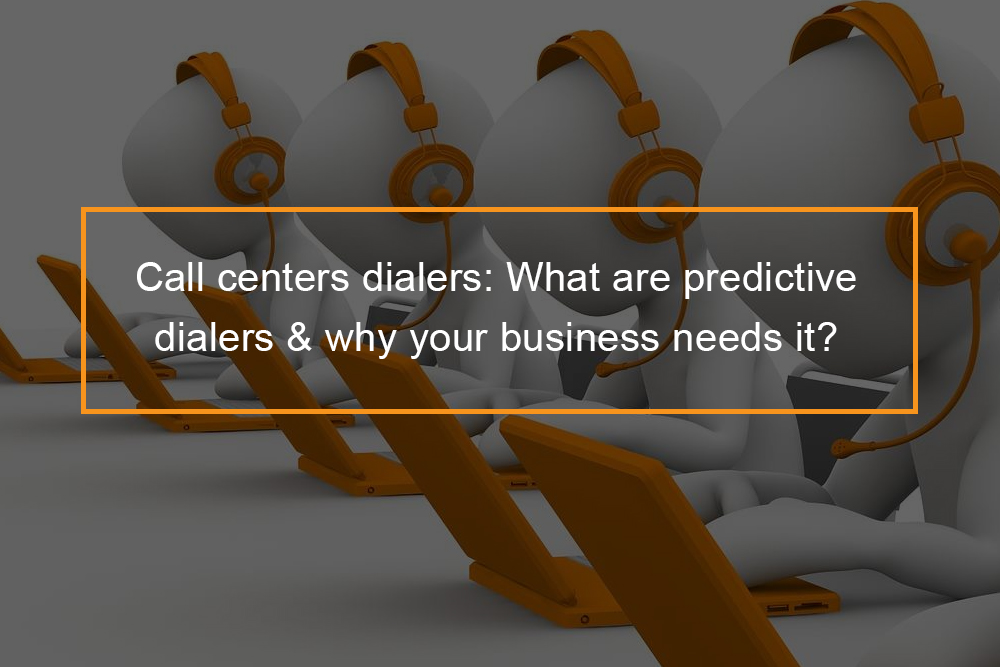 Predictive dialers are used in outbound call centers for lead qualification. A predictive dialer boosts talk time during outbound sales prospecting. Often these sales dialers are used in call center procedures like debt collection, customer service follow-ups, and market research. A predictive dialer uses a dialing engine based on an algorithm. The algorithm kicks off automatic outbound calls for a particular campaign, the background of call center agents before connecting the live calls to the agents.
---
What is predictive dialing?
Predictive dialers| cloud based Call Center Software
A predictive dialer is a kind of auto dialer system (voice broadcast). Predictive dialers are significant in a call center since they allow call center agents to accelerate their live connections numbers. By engaging sales agents to automatic calls that are only answered by real people, predictive dialers get rid of the need to listen to busy signals, disconnected lines, unanswered calls, and fax machines. A predictive dialer deploys pacing algorithms to forecast both the agent average call answer time and agent availability. It is then able to modify the dialing rate accordingly. Effectual predictive dialing will also evaluate unsuccessful phone calls and analyze if the contact needs a callback. By automatically dialing, skipping busy lines, and disconnected lines, predictive dialing leads to increased productivity and enables calling. When shopping for a predictive dialer, it is worth remembering that a predictive dialer that has a streamlined virtual phone system is more suitable for business. Keep on reading this blog to learn more about the call center dialer.
How does hosted predictive dialer work for call center?
Predictive dialer procedure can be broken down into the following steps:
The predictive dialing engine starts to auto-dial phone numbers for a list of contacts, in particular, calling campaigns.

The dialing algorithm focused on various elements such as time of the day, agent availability, average call length, and nature of calls adjust automated dialing rate in real-time.

The predictive dialer allows the call center manager to set various dialing algorithm parameters for a customized call pacing rate centered on the needs.

All the answered phone calls (both outbound and inbound calls) are intelligently routed to agents and the remaining auto-scheduled for a later time.
---
What are the benefits of cloud predictive dialers to a call center?
Unlimited inbound and outbound calling: why do call centers need predictive dialers
A predictive dialer is an outbound calling application that automatically dials from a list of telephone numbers. Below are some of the advantages of predictive dialing software to a call center.
A predictive dialer results in increased productivity and outbound sales
Predictive dialing increases the time call center agents spend talking with customers. Call center agents that do not use automated dialers typically spend 20 minutes per hour chatting with a live customer. On the other hand, an agent who utilizes call center solutions like predictive dialer, who can spend about 45 minutes every hour speaking to clients. Typically, predictive dialing, virtual call center software can increase agent talk time and thus result in increased productivity. The increase in productivity equates to cost savings. Besides, an auto dialer system upgraded with local presence functions as a sales acceleration tool. With a predictive dialer reduced idle time and increased agent talk enhances call center efficiency and productivity.
You can manage multiple campaigns with a predictive dialer
Multiple dialing at the same time is another unique benefit of predictive dialers to call centers. By automating the dialing procedure, the ability of a call center to manage more calls accelerates, and multiple campaigns can be controlled simultaneously.
Predictive dialers increases call connect ratio
Predictive call center dialers remove all hindrances of call center successful calls, such as voicemails, busy signals, unanswered calls, and many other facts. This results in more connected calls.
A predictive dialer software can reduce agent idle time
By relieving call center agents dialing numbers manually and waiting for phone calls to be connected every time, predictive dialers allow agents to spend more time talking via call. Predictive dialing is popular since this mode results in significant savings. A predictive dialer also decreases the time call center agents need to manage a provided volume of calls. Each minute a call center agent spends on time on other things other than speaking to a live caller is inefficient. For instance, dialing phone numbers, and listening to voice greeting is a time not spent managing import customers, potential prospect customer calls or tech support.
---
Outbound call center software| Features of predictive dialers
What are the features of predictive dialer software?
In this area, we will look at the top features and services of predictive dialers.
Predictive dialing allows you to build your contact center with call recordings
The predictive dialer call recording feature is useful in quality and training. Call recordings enable call center managers to listen to previous calls any time they want. The call recording can also be saved for future references without using any other device. Predictive dialing mode records and store calls in HD quality. The predictive dialer can also save call recordings on the cloud. The user will then access the automated calls up to more extended time.
Predictive dialers utilize answering machine detection
Answering machine detection feature filters out all the telephone numbers which end up on the answering machines. Before passing any phone call to the call center agents, a predictive dialer ensures that a call is answered in a human voice and not pre recorded voicemails. By using answering machine detection, predictive dialers save agents a lot of time since the agents will only be connected to those phone calls, which are answered from clients' end.
Utilization of analytics and reports feature
It is essential to monitor call center agents' performance within small intervals. Doing so helps in recognizing where the call center agents miss delivering customer service. Regular monitoring of the call center agent's performance enhances the calling operations. Predictive dialers offer detailed reports linked to sales agents, division, and team. When it comes to top reports, predictive dialers offer various reports such as agent reports, call details, and real-time tracking.
Boost your sales with dialer CRM integration
Customer Relationship Management (CRM) is a tool that manages business interactions with existing and potential clients. CRM software increases business productivity; more client connections can be made more accessible when predictive dialer solutions are backed up by customer data. CRM integration decreases the average call handling time by call center agents because it provides easier access to customer data and other data. Typically dialer CRM integration enables call center agents to pay attention to their higher priority duties instead of wasting time transferring files.
Easier calling campaign management
A predictive dialer allows sales reps and their sales teams to build multiple campaigns from the same login. As for call center managers, they can customize marketing campaigns easily according to their needs. Call center campaign management includes edit, pause, and rerun. Calling campaigns are designed to attain the targeted goals of the business.
Customized dial period (filtered time zones)
Various regions and countries have different time zones. Predictive dialer filters out the numbers based on their area codes and time zones. Customized dial time features allow calling on a specific time based on these elements. A predictive dialer can match the country area code, country name, and time of the contact list, and then it starts dialing multiple numbers and at the right time.
Appointment reminders and scheduling callbacks
Predictive dialers come with a callback feature. Call center agents can call back a customer as per the time they suggested. A predictive dialer automatically provides a reminder of a call back at a specific time. The appointment scheduling feature is essential for follow up purposes. In case the customers receive the call at their preferred time, there is a higher possibility that they will shift to sale. When the sales agents login into the system, they instantly receive a pop-up list of callbacks.
Utilize parallel predictive dialing
Predictive dialing mode is an outbound calling a procedure that deploys predictive algorithms of dialing the contact numbers. The dialer system connects only those telephone calls to call center agents that are answered in a human voice. When it comes to manually dialing systems, most of the contacts end up on answering machines; some numbers are disconnected, others on call registry, or busy signals. These contact center solutions get rid of all the unproductive numbers and cause more customer connections.
Below are other features predictive dialer software provides to call center: 
Custom disposition

Caller ID

Intelligent call routing

Prerecorded voice drop

Call management

Call monitoring

Lead management

Filter based calling

Automation call distribution

Pacing algorithm|ratio
---
Which call center software is right for you, Predictive dialer or power dialer?
Power dialers vs. predictive dialer
A sales dialer is an application that automates the procedure for dialing an external phone number so that the agent can select calls strategically. A call center performance mostly depends on the number of successful calls per day. However, as a result of the limiting factors like call waiting, number dialed, or abandoned calls. To bridge the gap, inbound and outbound dialers are configured, which accelerates the performance, measured in talk minutes per hour.
There are various types of dialing modes, inclusive of power dialer preview dialers and progressive dialing mode. In this section, we will explore the difference between power dialers and predictive dialers. As outlined earlier in this post, in predictive dialing mode, telephone calls connect with call center agents, only a live person receives the phone call. Automated dialer systems allow the huge contact center to increase productivity and efficiency. With predictive dialing sales teams, airtime is utilized only on calls that are answered by a live person. Predictive dialer systems are mainly used for debt collection.
In case you are inside a sales rep who is looking for more effective and efficient outbound calling systems while reducing the threat of regulatory violations, a predictive dialer cloud based call center might be a good starting point. Power dialing is a type of automated dialer where the salesperson is already active on the line at the time of the phone call. The call center agent responsibilities the calling period, and when a live answer is sensed, he receives the call. Since the call center agent is already live, there is no need for a call transfer. Power dialing is ideal for remote agent environments or single-agent cases since it does not need multiple agents to transfer calls. The issue of abandoned calls rate is solved because the automated dialer dials one at a time.
In case you require to build your inside sales team performance, some of the top contact solutions are outlined below: Electronic Voice Services, Kookoo Cloudagent, ChaseData cloud-based predictive dialer, Genesys omnichannel contact centers software, Adversus dialer, Voicent hosted predictive dialer, Five9 inbound outbound blended contact center software, and Ameyo cloud based predictive dialer.