Get the best vanity phone number for your business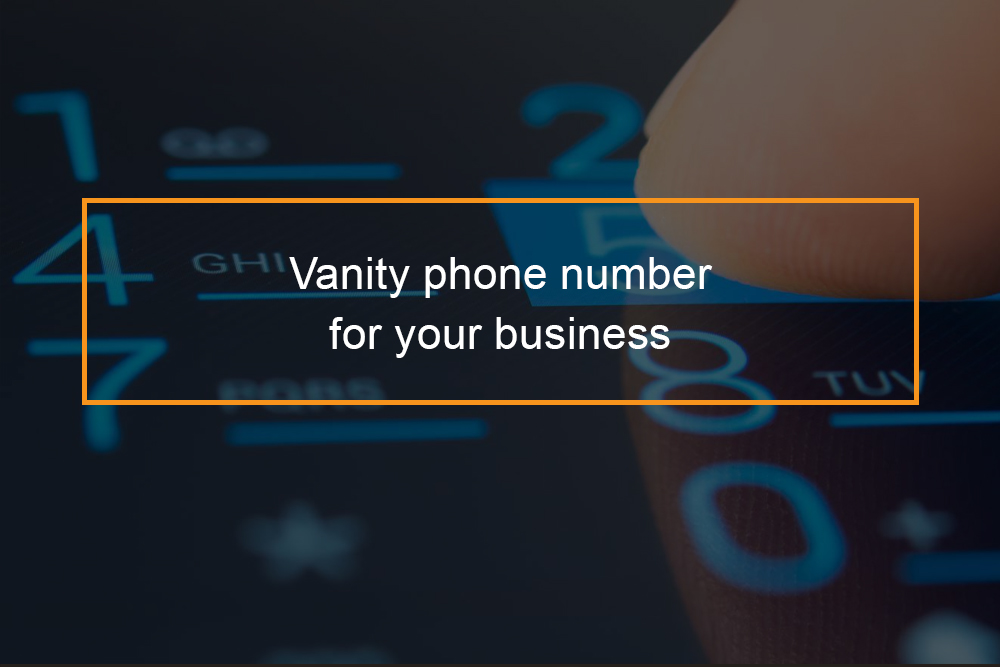 To get a vanity phone number, submit the short sequence form with the message you would like to be included to your vanity number, and your provider will respond to you.
A vanity number is a custom business phone number. They are easy to remember and toll-free numbers. When you are looking for a vanity phone number, most providers will only check their inventory for available number. 
If you are looking to acquire a vanity phone number for your business, look no further, as this article will guide you.
---
How do I get a vanity number?
How to get your own vanity phone number?
A vanity number will either spell a word, phrase, or have a repeating number frequency. If you are looking to get a vanity phone number for your business, it is easy to do so, follow the steps below.
Find your perfect vanity phone number
First, you have to brainstorm and decide on several numbers of options that you need. You have to determine if you need a specific phrase or word, few word options or you would rather have a repeated number. 
It is crucial to decide what you want before getting the vanity number so that you do not get overwhelmed when it comes to selecting your number.
Ensure your vanity phone number has the right amount of digits
After you have chosen the vanity number, count the number of numbers or letters that are in the phrase of the word you would like to be your vanity number.
A vanity number should have a minimum of seven digits, after the prefix. So you will have to make sure that the phrase or word you choose is at least seven characters long. In case it is not, you should be willing to have a combination of numbers with your word. 
For example, if you are using the word DENTIST, it would work perfectly because 888- DENTIST has seven digits. Thus no additional numbers are required. Nonetheless. In case you need TOOTH, your vanity number might be 877-55-TOOTH.
Phrases or words which have over seven characters can also function as vanity numbers. Nonetheless, it is best to try not to exceed ten digits since it might be harder for customers and potential customers to remember. It is essential to note that the numbers dialed after the 7th number do not matter in the real typing of the digits into the phone keypad.
Consider coverage options
Consider the type of coverage you will need for your vanity number. You need potential customers to be able to contact you with this number. 
If you are a local business with mostly local customers, statewide coverage may be perfect for you to have a more local vanity number.
Maybe your business requires multi-state and regional coverage. And even though most customers are still relatively local, you might want to get combined coverage for all the surrounding states. Mult state and regional coverage is a good option for you.
You may also want to get a nationwide coverage for your vanity number. Nationwide secures that nobody else has a similar vanity number as yours. National coverage is suitable for businesses with many locations across the United States or business located in regions that have many transplants.
Coverage is determined by a phone number's area code. Thus, in case people who stay in your area have moved from their resident-state and kept their original phone number, your vanity phone number would not be accessible to them in case you only had state coverage and they have an out of state phone number. This is crucial to remember when selecting the coverage that you require for your vanity phone number.
Note that Callsources also lease vanity numbers for Canadian businesses.
Look for available vanity phone number options in the vanity phone number tool
Search for the vanity phone number that you desire. You can use CallSource's vanity search tool. Search for the keywords that you selected together with other filters you may want to apply.
While in this step, pay attention to the arrangement of numbers and letters. Such as if you are okay with numbers coming before or after the keyword or have a specific prefix preference.
After you search for some numbers that you are interested in, you can check their coverage accessibility. Create your own vanity list to request a quote on the numbers you are interested in.
Lease your vanity phone number
Contact a representative to get more details concerning availability and pricing. Some vanity numbers may be available only in some states and areas. While others are accessible nationwide.
Determine which is the best vanity number for your business and then move forward in getting the perfect vanity number that you require.
Publish your vanity number
After you have gotten a personalized phone number, you might want to ensure it is published. This will help you to start receiving calls.
Vanity phone numbers are good for branding purposes and for advertisements that can benefit from easy to remember phrases or numbers. Some excellent options for campaigns to use your new custom vanity phone number in are for a radio advertisement or on television.
Wherever you decide to use your vanity phone number, ensure that you use if for its best opportunity and track your calls with call tracking, which is included on all CallSource vanity numbers.
---
Business features included with each vanity number
Vanity phone number comes with:
Advanced call routing, detailed analytics, voicemail services, and more features automatically included at no additional fee.

Create unlimited call groups with custom handling rules

You can use your vanity phone number as your customer caller ID

Customize advanced call forwarding rules such as time-based routing, simultaneous ringing, find me follow and others

Host unlimited call conference rooms

Update your IVR menus and call greetings online anytime

Free trial, which varies with your provider
---
Best providers of vanity phone numbers in 2019
Vanity phone number providers
Below are some of the best vanity phone number providers in 2019.
Grasshopper
Grasshopper offers toll-free and local custom phone numbers

The plans begin at $29 per month

You can get a 10% discount on any service tier when you select to pay annually instead of monthly

All pricing plans include standard business features such as voicemail, call forwarding, and usage reports

Grasshopper vanity phone numbers are popular for entrepreneurs and startups with one to ten people in the United States and Canada

Phone.com
Phone.com vanity phone numbers start at $12.99 per month

Phone-com has offered toll-free and local custom phone numbers

Pricing plans include standard business features together with add-on features such as call recording and video conferencing

You can get a 25% discount on any service plan when you select to pay annually

International numbers from select countries from $4.99 to $12.99

AVOXI
Avoxi pricing plan for vanity phone numbers start at $4.49 per month

Avoxi has toll free and local custom phone numbers available

AVOXI offers one-month day risk-free trial

International numbers from over one hundred and twenty countries over 2, 500 cities

No contracts or configuration fees required

Plans include over 20 advanced business features, together with features with upgradeable capabilities.
---
Vanity phone numbers cost
The costs associated with your custom phone number will basically include:
Set up fee; set up expenses can be anywhere from $0 to $100. Luckily, most vanity phone number providers do not charge an additional fee for reserving a vanity phone number.

Per-minute costs; Most providers will charge you a rate for any additional minute that you use over your existing plan. The more minutes in your tier, the less you will pay for the minutes.

Subscription costs; Some providers charge a one-time activation fee, which could range anywhere from $9.99 to $40. AVOXI does not charge any activation or subscription or activation.