Internet calls: How to make phone calls online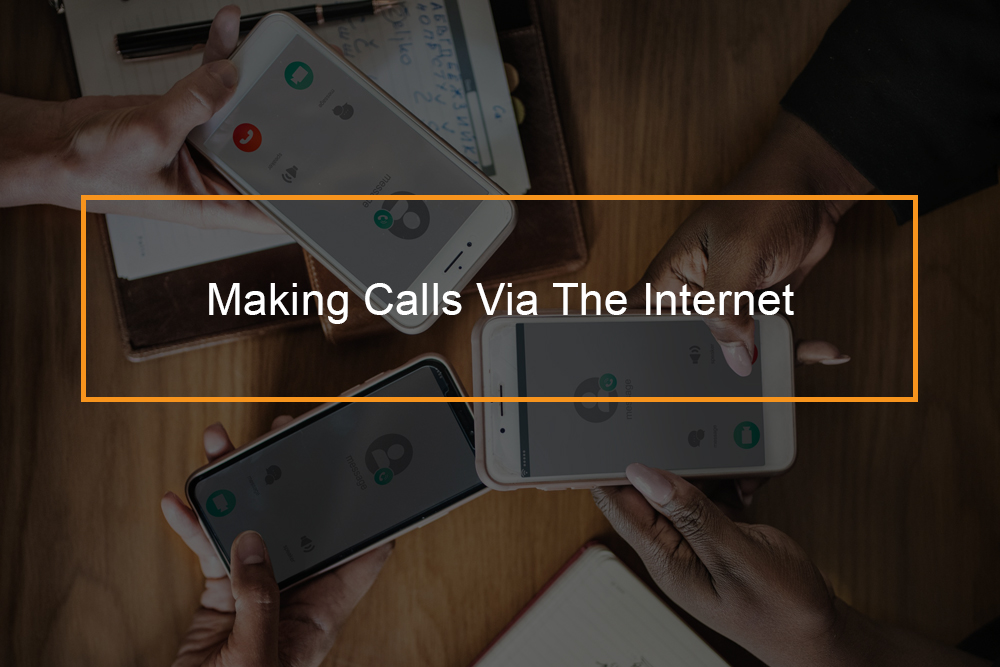 You can call anywhere in the world using the Internet. If you have a steady broadband connection, you can make internet calls at a charge while some VoIP apps offer free internet calling. If you have a steady broadband connection, free internet phone calls can slash the cost of international calls, and you can even save if you are out and about 4G or 3G.
It might sound challenging, but making calls via the Internet is easy, especially if you have a smartphone. This guide includes apps that allow you to make phone calls via the Internet.
---
How can I call someone using the Internet?
How to make phone calls via the Internet?
In this section, we are going to show you how to make phone calls for free using your internet connection and computer, as well as outline apps that charge a reasonable fee to make internet calls.
How to make free internet calls?
If you and the individual you are calling are both online, you can make free internet calls. There are various ways to make free calls through the web. Each needs an internet connection, though depending on the service you make calls either through a computer, landline or your mobile.
The best device for you depends on which service your friends, family, or the person you are calling use. Since using the same route as they will get you free calls. Below are some key alternatives;
PC to PC: If you have a tablet or a computer, you similarly use your internet connection to make free calls as long as your friend's use the same device.

Smartphone to smartphone: If you have got smartphone web access, free apps will get you free calls as long the person you are calling uses the same device.

Tablet/PC to phone (and vice versa): You can use a computer to call a phone for free so long as it is a smartphone using the same device. It works the other way too. However, if you are calling a landline or a mobile which is not a smartphone from your computer it will not be free (not unless the number is toll-free) rather you can use override provider.
How free internet calls work?
Free calls via Internet are made using Voice over Internet Protocol (VoIP). You might have used it, but you possibly did not realize it. VoIP technology is increasingly used as the background for normal calls too.
---
Best apps and services to make free internet calls
When using VoIP for free phone calls, the providers are quite similar, and the best one is based on what you need and personal preference. The vital thing is to make sure you both have the same applications. It is also significant to factor in if you want to make video calls and the handset type.
Skype
Skype is used by over 600 million people in the world, and it allows you to make free video or voice calls to other Skype users. You can use Skype on PCs and Macs and even on some smart TVs. To use Skype on mobile, you have to download the free mobile app (works on Windows phones, iPhones, and Android phones). 
Besides, you can make Skype calls using your landline via a home phone adapter, or cordless home phone with Skype already designed in.
Facetime for IPad, Mac, and iPhone
In case you have an iPhone, iPad, or iPod Touch, you can make free video calls to other Apple users. If you have iOS 7 or later on your device, you can also make audio-only calls. Mac Pcs with OS X 10.6.6 or above is also compatible with FaceTime.
All-new Apple devices come with FaceTimealready installed, so you can start using it immediately.
iPhone consumers with the 4S or newer can use the service over both WiFi and with a data allowance. Calling through 3G/4G will consume your data limit, even though the usage is minimal; Vodafone reports a 10-minute FaceTime call will use about 30MB of mobile data.
WhatsApp
You can download WhatsApp without any charges and use it to call, and share files for free. The benefit of WhatApp over its competitors is that so many people use WhatsApp and it works across many mobile operating systems. It is also useful for having all your web and contacts in one place.
While WhatsApp Web allows you to use the messaging function via a browser, web calling can only be done from a smartphone app. You also cannot use WhatsApp to call non-users, only for free calls and messages to people who are using the app.
Unfortunately, users review online, indicates the audio quality is not the best and calls drop out occasionally not unless you are on a strong WiFi or data connection.
Viber
About 600 million people today use Viber after a rapid rise to international popularity. Similar to Skype, Viber allows you to make free voice and video calls to friends and family who are users of Viber too.
You can use Viber on PCs, mobile phones, and tablets. To use it on a computer or tablet, you have to install it on your phone first. To get Viber on your phone, download the free app, and you can call Viber users anywhere in the globe for free. Viber automatically recognizes contacts in your phonebook that have it too, and list them within the app.
Whereas you cannot use Viber to make calls on a landline, its rates are at least cheap for calls from mobile to non-users
Discord
Discord is an excellent tool for chatting over the Internet. You can make direct calls to another subscriber or engage in server-based group chat. The app has good call quality, and you can change the server if it is not. The app is entirely free to use. There are some extras you can buy. However, they are solely cosmetic elements.
Below are apps you can use to phone call via the Internet without cracking a pocket.
MagicApp
MagicApp is one of the most famous VoIP app or SIP app out there. MagicApp uses a real phone number. The application also features cross-platform support, support for calling landlines, and even SMS support. The service is not free; it costs $9.99 per year. This gets you unlimited calls to the United States and Canada, an actual phone number to use, and unlimited texts to any US phone number. It works fairly well on both the computer and the PC.
Vonage
You can use Vonage to make cheap internet calls via your landline. In case you make a lot of calls overseas and opt to do so from your landline, Vonage provides plans from £12/month. Vonage works by plugging the adapter into your broadband router (there's a £5 delivery charge for this).
---
Can I make a phone call from my computer with Google Voice?
Google voice internet calling services
After you gave installed Google voice, you can make free calls from Hangouts or Chat area in Gmail to actual phones by using your PC microphone and speakers. Computer to Computer calls, usually known as voice chat or video chat, can be made using Google Hangouts. You can also use Google Voice from a mobile application.
To make a phone call using google from a computer, follow the following steps:
Ensure your computer has a working microphone.

Go to google. In case you already have one sign up for google email account or a Gmail.

https://www.google.com/

then click the little orange button on the top right which indicates Sign In and then click the button in the same place which says Sign Up. Fill the required information.

Sign in to your Gmail account

Go the email section and open the chatbox. Inside the chat area, there should be a button for video chat that looks like a video camera and a button to place phone calls that look like a phone. Click on the phone icon.

At this point, you can now install google voice.