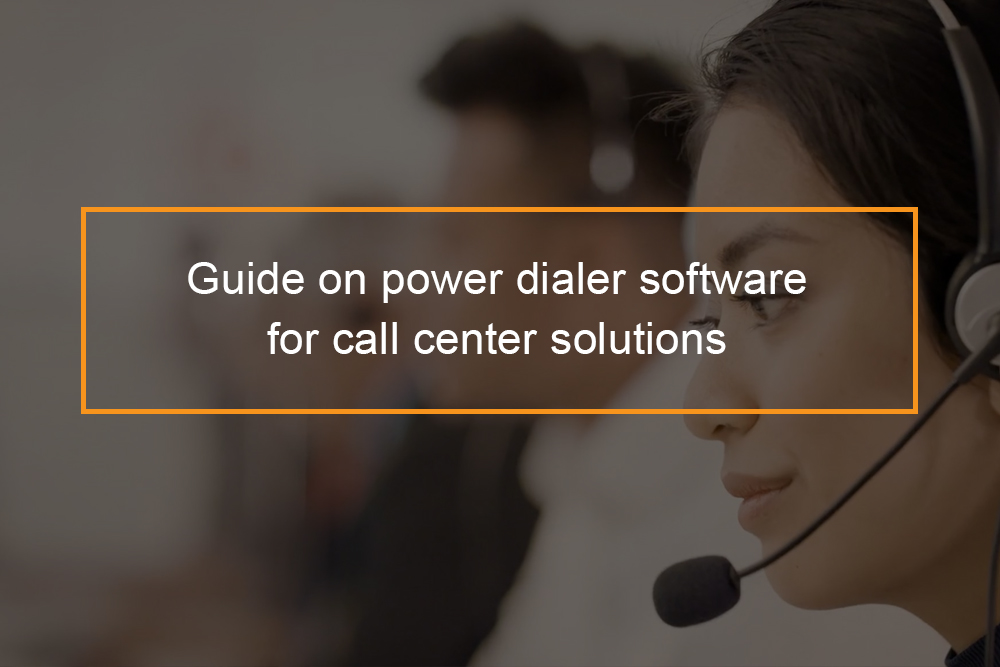 A power dialer is an automated phone dialing system that connects customers with agents more efficiently by enabling agents to focus on live connections rather than manual dialing. A power dialer differs from progressive dialers or predictive dialers in that it uses a manually configured call to agent ratio. When a call center agent becomes accessible, the system automatically dials the next contacts based on that ratio. With this setting, the contact center is provided ultimate control over the automatic dialing rates.
By automating outbound dialing, power dials maximize agents to customers' talk time. Power dialer is particularly useful when a contact center has a small number of sales executives and a large number of customers. You can throttle rates up or down by selecting predictive, progressive, and power dialing modes. Most power dialers offer time zone rules together with vertical and list dialing features. Thus, you can customize dialing behavior to your compliance and business needs.
---
How does a power dialer work?
Power dialing gives you more control of the dialer system compared to a predictive dialer. You can choose the speed the dialer runs at, or how many channels to dial per sales agent. A predictive dialer takes away your control by using an algorithm to determine the dialing speed.
The power dialer connects your agents with live calls only. The automated dialer skips:
No answers

Voicemail boxes

Dropped calls

Busy signals

Disconnected numbers
When an agent connects to a live call, the dialer shuts off and stops dialing. This makes sure there are fewer calls abandoned.
---
Why should you use power dialing?
Call center software: Advantages of power dialer to a call center 
Power dialer is suitable for all kinds of calling campaigns right from customer care follow-ups to telemarketing to automated calls to emergency notifications to automated reminders such as debt collection warnings, appointment reminders, and others. Thus, delivering proactive customer service by assisting and reminding customers before they have to do it themselves. It can generate more sales than most automated dialers since it helps to connect with the right customer at the right time, utilizing features such as: call recordings, click to call preview dialing, prerecorded voicemails, phone messaging, caller ids, touch tones, call routing, call transfer, and more. Typically a power dialer improves productivity to a great extent. Learn how you can leverage auto dialing software to boost your sales team productivity.
Your business will take full control
The power dialer enables you to manually set calls to agent ratio, so you can take advantage of automated dialing benefits while maintaining control over dialing rates.
Most power dialers come with a variety of dialing modes to suit your needs. The automated dialing system accounts for time zones and list penetration and can be customized to meet compliance and business needs.
No wastage of time- eliminates unproductive calls
Many outbound call centers agents waste by calling uninterested parties, busy signals, or empty households. A power dialer removes all these chances and makes the agents connect with the right customer at the right time. Unanswered calls dropped numbers, and automated answering machines are all discarded before even reaching the agent's ears, resulting in no wasted calls.
Using the power dialer, contact centers use less time calling and spend more time on live prospects. This leads to more and greater revenue gains.
By incorporating lead management software in a power dialer, one can easily filter out registry list and blacklisted numbers. It can organize all the sales information, lead data, customer history, and call back info with the assistance of CRM. It can quickly pass it onto the call center agents, thereby obtaining more successful leads.
A power dialer is not different from the predictive, progressive dialer. With a cloud based power dialer, you can connect with a lot more contacts for every hour and can organize the way of calling. It filters out the unattended, busy or disconnected numbers.
Useful features of power dialer systems include:
Easily schedule all the unanswered sales calls.

Schedule automated phone calls and text messages in a few clicks.

Connects the call according to customers' time zone

Integrates with leading CRM and assists in streaming customer information

Provides the option of live monitoring to call center managers. You can also listen to all the live chats for better customer support

Offers, detailed reports about all the ongoing activities
Power dialer key features include:
Auto dialer CRM integration

Appointment scheduling

Customized caller ids

Answering machine detection

Call recording

Automatic call distribution software

Workforce management system integrations

Interactive voice response

Call monitoring

Campaign and list management

Quality management and workflow automation
---
What is the difference between predictive dialer and power dialer?
Predictive dialers vs. power dialers
Auto dialer technology is the closest thing call center management can get to a fully automated system. Automated dialers depend on the principle that probability will win out over precision.  For power dialers, it involves a higher degree of absent interaction than other dialers. Business phone systems that integrate with CRM tools will have the advantage of storing lead information and displaying it before the recipient even answers the phone.
Predictive dialer tools utilize algorithms and machine learning to make sure no time is wasted. They accomplish this by dialing multiple numbers simultaneously. The ideal use of a power dialer is increasing the sales efficiency of small and mid-sized teams. The deliberate phone calling pace means agents will have time to gather context around every conversation, specifically if they have CRM integration.
In case you are looking for a contact center solution to cater to your large teams that are aiming for volume over personalization, then you should try predictive dialers. Also, so as the software can be maximally effective, your team should exceed the minimum required number of users. Sales teams may find this feature essential, but it is more natural habitat may still be industries such as debt collection, political canvassing, and fundraising. Besides, some outbound call centers also use phone dialers, including predictive dialers, for lead qualification to increase the time they can spend on the phone with leads during outbound sales prospecting.
---
What is an auto dialer software?
Auto dialer system: inbound and outbound call dialer explained
Automatic dialers are also known as voice dialers, phone dialers, or auto dialer software. They are an example of computer telephony integration. Auto dialer software uses a modem, a computer which is programmed to automatically dial a long list of phone numbers. Based on the software complexity, the computer can detect if a live person answers the telephone and then transfer the call over to a human operator. By automatically dialing customers, auto dialers can increase the productivity of a company.
The PC can also be programmed to play a prerecorded message, leave audio messages on an answering machine, or offer a menu of options to the person who answers. The way an auto dialer works is such that after the call is connected, the alive operator greets the potential client, alerting them to that day's gardening specials. Automated dialing systems, like this, are often used as telemarketing software. Automate dialing is not illegal, but some companies misuse them. However, they have better uses in society; for example, a political candidate could make thousands of calls to residents to participate in a telephone town hall. A hospital can also use cloud based emergency notification solutions to notify people of an emergency situation such as a fire.
Types of auto-dialers include: 
Preview dialer, progressive dialers, and predictive dialer. Progressive and preview dialer is slow options compared to predictive dialers. The progressive dialer is a little more efficient than a preview dialer, but they are similar.
---
How can I find a power dialer?
When you are attempting to heat up a warm list, power dialing is your best option. Research about cloud call center solutions in the market. Some of the top vendors in 2019 include:
Adversus dialer, kookoo cloudagent, zapier integrations, Five9 omnichannel contact center software, and more. Choose a software that provides access to all; the three dialing modes: preview dialing, power dialing, and predictive dialing. Each mode is beneficial in certain situations. Having access to each prepares you for all the dialing needs. Setting up automated outbound calls centers should be easy when you have the right auto dialer software. Besides, you can get a free trial (no credit card required) before you fully commit to the software.