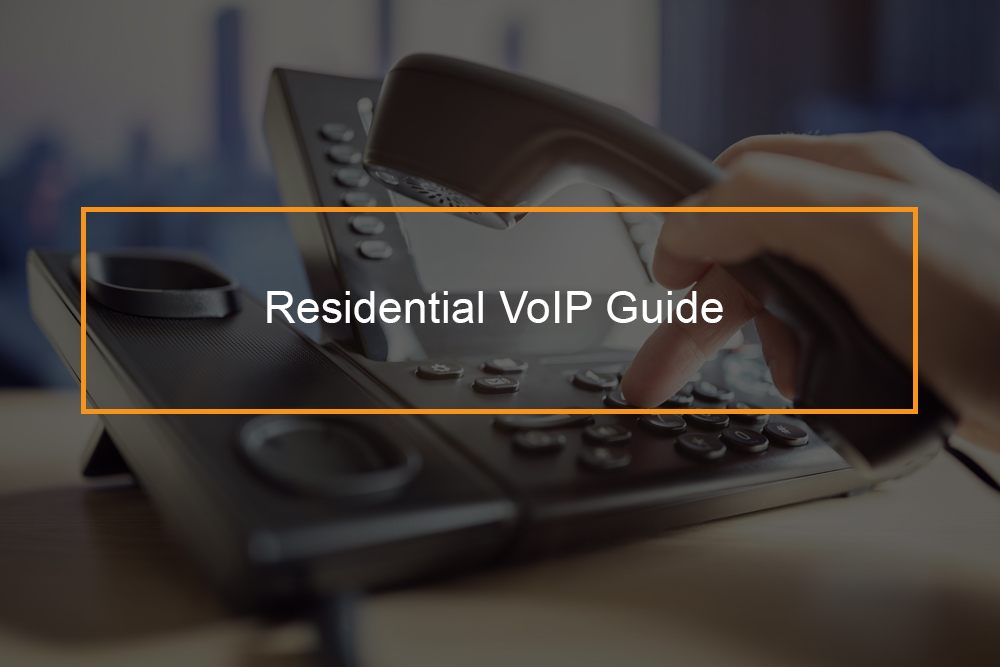 Currently, the best VoIP system to use at home include:
Vonage – From $9.99 for six months

Grasshopper- From $26 per month

CloudPhone- From $24.99 per month

Power Phone- From $8.33 per month

Phone.come- From $12.99 per month
VoIP is not only useful for businesses and offices; it can also be used at home. This residential VoIP system substitutes the traditional phone line system allowing you to make calls way faster. Residential VoIP systems are also packed with dozens of features like virtual fax and voicemail-to-text, and with the top residential VoIP providers above, you don't have to sacrifice quality services.
---
Home Phone : What is Residential VoIP Service? 
Just as organizations and businesses are switching from the traditional phone systems due to the benefits of VoIP, the same can be applied at home. Traditional phone lines can be replaced with residential VoIP in your home. Residential VoIP plans can reduce your home phone bill by about 50 %. These packages also come with additional offers that can save you more.

Can I use residential VoIP for international calling?
Yes, residential VoIP can be used for making international calls. Moreover, the international calling rates of using VoIP are significantly lower than using the traditional landline system. In fact, some VoIP packages have free international calls. This makes connecting with family and friends abroad much easier. 
---
The best VoIP services for your home
Top residential VoIP service providers
Vonage residential VoIP
Cost- From $9.99 for six months
Vonage Business is one of the biggest brands in VoIP, and it is also a leader in residential VoIP. Vonage is known for a powerful and nationwide infrastructure. This ensures a 100% uptime every time you make or receive a VoIP call via your home IP phone or even through the Vonage smartphone app. All pricing plans are billed monthly and are not attached to long term contracts. There is also an annual billing option that is accompanied by a 50% discount for the first six months. 
Grasshopper residential VoIP
Cost- From $26 per month
Grasshopper is technically a cloud-hosted system that works with your existing landline or cell service. This is to ensure that voice quality is always up to standards. While there's a technical difference in how Grasshopper functions compared to VoIP services, customers will not be able to tell the difference. Grasshopper is built for people who run small businesses and companies from home. The Partner plan from Grasshopper is suitable for families, as it includes three contact numbers with six extensions. 
CloudPhone home VoIP
Cost- From $24.99 per month
CloudPhone is also technically a cloud phone provider that offers the same service as a VoIP provider. Like Grasshopper, CloudPhone is meant for people who run small businesses from home. CloudPhone has lucrative features that can be used by regular residential customers at a cheaper cost.  
Phone Power
From $8.33 per month
PhonePower is one of the few VoIP providers that specialize in residential VoIP rather than business VoIP. Phone Power is the cheapest option when it comes to making local calls. This includes making calls within the USA, Canada, and Puerto Rico. Although it is very cheap for making calls within the said areas, Phone Power is not the best option for long international calls. 
Phone.com residential VoIP
Cost- From $12.99 per month
Phone.com operates well for both business and residential VoIP, with numerous pricing plans suited for families. Phone.com plans are packaged sightly different from other residential VoIP providers. There are pay-per-minute plans, which have fewer functions but are also cheaper. Then there are the unlimited plans which are all-inclusive but are also more expensive. 
---
How to pick the best residential VoIP?
Choosing the best VoIP service for your home
The top residential VoIP services are all good. However, there are some VoIP services that will suit your home needs better. Read this guide before choosing a residential VoIP service. 
Your home should be VoIP ready
Before picking a VoIP provider for your home, ensure that your house has the right internet connection speed to sufficiently run the VoIP service in the best quality. Your internet speed has a huge impact on the quality and clarity of the calls. Numerous online resources can be used to check internet speeds required for the different VoIP services. 
Know the services you need for your home VoIP
In most cases, your residential VoIP will be used for making local calls, international calls, and voicemail. Therefore, the services you should prioritize are unlimited calling, international calling plans, and voicemail services. Look at the service providers that offer the best rates and services when it comes to your needs. Some people that run a home office may be interested in video conferencing services and auto attendants. 
Residential VoIP budget
Among the main reasons you want to switch from the traditional landline phone system is its high cost. Your new home phone should, therefore, be cheaper than your current plan. Different service providers have packages and plans that vary. The more premium packages are more expensive with more features. If you will not require the extra features, then it is best to go for the basic plan with basic features. Before picking a plan, make proper calculations to determine the long-time financial implications.
Go for a flexible residential VoIP service
You should commit to a residential VoIP plane that is flexible and can expand with your needs. You need to know if you will be able to upgrade or downgrade your plan whenever necessary. You also need to know your options if you decide to terminate the contract completely. 
Look for a residential VoIP that offers the best customer experience
Customer service in VoIP is very important, especially when things go wrong. If a service provider is known for poor customer service, then you will end up being frustrated with your residential VoIP. The best way to know how well a VoIP provider is doing when it comes to customer service is by reading online reviews. The reviews will give you an idea of whether you want to commit to that VoIP provider. You should also look into other promises that VoIP provider makes, such as money-back guarantee. You need to know if things are not right, you will get a full refund. These promises also show the confidence a provider has for their product. 
---
What features are found in home VoIP phones?
Residential VoIP features
Just like the business VoIP and business phones, home VoIP services are also packed with extraordinary features. Regular phone companies and traditional landlines have limited options when it comes to features and charge premium rates for basic features. This is in contrast to even the simplest residential VoIP providers that usually offer dozens of features in their basic plans. 
Some of these features that come with the basic VoIP plans but are charged a premium with other phone systems include the voicemail-to-email services. This feature automatically converts your voicemail to audio files and sends them to your email. This ensures you do not miss important messages. Many VoIP providers offer voicemail transcription to text. This feature will automatically convert voicemails to text.
There are also enhanced features in residential VoIP that prevent you from being bothered when you are at home. Some of the features include enhanced call forwarding that let you reroute or even block specific numbers without them knowing. This becomes handy when you want to relax without and disruptions.  Another impressive feature that comes with residential VoIP is a virtual number or a toll-free number. This lets people call you for free. This feature can be handy at home, especially for family members that want to constantly get in touch with someone at home without having to pay hefty calling fees all the time. 
These are just some of the basic residential VoIP features you should expect. All in all, the list of available features for home VoIP users is very impressive. This makes ditching the traditional landline phones more appealing.