Is VoIP cheaper than a landline?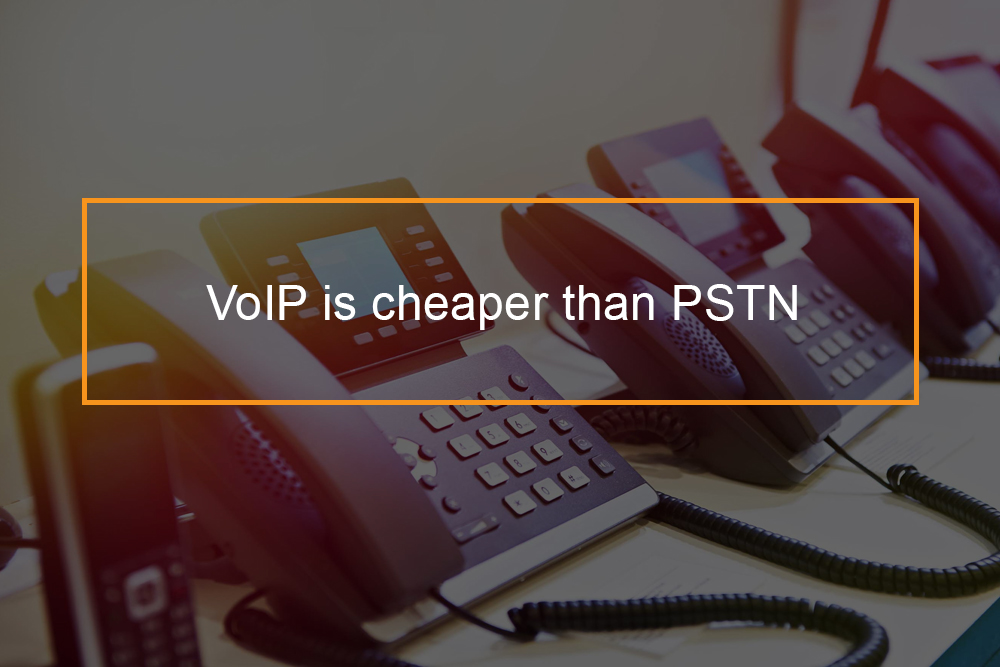 VoIP is cheaper than PSTN  because it applies an existing internet connection instead of requiring a separate system or additional hardware. A VoIP phone system is attractive for businesses since it is considerably cheaper to buy, run, and maintain. The PSTN (landline or traditional phone) system are expensive. A PBX  phone system can cost up to 1,000 for every user. Even more costly KSU- less systems can cost up to $250 for every phone. 
The setup fee for a landline usually is $100. Then add in the monthly fee, which can go as high as $100 per line, and the expenses pile up. Besides, if you require additional features for your telephones systems such as call transfer, call queuing and intercom, you will need to install a Private Branch Exchange (PBX). 
On the other hand, a VoIP phone can be significantly cheaper, since it can cost $20 per line, depending on system technology and setup selection. And with this cost, you will get features and benefits that you cannot get with a landline phone.
Below are some of the reasons VoIP business phone systems are more economical- and cut costs for businesses, too.
---
Is VoIP cheaper than a landline?
Why do VoIP calls cost less than PSTN  calls?
If you look at your PSTN  last bill, it is likely not cheap. Cost is often a deciding factor in the debate of VoIP vs. landlines phone systems. As a business owner, you would love to save costs. And unfortunately, PSTN does not help you much there.
Let's begin by looking at ways VoIP cuts costs and simplifies your communication between employees and consumers.
VoIP  phones have no cost on circuits
The VoIP phone system is with no doubt the future of communication, and it does not depend on the circuit switching technology such as PSTN. Concerning PSTN, the circuits play a significant role in maintaining a call between two consumers. Thus, you have to pay high charges for long-distance and international calls. This is the chief reason why VoIP calls are cheaper compared to PSTN calls.
VoIP phone reduce communication costs with a single provider
A VoIP phone system brings cost savings by lowering business phone bill expenses. An organization applying a VoIP no longer requires to work with many service providers for its mobile, office, and data services. All these services are tackled on the data network.
With VoIP  phone, there is no-cost on infrastructure
The entire phone infrastructure is being used in the case of PSTN during the call. A large amount of money is invested in international calls. Thus, users are charged more. Nonetheless, VoIP depends on data packets that are sent across various servers and then changed into voice signals. Since it is not necessary to maintain a connection all through the call, VoIP is very cheap.
Your organization will genuinely save a lot of money as far as international and national calls are regarded in case hosted VoIP is used. Staff can also use VoIP for making calls to every other than discuss their opinions. This will reduce the cost of the staff who are using the same corporate work. International calls will also be very economical and will not be costly; they will not be traveling through the PSTN  network.
Reduce internal IT and support burdens
With a hosted VoIP phone solution, the provider manages and maintains the network, software, and hardware. This minimizes the requirement of IT  support on the company's end and leaves more time to innovate other company efficiencies.
VoIP reduces hardware and installation needs
The VoIP phone system is easy when it comes to getting up and running. It does not need hardware and expensive equipment installation. The VoIP provider provision existing phones or send phones; all you require is to plug them into the internet and get back to work.
VoIP phone increases ROI  with efficient payment models
With VoIP systems, users generally pay on a monthly per user basis. Different costs or data limits at different times of day are in the past. Besides, VoIP users are not tied down to a specific country, phone line, or address for their communications- providing staff mobility and saving the organization the cost of long-distance costs.
VoIP offers cost-saving to businesses by increasing company efficiency
VoIP services can improve office productivity in a way than PSTN  landline phones cannot. Besides direct financial savings, VoIP can reduce costs by increasing business efficiency through;
Time savings- The staff will spend less time managing paper traffic and pacing the office waiting for faxes to arrive with virtual fax. VoIP sends inbound fax communications directly to the user's email box, with a PDF attachment that is clear, and easy to forward on as required.

Accurate call routing- The business can better apply human resources by forwarding phones to specific number or voice mail at provided time of day or better address peak call time through or call groups, time of day routing or night mode.

Automated customer service- The staff may spend less time on the phone troubleshooting consumer issues. A VoIP auto attendant can present the caller with recorded messages addressing common issues. A VoIP auto attendant can give the caller with recorded messages, addressing common problems, making it easier for the consumers to solve their issues.
---
How much does VoIP service cost?
VoIP service pricing
A VOIP system costs between $25 and $40  for every user per month. The total cost will differ on the number of users, one-time hardware costs, and any required network improvements. For a medium-sized business, VoIP systems do invariably work out to a better value than PSTN  systems by thousands per month. This is because of their cost-effective licenses, flexibility, and low hardware requirements make them considerably cheaper to buy, run, and maintain.
How much does VoIP services cost per month?
Estimating the overall cost of a VoIP phone system for your company depends on various factors. However, at its cheapest, it begins somewhere around $25 for every user for a hosted set up. Below is an overview of best VoIP providers to provide you a rough idea of the monthly services costs;
VoIP  provider

Nextiva

Ring Central

Vonage

8X8

Jive

Free trial

30 days

15 days

30 days

x

Only Free demo

Pricing from- per user per month

$35

$19.99

$19.99

$25

$29.95

Users 

One to four

Nextiva's charges go down as users go up ;100plus users cost just $20 per user per month

One to ten

One to four

Information not accessible

One to four (Jive;s charges reduce as users increase; 50 plus users cost $19.95 per user per month)

Unique features

Mobile app

Call recording

Auto attendant

HD  voice 

Auto

Intergrations include ; outlook, Box and Salesforce

Call recording

Voicemail transcription

Customizable conference groups

Online call management

Instant messaging

Web conferencing 

Conference bridge function

Call recording

Adavanced analytics

Intergartions include' chrome, salesforce and Oracle
In case you own a small business, and you have the office equipment for your employees, the prices in the table above should be all you need. Your staff desktop PCs can be used as softphones so that you will need any expensive hardware.
VoIP cost factors
When you are switching to VoIP, various factors will influence your overall costs:
Cost of switching from PSTN to VoIP- operations that already have a PSTN system will have additional charges when switching to VoIP.

VoIP broadband costs- A reliable internet connection is essential for VoIP, so you might need to upgrade.

Other equipment costs- Adapters and headsets are additional costs to consider.

VoIP phone costs- You might require to buy or rent a desk phone handset for every user.

VoIP subscription level costs- A higher subscription level cost but provides higher functionality.

VoIP costs per user- Most VoIP providers base their prices per user on the total number of staff at a business.

VoIP setup costs- one-time setup costs might include installation and training. The setup can cost $500 to $1000 per user.

VoIP Hosting Costs- Hosting your internet phone system is usually more costly than purchasing a hosted VoIP plan but provides more control