Which is the best internet service?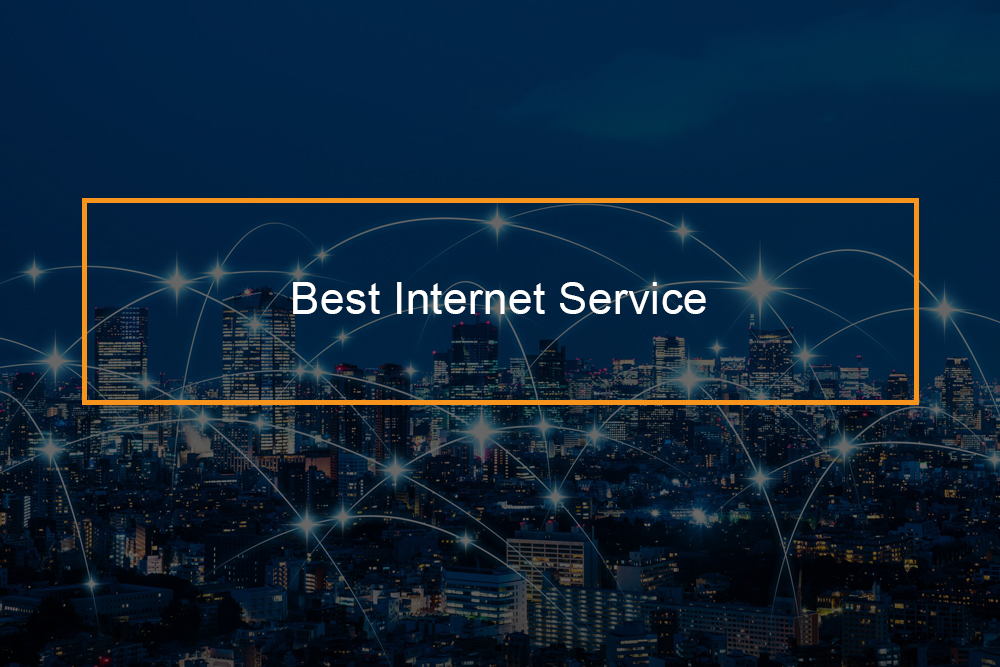 Ooma Office, Dialpad, Mitel MiCloud Business, 8X8 X Series Cloud Service, and RingCentral are some of the best internet phone services in the market today. When it comes to free and cheap internet phone services, Facebook, Skype, Vonage, WhatsApp, and FreedomPop are the leading providers for both local and international calling.
Internet phone service is another term for Voice over Internet Protocol(VoIP) phones. Internet phone services were developed to replace traditional landline phones. There is not much difference between internet phones and regular phones- basically, you place and receive calls with internet phone service the same way you would using a traditional phone line. However, with internet phone, the voice is transmitted via the internet instead of traditional phone lines. 
---
What is an internet phone and how does it work?
Internet-based phone definition
The internet phone is also referred to as IP phone, hosted VoIP, or hosted PBX. It is a digital communication device used to place phone calls through the internet. Internet phone is also used as a VoIP software device.
How does internet phone work? Internet phone service work by reading an individual's analog voice signals and changing them into digital signals. When a person places a call, the phone utilizing internet converts the user's voice into various digital packets after a traditional-to-digital conversion circuit, processes it, and then sends the data over the internet to be received by another user. 
One of the main advantages of internet phone service over traditional phone service is cost-effectiveness. Internet phone service is cheap for both local and international calling for long-distance. However, internet phones depend on internet and power. Therefore, they can function with internet failure or power outage.

Making international calls from internet phones
Internet phones and landline phones work the same when calling international numbers. The user needs to dia the exact country code, the international prefix, area code, followed by the real phone number. Session Initiation Protocol (SIP) trunk vendors can offer affordable prices because the call is routed via the internet or corporate data network rather than of analog copper wires.
Some international calls may be transmitted wholly on the internet without touching the landline network. However, most international calls need to be terminated at the nearest PSTN exchange; in this case, the operator will have to pay a small fee for traveling the last mile. Thus, instead of having the entire distance via the VoIP, international calls and PSTN chiefly use the public internet and other data networks, therefore, eliminating from having to pay termination charges in different countries. The savings are usually passed to the business enterprise or users directly. The best cheap internet phone service for an international call includes Skype, Viber, and Facebook. You can use RingCentral, Vonage, and CallHippo if you want to be more professional.
---
Which internet phone service is best?
Best internet phone service provider 2019
Communication is a basic part of a business. Today, customers expect to be able to communicate with a company efficiently, and also have their issues resolved rapidly. A business phone system today has to offer voice communications for staff at their office desk, call center for sale, customer service, and support. The business phone systems also have to come with features such as video conferencing, Caller ID, mobile communications, text messaging, and incorporate social media.
Because many businesses are working under a multitude of many communication channels, most companies have implemented moniker of Unified Communication as a service. These cloud-based phone systems come with several software clients, to improve their functionality on the web, desktop, and various mobile devices. It is not easy for a startup business, and entrepreneurs to configure a business phone system, a call center, or even switch from traditional phone to internet phone service. For big companies and other already established businesses, internet phone services are more economical and can improve customer service.  In this segment, we will explore the best internet phone service providers for businesses and residential.
---
The best business internet phone service providers

RingCentral 
RingCentral provides cloud-based applications and collaboration applications for businesses. RingCentral has four pricing plans. RingCentral users can save 33% by opting for a yearly subscription. RingCentral pricing starts with the Essential plan, where the subscriber pays $19.99 per month. The second plan is the standard package where the subscriber pays $24.99 per month. The third plan is the Premium plan which starts at $34.99 per user per month. The last plan is the Ultimate package with a subscription of $49.99 per user per month. The plan includes all the features included in the other three packages, but also provides 10,000 toll-free minutes, and 200 people video conferencing.

8×8 X Series Cloud Service
8×8 X Series Cloud Service provides cloud communication and customer engagement solutions like voice, video, unified communication, and mobile communications for small to mid-sized businesses. When it comes to pricing 8×8 X Series Cloud Service has four pricing tiers. It begins at $28 per month per user. The second plan is X Series X3 package which charges $38 per month for one user. Then 'X5' plan, which charges $60 per user monthly. The last plan is the 'X6' package which starts at $115 monthly per user. Typically 8×8 X Series replaces the 8×8 Virtual Office service with a new expanded features and unified communications (UC) management across multiple mediums.

Jive
Jive provides communication and collaboration application for business purpose. Jive has five pricing plans based on the number of users. Note that Jive provides the same internet services no matter what you pay. The service it offers include; auto-attendant, virtual fax, call recording, end-to-end encryption, custom hold music, call parking, call forwarding, besides, to call center specific features such as wait time announcement and agent logout or login.

Mitel MiCloud Business
Mitel Networks business provides unified communications applications for business. The system has three pricing tiers. The essential level starts at $20.99 per month per user. Then the 'Premier' level, which goes for $26.59. And the 'Elite plan which starts at $38.49 per month for one user.

Dialpad
Dialpad company is popular for video and audio conferencing software. Dialpad has two pricing tiers the 'Standard' tier which is charged $20 (£16) per user per month and IThe 'Pro' tier which starts at $30 (£24) monthly per user. 

Ooma office
Ooma office is suitable for small businesses since it is accessible without contact and has most features that small businesses need. Besides, it is affordable, supports existing traditional phones, and has good reviews. However, Ooma phones must be set up by Ooma.
---
Manage a successful call center with internet phone service
Internet phones are mainly incorporated in call centers to ease the lives of customers and make the consumer journey effortless. Internet phones can manage the call volume of a whole call center. Internet phone systems help a business manage and distribute incoming and outgoing calls which are made to customer service teams. The main advantages of using internet phone service include; reduced cost, better-calling features, and enabled video and audio calls.
---
The best residential internet phone providers
Let's look at the best home internet phone service providers.

Vonage
Vonage provides both business and home internet phone services. All Vonage plans are billed monthly with no contracts. Vonage home internet service has the following features; a toll-free number, allows you to keep your old number, dedicated fax line, call forwarding, and extensions.

Grasshopper
Typically grasshopper is suitable for small business owners and entrepreneurs who work from home. Grasshopper has the following features; ability to work with cell phones, landlines, or both, virtual fax, call forwarding, and easy to set up.

CloudPhone
Similar to Grasshopper, CloudPhone is suitable for small business owners who are based at home. CloudPhone comes with call transfers, voicemail transcription to text, virtual fax, virtual receptionist, and mobile features.

Phone Power
Phone Power specializes in in-home internet phone service rather than business phones. And has the following features mobile phone app, free activation and setup, send faxes, free cloned second line, and 30-day money-back guarantee.

Phone.com
Phone.com has been used for both business and residential purposes. It has 40 plus standard features, including voice transcription and calls queuing. It also comes with numerous SMS messages.
---
Are there free internet phone services?
Free internet phone service apps
There are free internet phone services. These providers let you place phone calls and sometimes international calls for free using a special application. Free internet phone services cannot call 911. Free internet phone services can place calls from PC to phone, an app to PC, PC to PC, and app to app. However, you have to install the app on your device to be able to place phone calls. GoogleVoice, FreedomPop, WhatsApp, Vonage, Snapchat, and Skype are some of the best free internet phone service providers.