Defining cloud contact centers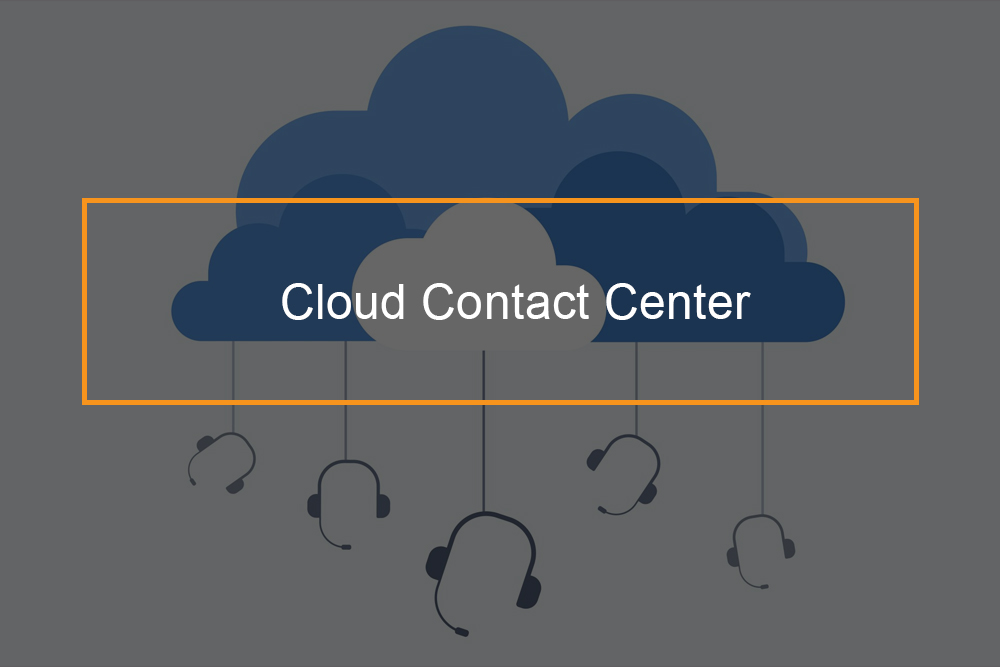 A cloud contact center can be defined as a comprehensive system of tools, applications, and cloud-hosted services for contact centers in organizations that need multiple communications channels, advanced call routing, analytics, and agent management. 

What is a contact center?
Every large organization has a section or department that is responsible for getting into direct contact with its customers. This department is the contact center. The main role of a contact center is to handle the different issues and queries that customers have and also sell products and services to potential clients over the various communication channels. A contact center can be seen as the main route by which customers across the globe get in touch with a business to get the relevant help. 

Contact center vs call center
Both the contact center and a call center are responsible for getting in touch with the clients and potential clients. The difference is that a call center majorly focuses on phone calls, where clients call in and have their problem resolved and also the call center agents can make outgoing calls to reach out to customers and potential customers. 
On the other hand, contact centers use more communication channels. They do not only take advantage of the phone calls but also use email, SMS, live chats, and social media. Whichever channel a customer uses to communicate with the business, the contact center agent will see it. Today, a lot more call centers are turning into contact centers as they gain more access to the other communication channels. 
Cloud contact center and the traditional contact center
Cloud contact centers are relatively new technology in the communication field. Companies used to have very limited options communication-wise. The old contact center technology was very expensive to buy and maintain. Moreover, if your business wanted to scale, you would have a huge problem. You may need to buy new hardware, which again added to the expenses and in the end, you may find yourself with equipment that you are paying for but not using. 
The technology was also bulking and consumed a lot of space; it all needed to be at the office premises. All these complications and their services were limited; they had only a hand full of features. There are businesses that still use traditional contact centers because they find it more reliable and safe. 
With the introduction of the cloud contact center, many of the issues experienced with the traditional contact centers were resolved. This new technology was cheaper, more efficient, versatile, scalable, flexible, and had a wide variety of features. It also had significantly fewer hardware involved. 
---
Advantages of a cloud contact center
The benefits of a cloud-based contact center
Using a cloud-based contact center has its advantages. Here are ways a company can benefit from a cloud contact center. 
Cloud contact centers are cheaper
The issue of the total amount spent using traditional contact centers has always been a concern. With cloud-based contact centers, this issue has been resolved. For starters, the upfront costs you will pay for cloud services is cheaper compared to the traditional contact centers. On-premise contact centers also call for very expensive hardware which you will not need to purchase if you have the cloud-based technology. 
There is also the issue of wasting resources where you are forced to buy the equipment you will not use. Most of the lines, for example, are sold in bunches, so if you only need a couple, you still have to buy the entire bunch. This is not the case with cloud contact centers. You only pay for the communication services you need and what you use. 
The other thing that made traditional contact centers expensive is upgrading and maintenance. Upgrading involved buying the latest hardware and changing a few things. This costs a lot. From time to time, the system also needed to be maintained and repaired by experts, which also costs a lot. Hosted contact centers do not have these issues. Upgrade and maintenance are very simple and cheap. 
There is better customer experience with cloud contact centers
Customers will naturally feel more appreciated and satisfied when your business adopts the cloud contact center technology. Complaints and queries are solved with finesse; this helps to save the client's time and the agent's time as well. 
This efficiency in dealing with customers will improve the reputation of the company, which is amongst the most direct ways of increasing sales. With the cloud contact center, you will only need to train your agents in using the system and how they relate with customers.
Cloud contact centers increase the efficiency of the contact agents
The efficiency of the contact center agents significantly increases with the introduction of the cloud contact centers. This increase in efficiency is thanks to the intuitive interface of the cloud contact center that helps agents to work with different customer data from various communication channels. 
The various handy features in the hosted contact centers play a huge role in making work easier. They have advanced call routing features that intelligently route calls from customers to the right expert or department. 
There is greater scalability with cloud contact centers
With cloud contact centers, you only pay for what you want and what you will use. These on-demand advantages are not enjoyed by traditional contact centers. If you want to add five new agents, for example, you have to buy a lot of equipment that you end up not using. 
With cloud contact centers, your business will experience true scalability. The system grows with your business and can also scale down whenever necessary. This feature is particularly lucrative for businesses that have peak and off-peak seasons. When the demand is high, the business can hire temporary agents to help with the extra business. You in term pay the cloud contact center provider for the extra services. When off-season arrives, and the temporary employees leave, you will no longer pay for the extra communication services. 
---
What can a cloud contact center do for your business?
How businesses use hosted contact centers?
Now that we understand the cloud contact center and the advantages it brings to your business, how can it make use of the technology?
Cloud contact centers can be used to unify communication channel
Customers today communicate with businesses using various communication channels and platforms. Some use phone calls; others send SMS. The ones on the web want to use live chats or social media platforms, which are also numerous. Let's not forget the corporately loved emails. 
All these channels on their own can really bombard the contact agents. They will have a hard time keeping up with all the information. Cloud contact centers can unify all these channels under one bracket. All the information comes in one place no matter the platform a client has used to communicate with the business. This eases the tasks of the agent and helps them serve the client much faster. 
Cloud contact centers provide intelligent services for the business
Have you ever called a company asking for help or support and they keep routing your calls from one person to another? This can really frustrate a client. It also gives the impression that the agents do not understand their work well. It takes a long time to get help, and you are forced to explain your problem to many people. This kind of customer experience can really ruin the reputation of the company. 
Intelligent features in cloud contact centers such as intelligent call routing will immediately identify the call, the reason for making the call, and most importantly connect them directly to the expert who can serve them properly. The intelligent system also shows previous interactions that the caller has had with the company.
Cloud contact centers measure the performances of employees
Cloud contact centers collect figures and metrics that can be used to improve the performance of the business. These insights range from what channels customers like to use to how productive agents are. This data is crucial for decision making and planning for the future.
Employees under probation or those given specific goals can easily be measured after a specific period of time. In the long run, this data help to determine whether an employee is productive or not.
---
Which cloud contact center provider is the best?
Choosing the right cloud contact center for your business
It is only logical to move from the traditional contact center to a cloud-based contact center. There is no 'best' contact center; there is, however, one that suits your organization the best. To know the best cloud contact center service for you, make a list of features that your business needs the most, and compare them with the available services. 
Below are some of the features to look for in a cloud contact center provider:
Choose a cloud contact center that offers SIP trunking services.

Choose a cloud contact center with a minimum uptime of 99.95% SLA. This will ensure quality and reliable connections everywhere.

Choose a contact center that offers chat, video, and click-to-call services. This lets customers browsing online to immediately connect to the company.

Choose a contact center that has a web interface that allows contact agents to make and receive phone calls from CRM or the web browser. 

Choose a contact center with IVR that can be customized to build menus and create greetings.

Choose a contact center that offers SMS services.