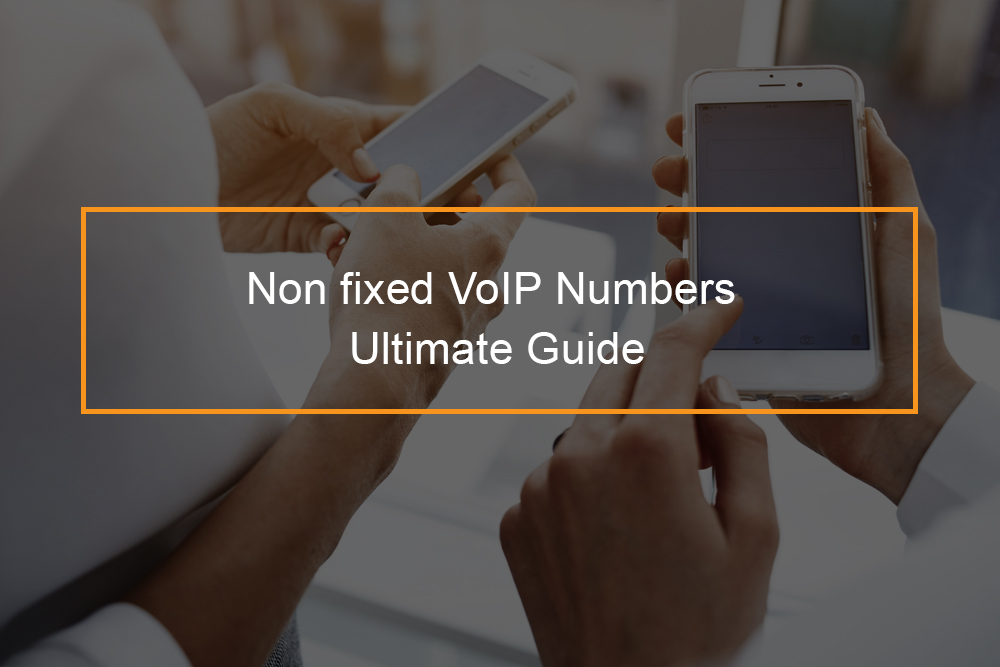 Non fixed VoIP numbers are not linked to a fixed address but instead can be linked to any geographical location. Non-fixed numbers are also known as virtual phone numbers.
Reliable communication is the core pillar of any company to be successful. It also boosts your clients' confidence in your business. Each company requires to invest in a reliable phone system for their customers and seamless internal communication.
With costly installation and maintenance charges, legacy telephones are being faced off. The new generation of Voice over Internet Protocol technology (internet calling) is catching steam with most enterprises. Internet phone uses broadband internet connectivity to allow convenient communication. 
Non-fixed VoIP system promises you convenient communication, minimal costs in installation, and running the system and feature-rich platform features. In this feature-article, you will learn more about types of VoIP more specifically  non-fixed VoIP.
---
What does non fixed VoIP mean?
Non fixed VoIP phone number meaning
Non-fixed VoIP does not need a physical address to sign up. Consider non-fixed Voice over Internet Protocol the burner phone of Internet telephony- you only have to give an email address and payment. Any person can get Voice over IP number and make it appear like they are calling from one country when they are really in another.
Whereas the ability to ring internationally is excellent, there is a much higher chance that a non-fixed VoIP phone line is a scam. It doesn't come with business-grade features, includes little to no security, and you can not connect to the PSTN, inclusive of an emergency call.
Examples of non-fixed VoIP include Google Voice and Skype. Non-fixed VoIP numbers are suitable for supporting business-oriented features. For example, someone with a fixed Voice over IP line may request a virtual phone number via their VoIP provider who will frequently charge a fee every virtual number, and this number could be allocated with a particular area code so that when somebody calls the virtual line, the call is listed as local but is naturally forwarded to a non-local number.
Whereas non-fixed has enterprise VoIP service, they are often used for personal use and lack the breadth of professional features that people would typically link with VoIP telephony. VoIP services with Nextiva, Vonage or other VoIP providers have numerous advanced cloud calling features such as call flip, which allows you to move calls from one device to another at the click of a key whereas you will not find nearly as many features on non-fixed lines, and indeed not as many business-oriented capabilities.
---
What is non-fixed Voice over IP phones numbers used for?
The way that non-fixed Voice over Internet Protocol numbers works is via third party carriers that allocate you a particular non-fixed VoIP telephone number. Because they do not require to be linked with a real physical address, a non-fixed VoIP is particularly easy to obtain.
In comparison to fixed Voice over IP telephone numbers, statistics and content from most of blog home show that non-fixed VoIP telephone numbers are known to have a higher possibility of being stolen for fraud, by a high percentage. This is since non-fixed phone lines enable subscribers to place anonymous phone calls by spoofing caller ID data and generating new numbers fast and effectively, something that can cost the company a lot of money. The ability to place anonymous phone calls with a non-fixed VoIP telephone number are two things that make nonfixed VoIP lines ideal for fraudulent activity used among criminals and spammers. However, today there are ways to identify non-fixed inbound calls.
---
What are the benefits of non-fixed VoIP?

Advantages of non-fixed VoIP
Non-fixed VoIP services provide various benefits to a business. Here are some of the logics why you should regard deploying non-fixed VoIP.
Nonfixed VoIP phone system is easy to use and flexibility
The only things you need to obtain a non-fixed VoIP number is a payment option and your email address. This makes non-fixed VoIP phone number particularly easy and flexible to use. In case you are looking for a temporary number that you can utilize to call both in the country and international calling, then a non-fixed VoIP phone number is a good idea.
Nonfixed VoIP phones save you costs and easy installation
After your IP phone service is linked to the broadband internet, it can be provisioned naturally. Your service will be up and operating in no time, provided you ensure you read the instructions regarding the way you are supposed to cable and link your business VoIP service. Just make sure that you complete everything that is essential before and during your installation procedure.
User mobility and VoIP call management
A feature that non-fixed VoIP offer is accessibility from multiple digital devices, including your computer or your mobile softphone device. Various applications enable you to access your Voice over IP service from your mobile devices, without any charges. Most VoIP subscribers prefer using a non-fixed VoIP service; for this reason, it enables you to use your non-fixed VoIP phone number on various types of digital devices at once.
Your consumers, clients, friends, co-workers, and family members will be able to reach you on your non-fixed VoIP telephone number on the same number on numerous devices. If you are using your desktop phone, your smartphone device or your desktop will not matter, since all can be linked to your non-fixed VoIP phone number. With non-fixed VoIP, you can answer all of your calls by using a device that they dial on specific devices of your choice.
Nonfixed VoIP allows modern communication technologies (inclusive of video conferencing, email, smartphones and other advanced calling features ideal for conference phones) to be consolidated using unfied communication system. 
Disadvantages of non-fixed VoIP
Summary of the problems of non-fixed VoIP
Non-fixed VoIP are prone to criminals and are thus less trustworthy

Non-fixed VoIP numbers lack professional image. This may not be a problem for residential VoIP but particularly for a primary business VoIP lines is a problem.

Non-fixed VoIP may not be able to place emergency calls since no location is assigned to the number.
---
Fixed vs Nonfixed VoIP
What is the difference between fixed VoIP and nonfixed VoIP: fixed vs nonfixed VoIP
In this blog category we are going to look at fixed vs nonfixed VoIP quickly learn the difference between the two. Fixed and nonfixed VoIP phones are both common in the market. The main difference between VoIP numbers is that fixed VoIP numbers are linked to an account holder's physical address, whereas non-fixed VoIP numbers are not fixed to any specific address. Noting that we have discussed nonfixed VoIP in the previous section let's discuss fixed VoIP.
Fixed Voice over Internet Protocol is a telecommunications line, generally a residential or business phone system line. Fixed VoIP is serviced by provider, instead of a traditional, local company. The main element of fixed VoIP is that it is linked to a physical address, something which can be of great essence to businesses and small companies wishing to have all their business contacts organized in one system source. SIp trunking replaces the traditional telephone trunk and enables users to communicate with mobile and fixed telephone users in the globe.
A fixed VoIP phone number is a telephone number that is built via the internet, instead of the traditional phone system. Fixed VoIP lines are typically known to be safer than non-fixed VoIP phone numbers. 
A fixed VoIP number is most commonly deployed in business and company settings, that are within the country. When your business or organization configure up a VoIP system, your service provider will need that your VoIP phone number is directly attached to a physical address. Since fixed VoIP is an-in country service, companies and organizations that work out of the country will not be able to be offered with a respective fixed VoIP phone number. However hosted PBX, provides businesses with international fixed voice over IP telephony.
---
What are the benefits of fixed-VoIP?
Reliable connectivity
Something essential to note is that when it comes to using a fixed VoIP number is that it guarantees a higher chance that your VoIP number will connect to essential emergency local phone line services like 911. Fixed VoIP number is directly linked to addressing, and also, since your VoIP provider owns the network connecting your fixed VoIP number to the PSTN, guaranteeing a higher level of authenticity and protection, all you need is a stable internet connection. Use a speed test to get a better idea what bandwidth your VoIP can handle.
Protection
A fixed VoIP ensures that all your communication is safe and protected from being caught up in the situations associated with the fraud. Most of your phone service providers recommend that your business or company deploys a fixed VoIP system. This feature makes fixed VoIP numbers more suitable for contact center and call center software than nonfixed VoIP.
VoIP provider assures you of security
One of the most critical merits of having a fixed VoIP system is the essential level of protection that a fixed VoIP system offers small businesses and organizations with. Often, fixed VoIP numbers will be associated with VoIP providers that own the network that links your fixed VoIP number to the PSTN.
---
Disadvantages of fixed VoIP
Below is a summary of fixed VoIP problems.
Fixed VoIP needs an address where the service is piped and, therefore, more involved to be set up and obtained.

More costly. The service is more involved, and the features are not free.