Will VoIP work when the Internet goes down?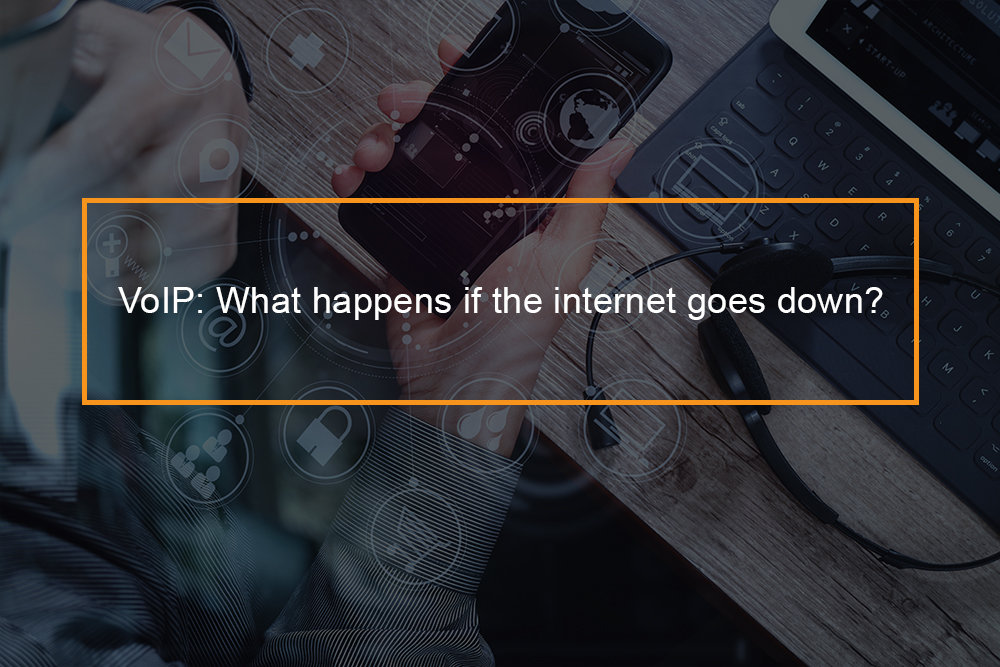 VoIP cannot work without an internet connection. VoIP phone calls are made over the Internet, rather than over analog phone lines. Which means in case the internet connection is lost or goes down, so does the ability to make phone calls.
However, with the added features you get from some Hosted PBX through VoIP or in most cases even with basic SIP trunking service, you can have a disaster recovery plan that would allow all phone calls to be routed to an alternative number, either a cell or alternative office location. This would help in both power failure and loss of internet connection. 
It can be set up as an automatic fail- or you may not have to set this up ahead of time, but the hosted PBX offers you the cability to log in to a web portal and apply a change on your own as opposed to having to wait for somebody to do it for you. You can do this from a mobile phone internet connection, or a laptop.
While the only real requirement fVoIP to remain up and running is a quality internet connection, one of the questions from potential VoIP users is if a VoIP can work without Internet.
---
Can VoIP work without Internet?
Is VoIP reliable without Internet?
Voice over Internet Protocol is a rapidly growing Internet-based service, and for many reasons. VoIP is easy to set up, use, and expand, and most of all, it saves costs over PSTN telephone service. 
VoIP depends on the user's internet connection to work. VoIP home users, or small businesses, can get by with a decent DSL connection. Small to midsize companies can apply T1 or cable, whereas heavy users would be better served with options such as ethernet over copper or metro ethernet.
It is crystal clear that if your phone system depends on the internet connection to work, it will not function in case you lose your Internet; you will lose your dial tone as well. Even though your internet connection is up, and there is an issue with it, your phone service may not function well in case your business is using VoIP.
So the big issue is how do organizations ensure their communications are not dead in the water in case there is no internet. You may not have an internet connection for several reasons;
A problem with the local loop wiring

An internet provider or carrier issue

An accident that moves out a pole or many

A piece of local office network equipment could fail

There are even more reasons that could make the Internet and subsequently, the VoIP service to drop.
---
Ways to keep your VoIP service going without an internet connection
The possible loss of phone service due to internet failure is the main drawback for VoIP phones. Here are some schemes you can implement to keep your VoIP phone service up and running even though your internet connection is down.
On a local level, for businesses that are using a newer BPX, like a hybrid PBX, can opt to have several backups for copper lines, also referred to as POTS, installed right in their phone system. By installing copper lines backup the business will allow employees to make outbound calls, albeit with much lesser capacity as the number of outbound calls would only equal the total number of backup phone lines the organization had. On the inbound side, the VoIP provider would require to re-route the inbound phone numbers to the numbers of those POTS lines. Some carriers can do this naturally, whereas some may need to do it manually. In either case, having some backup POTS lines in case the Internet goes down if your business uses a hybrid PBX can be useful. Of course, in case the phone pole in front of your office is wiped out, possibilities are the Internet, and backup phone lines will be down. That is a bad scenario, but it does occur.
Build failure options into every customer's setup
On a carrier or provider level, most VoIP providers, including MegaNet, can build failover options into every customer's setup; those failover options exist right on providers' phone switches. So as VoIP can work, the VoIP provider switch usually communicates with some device on the consumer's end- it can be integrated Access Device, a VoIP router, or a set of digital VoIP phones. In case the switch prepares to hand an inbound call to the client, and it can not reach the device it was expecting, it can naturally hand over the phone call to a diverse phone number or device. With almost everyone carrying a mobile phone today, the most common option is to route inbound calls can still be responded to and answered.
Companys that prefer to use Hosted PBX can get another level of failover, where each single individual extensions on their phone system can have its failover. Since Hosted PBX maintains the business's main menu, voicemails and options on the provider's equipment, in case a business's local office loses their power or internet connection, inbound callers can still hear that the organization's chief phone geeting and can access menu options since they are not hosted at the location that is lost Internet or power. In case they dial a staff extension, the Hosted PBX server can naturally route that call to the individual user's cell phone because the VoIP at the provider cannot locate the digital VoIP phone assigned to that specific extension.
---
Can VoIP work with wireless connection?
Can VoIP be wireless?
In case you have a wireless router and network, then you can wirelessly use your VoIP phone. In case you are on the move, you can use the VoIP through WiFi connections, but you will require to organize this with your VoIP provider, and it might cost more.
There is also the possibility of setting up a WiMAX extender which improves transmissions up to seventy-five kilometers, so you can use your normal VoIP connections locally.
Internet works but not VoIP
If the Internet is working and not your VoIP, test your WiFi connection by plugging your PCs directly into a cable or DSL modem with an internet cord. Some of the providers recommend unplugging and resetting your modem before doing this.
In case you are still not getting a connection, that indicates that your office internet is possibly down. Service provider network issues sometimes cause VoIP service outages, but other times the disruption originates from inside your office. Rather than immediately contacting your provider's support team, whenever your VoIP service goes down, try troubleshooting the problem on your own to recognize the root of the problem.
Below are some of the steps you can take in case the Internet is working and not the VoIP;
Make sure everything is plugged in- Check your routers, modems, and phones and make sure that all the cords are plugged into the right sockets.

Check your internet connection-A fast way to test if your Internet is down is to attempt to load a website in your browser window.

Rule out router issues-You can fix issues with your router by adjusting features on the Admin portal even though doing this you can reset or change network features without the knowledge.

Verify phone configuration-Most of the problems are phone specific, and there are various resources online and detailed quirks of every device.

Look at network alerts-Check if a network alert has been posted. Most service providers have a network page where they post the current status of their network. Check on the company web page or their social media sites such as Facebook, Twitter, or other sites.

Contact service provider's support team if you have tried all the above steps, and you are still having issues with VoIP call your VoIP service provider's support team.
---
Does VoIP slow down Internet?
Does VoIP affect internet speed?
Whether VoIP will affect your internet speed depends on a broadband connection. In case you have a high-speed internet connection, then VoIP will not slow down your Internet. The speed of your connection is essential. It influences the way you work.
Usually talking on a VoIP call for one hour uses less bandwidth than surfing the net for an hour; thus, it will not affect your bandwidth too badly. In case you are running a slow connection, then it may be an issue.