What is a VoIP number and who uses it?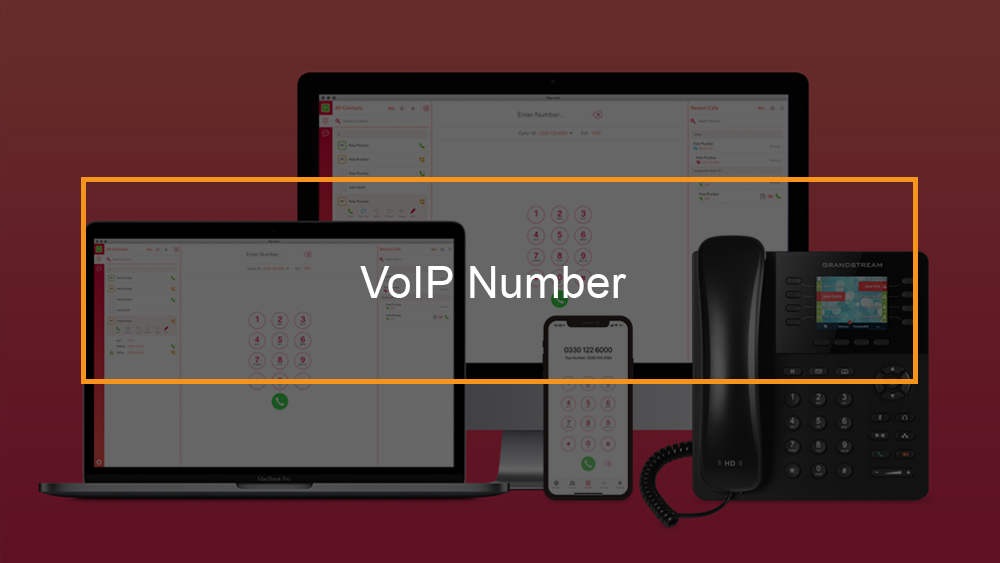 VoIP phone is used by people who own small businesses, a growing business, big companies, individuals, or for residential purposes. Typically anyone can use VoIP services. Deploying VoIP services will be key to unlocking many benefits.
VoIP is the most modern and effective way to access the communication services that a growing business needs. Voice over IP services is Voice over Internet Protocol Services. With VoIP software and hardware, people can utilize the Web as a medium for transmitting telephone calls. Voice data is transferred in packets, using IP, instead of being transmitted through PSTN circuit transmissions.
---
What is VoIP, and how does it work?
VoIP technology explained
VoIP technology represents a class of telecommunications services. Most people think of Voice over Internet Protocol as an alternative telephone, which it is.
Voice over IP routes communications sessions through the internet rather than through the packet-switched telephone network. PSTN uses dedicated fiber-optic lines or dedicated copper to route voice communication. VoIP, on the contrary, uses Internet Protocol, so it does not need its dedicated lines.
Voice over Internet Protocol refers, typically, to modern voice and video services provisioned through internet-connected  IP networks. It is not a specific product or service. With VoIP, you not only need the full range of voice to voice services, conference phones facilities, call waiting, but also video calling, conference calling, digital whiteboards, video-conference, and voicemail services.
Apart from the under-the-hood wiring, Voice over Internet Protocol differs from PSTN in one primary way. A PSTN connection terminates to a distinct phone jack that is identified by a Session Initiation Protocol address such as email address but for VoIP services.
Who should use Voice over internet protocol (VoIP) services?
Voice over Internet Protocol is suitable for people who do not benefit from the additional services and who do not mind the drawbacks of service. Most mid to large-sized businesses deploy Voice over Internet Protocol for its internal telephone systems, by default: most commercial telephone providers assume Voice over IP or internet phone since there is no high incremental cost to provision or maintain an organization already wired for internet connectivity.
Therefore, in case you call the local pizza shop that has been in the industry for a while, there is a high chance they are running PSTN. And in case you call the new urgent-care clinic, they are possibly using internet telephony. While at home, you are free to choose between VoIP and copper-wire solutions. Home PSTN is assigned by your local telephone company; your residence is possibly wired for it, and service can be costly. You will perhaps have to pay for a long-distance package, though.
Residential VoIP comes from many size different services. The main cable-TV and internet providers, such as Comcast and AT&T, provide digital phone subscriptions that are, really, just Voice over Internet Protocol VoIP services, with a (Session Intiation Protocol)SIP addresses to PSTN gateway set up by default. Therefore you are provisioned with a phone number rather than an IP address. You can also deploy a different vendor, such as Vonage, for residential VoIP that can use actual hardware telephones, or a vendor such as Skype for computer-assisted or mobile app VoIP.
Even though pricing varies by state, typically, residential VoIP and PSTN services are priced equivalently. Even though if you bundle VoIP with your internet or TV service, you will sometimes save with promotional pricing. The most significant cost savings for VoIP follows for people who communicate long-distance often. Given PSTN dedicated wires, charges for time and distance, VoIP does not care if you are talking to your neighbor or relative overseas.
---
Why would someone use VoIP phone?
Benefits of VoIP phone
VoIP is essential and can help you reap so many benefits. Below are the reasons why people use VoIP phones.
VoIP saves you cash
This is possibly a massive benefit since you would want to generate profits and savings instead of sinking your earnings. Switching to VoIP phones are cheaper than traditional analog phone services. Compared to laying copper or fiber-optic lines for traditional phone, adding additional ethernet connections or provisioning Voice over IP to use Wi-Fi connection, significantly decreases the cost of a first-time deployment. Besides choosing VoIP, you will be able to place long-distance calls for less.
Portability
Voice over IP, VoIP network services from high-quality provider companies is now accessible all over the globe. When you have the internet, you can log into a VoIP phone. After you log in, you will hear a ringtone. You may place calls from any place that you have access to Web connection without any issues. It is simple and does not need technical skills.
Besides, you will find that it is possible to access VoIP services via your email account as you travel. All you require is a headset or IP phone, and you will be able to stay in touch with team members and your customers. You do not need to look for a local number or SIM card overseas.
You do not need network topology to access VoIP calling
VoIP phone does not require a local network to be set up in a particular way, so you can cork a VoIP software into any existing system without having to re-engineer it.
Flexibility
VoIP services provide users with phone flexibility. With VoIP system, it is possible to use conventional phones and VoIP converters. A converter is like a flash drive, and it can be corked into any computer. A converter can find signals which come from traditional or analog telephone. Then, the converter will transform the signals to digital data, which may be transmitted through the web.
This allows you to fully deploy your existing facilities without investing in a new one. Just ensure that your computer is turned one before you begin. Voice over Internet Protocol systems will provide you the power to get a VoIP number of your own. You can receive calls via that number provided you are in a place that gives you access to a high-speed web connection.
More VoIP provider competition
Compared to a small number of PSTN providers, the VoIP market of software and hardware vendors is growing significantly, leading to extensive functionality and features at lower costs.
Your system will be multipurpose
Besides placing phone calls, you will be able to video-conference through your VoIP phone. This is excellent for efficiency since you will be able to gather your team or chat with clients  to share information. In case you love the personal touch that video conferences provide, you will find that VoIP has the multi-functionality that you need and require. This is an excellent feature for contact center.
Software for call control tasks is also accessible through Voice over Internet Protocol. Organize all client calls  though unified communications capabilities into various segments and categories, get to know their needs or needs before they talk to you.
---
What are the disadvantages of VoIP phones?
Summary of VoIP drawbacks
Business VoIP phone system call quality can be affected by latency
The audio quality is sometimes inferior with Voice over Internet Protocol given network latency, bandwidth challenges, and misconfigured hardware. To solve this problem use  VoIP speed test to measure your bandwidth ability.
Voice over ip phones depend on electricity
VoIP-optimized desk phone need electricity: to be able to send and receive data you need internet. A PSTN line gets its power from the copper wire. Thus even if you have experienced a total outage, your PSTN phone connection should still be intact. With VoIP, not only must your regular phone have power but also your router and any devices that facilitate your access to the internet.
Emergency calls
Since VoIP is not linked to a location, in many circumstances, you cannot use it to call emergency services.
Security
Since it depends on the internet, VoIP telephone services are subjected to the same disruptions and monitoring as any other internet technology. The weakest security link may be totally outside of your control. Not all VoIP providers provide end-to-end encryption for their services
---
Can a VoIP number we traced?
How to find the owner of VoIP business phone?
Today, it is becoming necessary to know how to trace an incoming call or recognize phone numbers owner of the call when an unidentified caller calls on the Voice over IP serves and to protect yourself against phone scams, voip phishing and VoIP fraud. To know about an unknown caller, all you have to do is to use the Reverse Phone Detective or caller ID.
There are numerous reverse phone detectives accessible online for free, and all you have to do is to put the number of the caller in the search engine, and there you go, you will have the results. Typically, these online detectives can also be used to search for landline numbers too.
So, yes, it is possible to know the owner of an unidentified VoIP call.