Business guide to 4 line phone system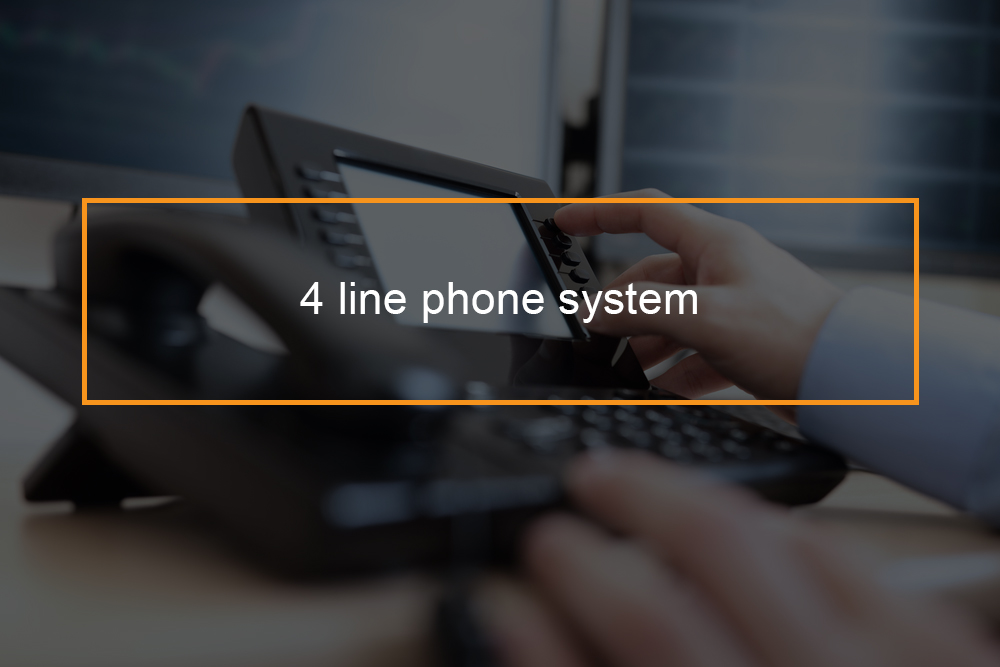 A 4 line phone system is a phone that runs four analog or landline phone lines into your office. Most four-line phone systems have hardware that connects additional phones in multiples of four. The four-line system gives each employee in a small office, their phone, and extension, making it a more economical application than giving every employee their own unique phone line. However, you may only want to place or receive up to four phone calls at the same time.
Traditionally, companies requiring a robust phone system needed four-line, landline-based phone system with a costly private branch exchange (PBX). Today, Voice over Internet Protocol (VoIP) phones have become low-cost and robust options to these traditional four-line systems. Thus, today, most businesses are using VoIP phone systems instead of four-line systems.
In this guide, we will explore 4 line phone systems and compare the systems with VoIP phones.
---
How much does a 4 line system cost?
4 line phone system pricing
A four-line phone system costs anywhere from $100 to $200 for the base unit and an additional charge for every handset. Together with service, configuration, and maintenance costs, this can make four-line phone systems almost three times more expensive than many Voice over Internet Protocol phone systems. 
It is worth noting that four-line phone systems are becoming increasingly challenging to sign up for since most phone providers are phasing out the older landline technology in favor of VoIP.
4 line phone system vs. VoIP phone system affordability
VoIP is more affordable than 4 line phone systems, with flexible plans generally beginning around $25 for every user in a month. This includes configuration costs, hardware costs, ongoing service costs, upgrading, and maintenance costs. The only extra cost outside of the phone service itself is your internet connection, which your business would have anyway.
On the other hand, a four-line system can cost more than $100 for a base unit and rigid monthly service charges and accessory cost. 
When to use a 4 line phone system?
Whereas Voice over Internet Protocol is rapidly becoming the norm, it should be noted that VoIP reliability and quality are directly affected by your internet connection. Thus, if you stay in a remote area or you do not have reliable internet service, stick to 4 line phone system.
---
What is the best 4 line phone system?
Comparing 4 line phone system
Whether you are opening a new office and require phones or you are planning to upgrade your existing phone system, we have compared some of the top 4 line phone system to help you choose a phone system that suits your needs.
Note that the best business phone line system, whether two lines or four lines should the following:
Provide the ability to transfer calls to a mobile phone, a free smartphone app, or supports mobile and home office staff.

A good 4 line phone system should be reliable. The provider should have a proven record of reliability.

The phone system should be affordable for a small business to buy and maintain.

The four-line phone system should have basic features such as an automated attendant menu, intercom, voicemail functionality, automated attendant menu, and music on hold.

Must support up to four telephone lines or more VoIP or landline
Features

AT&T (small business system)

RCA  system

Intelltouch system

TMC system

Cortelco system

Max# of stations

12

16

12

16

12

Standard phone system features

Yes

Yes

Yes

Yes

Yes

Speed dial buttons

4

16

20

28

24

Adress Book

200

94

200

10

0

Shared Adress Book

0

0

0

40

0

Caller ID and Call waiting caller ID

Yes

Stores last: 200 calls

Yes

Stores last: 99 calls

Yes

Store last: 200 calls

Yes

Store last: 50 calls

Yes 

Store last: 30 calls

Hansdet Ready

Poor amplification

Not tested

Yes

Yes

Yes

Music on Hold options

On hold and systems

On hold plus systems

On hold Plus systems

TMC  Music on Hold Adapter(Better intergrated , lower cost)

On Hold Plus systems

Built in voicemail

Is present but does not answer the phone while in use

Has a built in voicemail which is quality solution

Auto-attendant

Present but you cannot use the phone while auto attendant answers calls

Has an auto-attendant of quality solution

Other important features

Cordless phone attachement available

Sleek design

Can connecordless phones

Off-hook voice announce

Intuitive user-friendly interface and many more features 

Price

$174.97

-w/voicemail

-w/auto attendant

$127.97

$94.97

-No call ID

$129.97

$99.97

-No caller ID

$125.97

$208.97

With voicemail

And auto attendant

$197.97

$139.97

Online ratings

Three star

Four star

Three star

Five star

Two star
Note with respect to the above table
Max# of stations- is the maximum number of phones that can be connected on each 4 line system.

Standard phone system features include; hearing aid compatible, line in use indication, redial, mute, conferencing, page, hold, transfer, Intercom, and Speakerphone.

Speed dial buttons- Speed dial buttons are the physical memory buttons on the phone enabling instant dialing of stored number. Some phone store two numbers on every physical speed dial button effectively, thus doubling the available speed dials. In such a situation the second stored number is accessed by simply pressing a special function button before pressing the speed dial.

Address book-The address book is a navigatable directory of phone numbers stored on the phone. An address book can be accessed through the phone's LCD menu, and phone numbers can automatically be dialed from the directory at the touch of a button.

Shared address book- A shared address book is an address book that all phones on your phone network share. This allows your company to essential contact information relevant to all your employees.

Caller ID $ Call-waiting Caller ID; Some phones include Call-Waiting Caller ID, Caller ID (for Caller ID info when you are already using the phone) and the ability to automatically dial from your Caller ID list with the press of a button.

 A headset ready- Phone systems with a check have a quality headset available solutions to be used with 2.3mm headsets (saving $100 to $150). The other phones need headsets with an M12 amplifier for headset use.

Music On hold options- All phone systems can use On-Hold Plus Systems to adapt to Music on Hold On Hold Plus Systems start at $300 plus $30 for every phone.

Built-in voice; Builtin voice mail feature can save you the cost of voicemail via your phone company and provide a more integrated professional messaging system.

Auto-Attendant; An auto attendant automatically answers incoming calls and routes them to the right person via the use of a telephone directory tree.
---
RCA 4 line phone system
The RCA series phone system is a low-cost application providing all the essential basic phone system capabilities such as intercom, speakerphone, and conferencing. The phone features sixteen-speed dial buttons, but its most valuable feature is the ability to add a cordless handset to every phone.
RCA's cordless handset can access all four lines, displays, Caller ID and stores the last forty callers. It also has a 40 slot Address Book.RCA cordless phone feature can be an essential benefit for consumers who have warehouse and other large spaces to move around.
---
AT&T 4 line system for small business 
The AT&T offers all the standard features required by any phone system, like an intercom and call transfer, a lower price.
However, AT&T cut a few corners on their voicemail and auto attendant. While you are using the phone voicemail and auto-attendant will not pick up other incoming lines and vice-versa. Whereas the auto-attendant or voicemail is answering a call, the phone is unusable. Thus in case you are on a call and another party is transferred to or calls your extension, voicemail and auto-attendant will not answer. Rather the phone will keep on ringing until you answer or your caller gives up. Besides, to ring until voicemail picks up – a somewhat unprofessional touch.
Moreover, the headset jack on this phone has little practical purpose. However, in case you ignore AT&T's over-zealous attempt to add voicemail, auto-attendant clumsily, and headset capacities, you will realize some other features of this system are very beneficial to a business.
For beginners, the AT&T system provides the largest navigatable address book. It stores up to 200 names and numbers that can easily be dialed at the touch of a button. They include an equally extensive directory for Caller ID logging storing the last 200 callers.