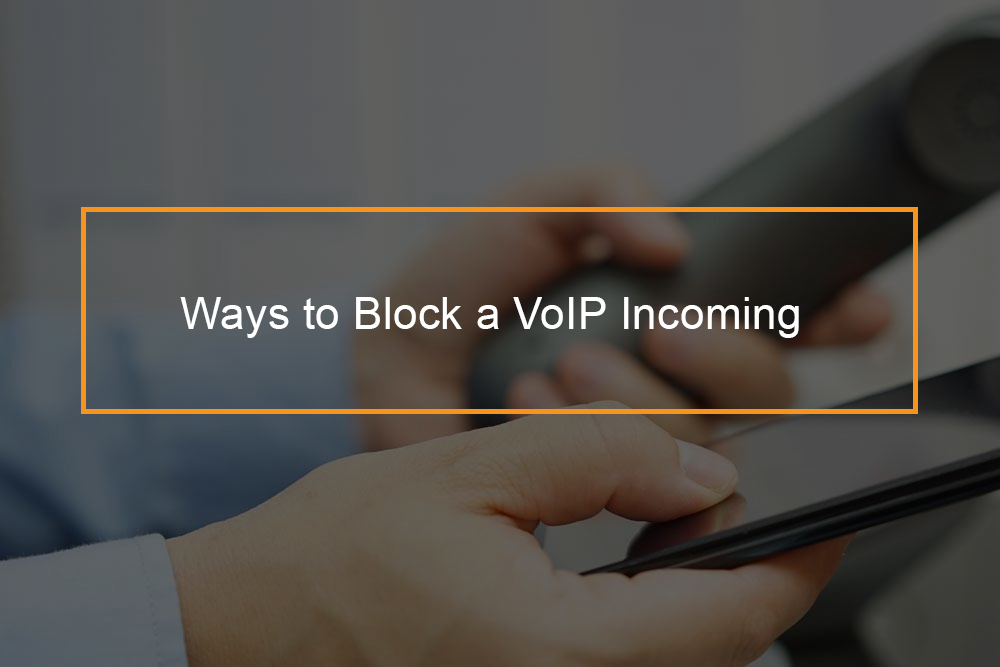 You can block VoIP calls on Android using your caller ID app. Usually, you can set up specific rules for how you want to call blocking to work.
In case you want to block phone numbers or private numbers, you will have to choose and set up these settings specifically. You can also use a call filter to block unknown callers. Basically, these settings are something you need to customize in your phone system. In other words, the Voice over Internet Protocol (VoIP) phone system does not usually come factory-programmed to block specific numbers or kinds of calls. It is worth noting that not all VoIP providers and other phone companies give you a call block feature for free. Some of them include it in their premium plans, so before looking for call blocking features and other options in your setting, it is better to recognize if it is included in your current VoIP plan.
---
How do I block Internet calls on my Android phone?
Blocking VoIP call on Android phone
This section will teach you how to block VoIP calls from specific people in VoIP apps for android users such as WhatsApp, Viber, Skype, and Face Messenger for Android. Blocking calls from contact will also block messages from them. You will learn how to use VoIP apps setting to get call control rather than blocker apps.
Whatsapp phone app call blocking
To block a WhatsApp call on Android, use the green icon with a white chat bubble and phone receiver inside. The icon is usually found in the app drawer. Then proceed to tap the chat tab. It is often found at the top of the screen. Proceed to blocking specific person by tapping the person whose calls you need to block.
In case you do not find the person's name, tap the new chat icon, usually at the buttom-right, and then choose the contact from the list. Click the person's name; it is at the top of the screen. By doing so, you will open the person profile.
Then scroll down and click on the block. It is near the bottom of the screen. You will receive a confirmation message. Press block to confirm. This will block incoming VoIP calls and messages from this contact.
Call blocker for skype 
To block unwanted phone calls on Skype on your android, look for a blue icon with a white 'S' inside. It is usually found in the application drawer. Then tap the contacts. This is usually at the bottom-right corner of the screen. Then click the skype tab. This is at the top of the screen. It usually display your contacts. These are people using Skype accounts and thus likely to call you over VoIP phones. Tap on the persons name that you need to block. This will open a chat screen with this person. It is at the top of the screen, and it will open their profile.
Then scroll down and click block contact. A confirmation message should appear. This procedure automatically blocks any incoming call from a blocked number.
Now tap to confirm. You can also report this contact in case it is a spam call, neighbor spoofing, or the person is harassing you by tapping the toggle to report abuse from this person.
How to block Viber call?
Blocking unwanted calls on Viber is so easy. Simply open Viber on your android phone. It is usually the purple and white phone receiver icon often found on the home screen or in the app drawer. Then tap contacts; it is at the top of the screen. Then tap the tab, you will only see Viber contacts.
Click on the person to block. After that, tap the menu. It is at the top-right corner of the screen. Then tap Block. The contact is now blocked and can not call you or send you a message in Viber. The option to unblock will show a few seconds at the bottom of the screen though in case you made a mistake.
Scam block on facebook messenger
To block unwanted call on facebook messenger, look for the blue chat bubble icon with a white lightning bolt inside. Then tap the person you need to block. This opens a chat screen. After that, tap the 'i' in a circle. It is at the top-right corner of the screen. Now you will see the contact's details. Scroll down and tap block. It is near the bottom of the menu.
Then slide the block messages from a switch to the on position. The contact will not be able to call or send you messages on Facebook messenger.
---
How do I stop telemarketers from calling my cell phone?
Stop unwanted robocalls and texts
The national do not call registry was developed to stop unwanted sales calls. The best thing is that it is free to register your mobile or home phone number.
If you have already added your telephone number on the do not call registry, and you are still getting many unwanted calls, possibilities are the recent calls are from scammers. It is time you get a phone with block features to be able to block those unwanted calls. Here are a few applications you can use to block robocalls.
Using Nomorobo call blocker app
You can also use Nomorobo. A variety of third-party mobile applications try to block robocalls and spam calls based on a list of known offenders. Accessible for Android and iOS, Nomorobo attempts to clamp down on robocalls, and other telemarketing and call centers calls by scanning calls blacklist of known phone numbers. The application can block spam call and send it to voicemail or enable it through and identify it as phone spam.
Nomoprobo is also another call protect app against spam text messages, serve as an ad blocker on the web, and assist you to report a robocall or spam call. The best part is Nomorobo is not exp0ensive. It costs $1.99 per month.
Using Hiya caller and blocker
Hiya caller ID and block is a callblocker app which is designed for both android phones and iPhones. The app can block calls or warn you of robocalls and scam calls based on the database of known scammers. The app tackles phone calls linked to fraud and illegal activities, together with those connected with telemarketers.
Hiya can sense spoofed calls that use the same initial digits as your own number. You can even key in a phone number into the app, and Hiya will show its source and tell you in case it is suspected spam number.
The standard app is free. A premium edition with more features is accessible as a seven-day trial and then costs $2.99 a month or $14.99 a year.
Robokiller
Robokiller attempts not only to block spam calls but also tries to mess with the spammers. The application answer bots can naturally answer spam calls with prerecorded nonsense designed to frustrate them and waste their time. You can also build your own bot responses. The application tries to block calls based on a database of known spammers. However, you can also add specific numbers that you need to block. The android app cost $2.99 a month of $24.99 for every year, whereas iOS begins at $3.99 for every month or $29.99 for every year after a one-week free trial.
Truecaller
Truecaller is compatible with iOS and Android. It strives to block spam phone calls and text messages. The application attempts to identify every incoming call, particularly from unfamiliar numbers, so you get to know if it is legit or not.
Truecaller can automatically block unwanted calls based on known spammers; it can also do manual blocking. You can also check the specific names and phone numbers to get information on them. You can even place phone calls directly from the app to identify and call friends and other contacts.
The basic application is free. For $1.99 a month or $17.99 yearly, you can remove all ads and enjoy other benefits.
You can use the above apps to block unwanted calls, and If all the methods do not work, registering your phone with a registry or reporting a robocall or scam id call to the FTC can help. The agency will not act on a specific complaint, but it will suggest steps you can take and collect the info you offer in its own fight against telemarketers.