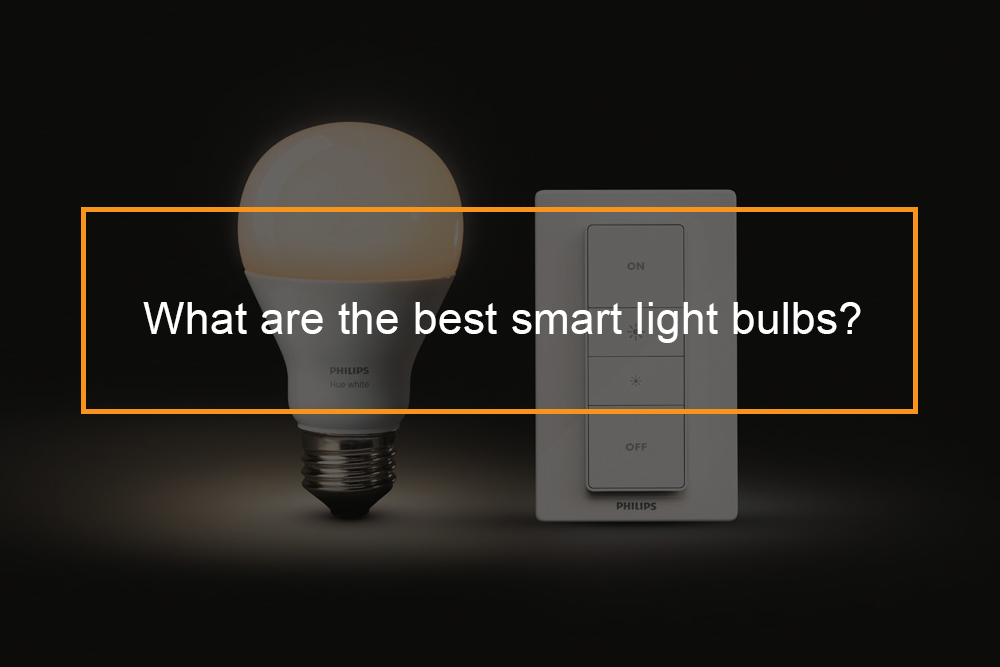 Thinking of diving into smart light bulbs technology, but unsure of how you will put it into use? This post has a couple of ideas which will guide you to get started, along with reviews of the best smart light bulbs in 2019.
---
What do smart light bulbs do?
How do smart light bulbs work?
There is a reason why smart bulbs are called smart and not just bulb. They do not just rest in a socket and light a room like  normal bulb- they do so much more.
Smart light bulbs have the capability to wirelessly connect with phone apps, something that ones to major possibilities.
Reasons why your next bulb should be a smart light bulb
Use smart light bulbs for the purpose of dimming your house
One of the general features of smart light bulbs is that you can dim them without having to install dimmer switches in your house. You can install a dimmable smart bulb into your lamps and dim them using the bulb's corresponding app.
Control your lights even when you are not at home by installing smart light bulbs
Most of the smart light bulbs can be controlled from anywhere-this is a great security feature because your home will ever look occupied.
This also avoids electricity wastage as you can control your lights from anywhere.The best part is most smart light bulbs brands offer a hub that can sync all of your light together so you can control all of them with one app.
Set the mood by using smart light bulbs to change the light color
Most  of smart bulbs change color. The advantage of this feature is that you can select the exact color you want.
So why should you want to change the color of your lighting?
Change your smart light bulb color to golden yellow to warm up your room

Change the smart light bulb color to light blue when you want to cool down a room

You can use the smart light bulb colors to match the theme during parties and events

Use your smart light bulb for decorations during Christmas, by turning red, black and green colors

Add color to your wall without painting by simply changing the color of your smart light bulb
Play music with smart light bulbs with in built speakers 
With smart light bulbs which have in built speakers you can play music without having speaker wires.
Some smart light bulbs such as playbulb color has lights that pulsate and change colors to match the mood and theme of the music produced by the speaker. This makes them an excellent idea for parties.
Fall asleep with a fade thanks to smart light bulbs
Smart light bulbs can make sleeping easier. Smart light bulbs emits various color temperatures that are designed to help regulate natural melatonin production in the body.  Color change can also be a little soothing and make you fall asleep.
---
How long do smart light bulbs last?
How long the best smart light bulbs last?
Anyone who wants to upgrade their home, to smart light technology has thought about getting smart light bulb. But the one big question which comes to mind is how long the bulb is going to last because they are more expensive than the basic bulbs.
Well, you can easily shop a cheap smart light bulb, but there is a huge difference when you go for popular brands and color.For that it is important to know how long they are going to last.
In this section, we are going to take a look at popular smart bulbs and how long they are going to last. Keep in mind that a regular light bulb will last for 1,000 to 2, 000 hours at best.
Average smart light bulb will last between 15 and 25 years , this equates to 15,000 and 25,000 hours.Because of advance in technology smart lights have long timelines. Below is a breakdown of the time limit of most popular smart LED lights.
Kasa smart Wi-Fi LED bulb is rated to last for roughly 25,000 working hours

IVIEW-ISB600 smart light bulb, will last you around 20,000 working hours

Phillips HUE smart bulb, is rated for roughly 15,000 to 25,000 working hours

Element classic smart light bulb will last you roughly 25,000 working hours

LOHAS smart LED bulb, is one of the highly rated with 30,000 working hours

Sengled element classic smart light bulb is rated at 22,000 working hours
---
Smart light bulb wifi
When deciding which smart light bulb to purchase, you need to know whether you want it run from a HUB, or just wifi.This will make your search easier, so if you already have something like Amazon, Echo or Echo Dot, you know you are looking for a smart bulb that Alexa can control.
 However, there is no reason to go wifi if you already have a HUB.The best thing about smart light bulb wifi, is that most of them actually work with a HUB, but it is not necessarily as it does not have an app. It is important to buy a smart light bulb which will work with your Amazon Echo and let Alexa control everything for you.
Generally almost all wifi bulbs work with a HUB if you have one.Even better, if you do not want a HUB right now, you can add one in the future without buying new bulbs at all. Although wifi smart light bulbs might cost a little more because of the software required to run them, but they are worth the investment and then you can upgrade to a hub later. It is important to check the ratings of smart light wifi before purchasing them as there are some bulbs which  need to run off of their own software.
---
What do you consider when buying a smart light bulb?
When shopping for a smart light bulb, there are many factors to consider when shopping for a regular bulb.
Smart light bulbs come in different shapes and sizes, thus it is important to know the exact type of bulb you want.
Below are different features to consider when purchasing a smart light bulb.
What is the color of smart light bulb lighting that you need. There are colors such as soft white, multiple colors, red, blue, green or purple.

Before buying a smart light bulb, know the wattage that you require. Most smart light bulbs are now under 10 watts.

Get to know how bright you want your smart bulb to be, before shopping for it. How bright your smart bulb is, is measured in lumens, or im. Most of the smart light bulbs are around 600 or more and are a softer brighter white.

Find the best shape of smart light bulb as per your needs. You can find various shapes of smart light bulbs such as old round style, or even the newer cone style which fits in canned lighting. 

Do you want smart light bulb wifi or HUB or voice commands. This is where you decide the smart connection type that you want for your smart light bulb.
---
Do smart light bulbs save money?
Are smart light bulbs worth?
In terms of electricity costs and how long the bulb will last you, smart light bulbs are worth the investment. 
Actually smart light bulbs will save your money in the long run. Basically, regular bulbs are cheaper compared to smart light bulbs but you will end up replacing them many times over compared to smart bulb. For smart bulbs they will have a higher cost out of pocket initially but have long dependable usage.
Smart light bulbs simply have a longer life than a normal bulb.
How much do smart light bulbs cost?
It is important to keep in mind that smart light bulb technologies are more expensive than traditional bulbs. Especially if you are upgrading an entire house. However, they are worth the investment as they save money.
Most of the bulbs cost a standard price of $ 100. Below are the prices of the latest smart bulbs reviews on Amazon.
LIFX A19 smart light bulb ranged  $59.12

Eaton Halo RL56 Wireless recessed LED lighting kit cost $24.95

LIFX Mini color smart light bulb can cost you anywhere from $ 44.99

LIFX+ smart light bulb goes for $ 68.00

Nanoleaf Aurora smart light bulb will cost you $199.99

Nanoleaf canvas smart light squares bulb cost  $249.99

Philips lighting Hue white and color ambiance A19 Bulb starter kit (Hub and 4 bulbs) will cost you about $ 159. 99

Sylvania smart + full color LED bulb will cost you 38.87
---
What light works best Alexa?
Best smart light bulb for alexa and google home
For most people, the first and the best way of upgrading their residents to smart homes is investing in smart light bulbs.
Today there are plenty of alternatives, so choosing the best smart lighting is not easy-there are various sizes, shapes, colors, styles and many brands.
In this section we have picked the best smart light bulb which work with both alexa and google home-after all, you are much more likely to go with one particular smart light bulb technology, rather than scattering different brands across your home.
The best smart light bulb , Alexa, google assistant, and home kit powered light C by GE
GE is one of the biggest brands in smart lighting, and its C by GE line is its major entry into the world of smart lighting. For C by GE products, you can buy a lamp and a smart switch. But in this case we want the bulb.
C by GE bulbs work with both Alexa and Google assistant, and usually need the C-Reach hub for voice control and out-of-home control. Generally, there are two main types of variants here:
C-Life bulb is created for regular lighting. Usually it has 850 lumens brightness and work from 2000K to 7000K color temperature.
These bulbs can be used wherever anywhere. Their color temperature ranges from 2000K to 5000K, thus they are not so bright.
There is a third bulb-bluetooth smart light bulb
Bluetooth bulbs do not require the reach hub to work. You simply plug in your google home, screw in the bulb, open the google home app and add them.
The best part about C by GE bulbs is that they are inexpensive and are easy to find. However, they are not the smartest light bulbs in the market but if you are looking for dependable, bright and affordable bulbs then you got it.
---
Best smart light bulbs for 2019
Light bulbs have grown smarter in recent years. Today, you can replace your standard bulb with a variety of connected bulbs.
Some of the best bulbs that you should consider shopping in 2019
Upgrade your lighting with Eufy lumos smart bulb white and color
This smart light bulb can be connected both via bluetooth and wifi. Eufy lumos comes in different sizes and colors. It has a light temperature color of 2700K-6500K. The best part is it does not require any hub and is dimmable.
Upgrade your house with inexpensive philips hue white smart light bulb
You can upgrade your lighting with philips hue white smart light bulb which is affordable and bright. The bulb goes for about $11.00 on Amazon. The bulb has a light output of 800 lumens and a light color temperature of 2700K.
The best part about this bulb is that it can last for about 23 years.
Dive into smart lighting bulb technology with philips Hue and color Ambiance  A19 star
This bulb can be expensive but it is worth the investment. Philips Hue and color Ambiance A19 has a connectivity of wifi and Zigbee and an integration of Amazon Alexa, Apple Homekit and nest google assistant.
Give yourself class with Philips Hue and Color Ambiance Lily out smart light bulb
This is one of the most expensive smart light bulbs. It cost about $279.99. You can connect the bulb via Wi-Fi. It requires a hub and is dimmable. The best part is it has different colors.
Upgrade you house with smart wifi light bulb C and GE starter pack
This is one of the best smart light bulbs in the market. See details about the bulb above.