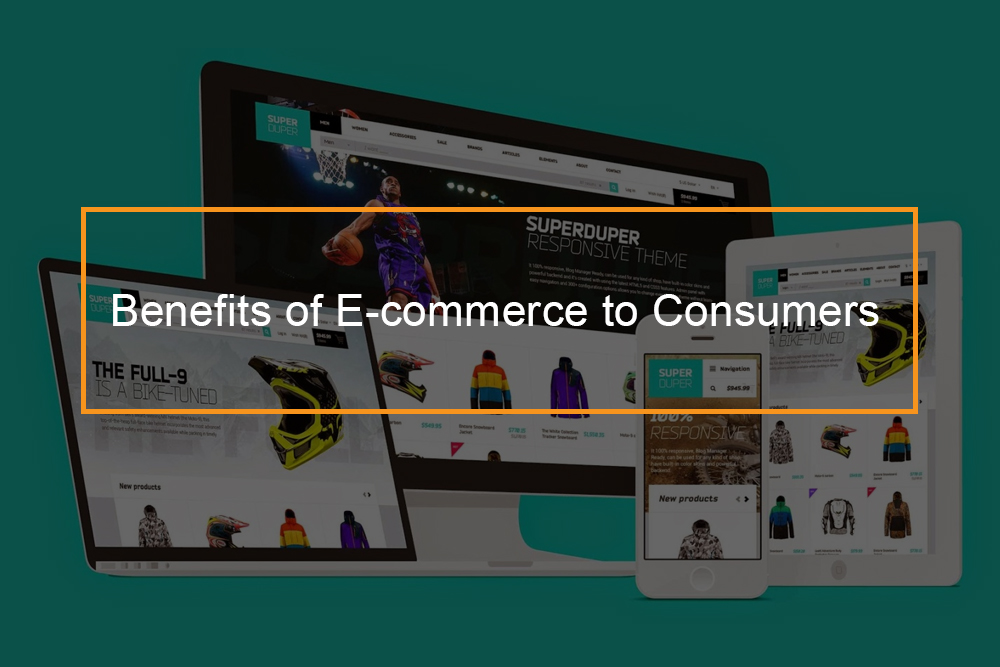 It is clear that the ability to sell goods and services online has made many businesses viable and profitable. Just like any business models, e-commerce has its benefits and limitations, it is, therefore, important to be informed before making strategic decisions. This post will look into how you can utilize e-commerce model to make your business more profitable.
---
What are the advantages of using e-commerce?
Advantages of  e-commerce in points 
There are obvious advantages to doing business online. There are reasons why a business like Jumia, Amazon choose to do their business online. There are unique benefits over store-bound competitors. 
The greatest benefits being the flexibility of business, speed and high levels of data. You just need to understand which feature you can leverage to your advantage. 
Advantages of e-commerce in points
E-commerce advantages can be divided into three.
Advantages to organizations

Advantages to consumers

Advantages to society
Advantages to organizations
The cost that comes with opening a store is quite expensive compared to online business. To open a store you will need to pay rent, furnish the space, hire employees to work on your business, and purchase the equipment you need. The list is not limited it can go on and on. The total cost of the store will mainly be affected by the size of the space and the location you want to open your store. 
In most cases opening a store has been estimated to cost at least a few thousand dollars. 
On the other hand, opening e-commerce is cheap compared to a store. It is even much easier if you already have a customer base. All you have to do is build a custom website. Opening an online business will cost you a few thousand dollars for the coding and building of the site.
For a business person who is starting out, you can use hosted solution websites e-commerce functions which are already built, you just need to customize your information based on your products and business.
One of the most common hosted website's e-commerce is Shopify, which costs anywhere from $30 to $ 180 per month to host your online store.
Opening a store can be time-consuming. You have to take time to find a space, set up the store and get through the commercial leasing process. You will also have to take time to decorate the store and prepare it.  On the other hand for an e-commerce website, you can start operating your business in a few days, especially if you use a hosted solution.
For a custom-built website, it will take longer compared to the hosted solution. The best part about an e-commerce site is that you can change your website outlook instantly such as product offerings, display, and marketing tools. 
To change the look of the store, it can be tedious and time consuming-you have to move your products and even decorations around, you may even have to hire manpower. For an e-commerce site, it is so flexible, you can easily adapt to the customer needs, seasons and demands in the business environment. Moreover,  e-commerce will allow you to work from anywhere as long as you have an internet connection. You do not need an office space, you can just be based at your home.
If you want to have a successful business then you must understand your customer needs and tastes.  E-commerce site enables you to collect data about your existing customers-how long they stay on the site, what they shop, how they make their purchases and after how long. This kind of information gives you direct and correct insight into what makes the customers buy and even what makes them not to buy. 
The data is useful when it comes to improving the customer's experience and make your potential customers, new customers.
On the other hand for a brick-and-mortar store, it can be difficult to get such kind of information. It is hard to know what each customer looked at, how long they stayed at the store and even how many times they pass by the store.
For you to be able to form a personal and emotional bond with your customer, collect data about how they surf the web, what kinds of sites they visit and the products they purchase. 
E-commerce expands the business's market to both national and international markets. 
Customers do not have to come to your store to know you. You can easily locate more customers and suppliers across the world and with less capital investment. 

 Advantages to customers
 E-commerce ensures continuity of provision of services to customers 24/7-a clientele can inquire about a good or service, place orders anytime and from any location both national and international.

 E-commerce application enables customers to choose a product from different options. Customers are able to compare prices and features of various products and delivery is quicker.

 E-commerce application enables a customer to give their feedback about a product such as a rate five star and can also be able to see what are other customers are buying and their comments. This helps a customer make their final decision on the product.

 E-commerce provides a customer with readily available information. One is able to view the relevant detailed information while online instead of waiting for days, weeks or even a month.

The competition which comes with  E-commerce among businesses makes them offer substantial discounts to customers, to be able to maintain customers.  

Advantages to society
Reduced traffic on roads and air pollution as there is no need for customers to travel to a store to purchase the product.
E-commerce results to reduced cost of products and hence even less affluent people can manage to purchase the products.E-commerce application enables all customers even those from rural areas to access services and products as long as they have internet. Otherwise, these services and products could not have been available to them
E-commerce application has enabled governments to deliver public services such as healthcare and education at a reduced cost.
---
What are the limitations of e-commerce?
Disadvantages of  E-commerce
No form of business is perfect, of course, there are upsides and downsides. The main limitation with online products is that a customer cannot touch and feel a product before buying. 
There are other challenges that you are likely to face if you use e-commerce application.
Basically, limitations of  e-commerce can be broadly classified into main categories:
Technical limitations

Non-Technical limitations
Technical limitations
E-commerce applications are prone to lack of system security, reliability or standards. This can be a result of poor implementation of e-commerce. Technology evolvement is the main challenge in e-commerce as there is as software keep changing and one has to keep updated to cope with the business environment.
Network breakdown can be an issue for customers, especially in rural areas and developing countries. This can greatly affect the performance business as e-commerce is basically established on the availability of internet.
Some operating systems do not support other e-commerce software. Sometimes there can ever be a challenge to integrate an e-commerce software or even a website with existing applications or databases. Apart from network servers, vendors might require special types of web servers or other software to set the e-commerce environment.

Non-Technical limitations
You only have the website – Everything about your business ranging from customer introduction to your product or service, collecting payments and making sales is done online so you have to do it right as you may not get a second chance. For the brick and mortar stores some of them have websites and can use physical presence just in case they got it wrong. For  E-commerce you only got the website if it is poorly-designed, slow or even does not work right then no customer will hang around your website. With the competition in the market, an e-commerce business may not survive if you have a weak website.
Initial cost – The cost of creating an e-commerce application in-house may be high, you may also experience delays in launching e-commerce due to errors and lack of experience.
Lack of trust from users – customers may not trust online businesses and especially if they are not familiar with. Such mistakes make it difficult to convince some people to cross over to online stores from a mortar and brick store.
Privacy -It is not easy to ensure the security of online transactions.
The Internet is not cheap in all areas and sometimes may inconvenient potential customers.
Online products deny customers ability to touch and feel a product before buying which could be a drawback in purchasing.
It may be difficult to know a genuine customer in e-commerce application and establish a genuine bond so as to make a customer shop next time.
E-commerce faces stiff competition compared to a brick and mortar store and challenges such as mobile shopping.
---
How do I make my e-commerce work?
To make your e-commerce business wildly successful and not to work against you, below are points you should consider.
Simplicity – Make your website simple and user-friendly. That means your customers should not have to click many times to purchase a product, the fewer times the better. Customers will like your website.
Navigation – Design and organize your website in such a way a potential customer can easily find the product they are looking for. If a customer visits your site and spends a lot of time looking for a product then the highest possibility is that you will lose that customer. Let your e-commerce be easy with navigation in a way that visitors find it easy to find what they are looking for.
Stability – Your website should be stable-it should not take too long to load and should rarely or never crash. Ensure your site is technically well for your visitors. Customers will not purchase your products if the transaction process is not smooth.
Security – Ensure your customers feel secure when they are online purchasing and also reassure their financial and other private information such as contact information and physical address. Websites are prone to data breaches and hacks. Try not to be a victim. To prevent your website from hackers you can post a clear privacy statement on your website about who has access to your customer's information. Take deliberate measures to protect your customer's personal information. Frequent change of passwords can also keep away hackers. In addition, you can monitor your reports and data so as to identify and security risks. A secure site assures customers that they are safe and as a result, the business owner earns customer trust and loyalty.
Credibility – No matter the type of business you are engaging in, maintaining relationships with customers and other people in the industry is very important. For e-commerce creation and maintaining of such relationships can be difficult due to lack of face-to-face conversation. To solve this challenge let your business aim for professionalism and credibility in your online marketing and website. You can obtain customers reviews so that other customers can identify with others who have used the product and make an informed decision when buying the product. If a customer contacts you if you can respond on time.
Remember that customers have a lot of websites they can shop from, and have chosen your website, so make their experience better and let it stand out from other online businesses selling similar products to yours.
Mobile optimization – Remember that your customers buy your products and access your services online. Ensure your customers can access your website and make purchases from their mobile phones and any other mobile devices. In case you are using a custom build website, ensure let the web developer understand that you want your website to be responsive for mobile devices. For a hosted solution, ensure the host supports mobile sites.
---
How do I attract e-commerce customers?
Business owners from brick and mortar stores mostly sell their products to local customers. The people living in the location of the business or even national level know what to buy from the store. On the other hand, is nothing about people knowing your location. You could have the best website and the best products but that will not do you any good if no one knows about your business. So, how do you make your website get noticed? How do you stand out from competing businesses and win potential customers?
You will have to look at:
Your target customers

What they need

The needs that have not been met for your target customers
After you know your target, and their needs get a way to reach them.
Start with search engine optimization-most customers go online to search for products, ensure that when your target search for your product online, your product is the first thing that comes online. Luckily, you can do a search engine optimization yourself or hire an agency to do it for you.

Social media strategy-whoever your target is, they are online buyers and thus highest possibility is that they are social media users. Go to social media sites such as Instagram, Twitter, Facebook, Linkedin or other social media sites and create a profile for your business. Make sure the information is accurate and consistent.