4-Line small business phone system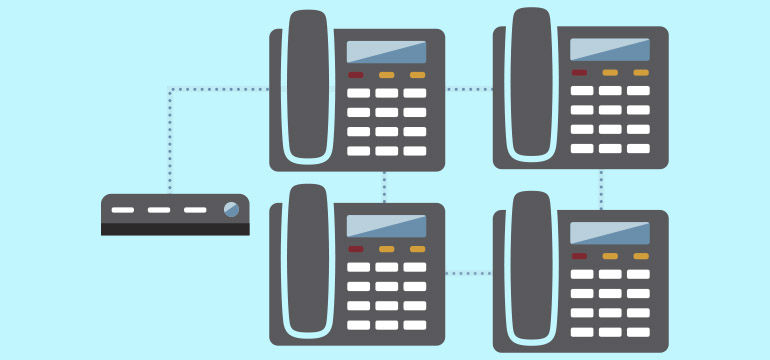 A 4 line phone system can be perfect for your needs if your business does not expect or manage a lot of phone traffic.  One of the prominent things is that if you are concerned about whether or not this type of setup will work for your business office phone system, 4line phones are easily expandable and upgradeable. With small telephone systems, the benefits are often the same as the larger systems. Calls can come in through a universal business number and be directed through an automated system directly to the person or department that they are looking for, making it easy for your clients to get where they require to go.
---
What is a 4 line phone system?
What is a 4line phone system and how does it work?
4 line phone systems run four analog phone lines or landline phones into your office, and most 4line phone systems include hardware that can link additional phones in multiples of four. This allows every employee in a small office their own phone extension, making it a more economical scenario than offering every staff their own unique phone line. But, you can make or receive up to four phone calls at the same time.
Example of a 4 line phone system is insurance brokerage with two full time employees and five part-time data entry specialists. The phone setup might look like;
2 lines for brokers
1 line for toll-free number
1 line for data entry team
Making a total of 4 lines
While VoIP phones are rapidly becoming the norm, it should be noted that VoIP sound quality and reliability are directly linked to the quality of your internet connection. Thus, if you live in a remote area or otherwise do not have reliable internet service where you are, sticking with a traditional 4 line system may be your best bet. Contemplate this list of features when shopping for an office phone system. The basic features in this list are basically included with multiline phone systems. The advanced features are not basically included in the base price, but they may be beneficial for your office.
Basic features 4line phones system office
Caller id- Shop for a phone system with caller id- this will show you the number of the caller, and the caller id with name and allow you to see both the name and number of callers on your handset's display unit. 
Mute and control volume– most handsets encompass mute and volume features, which enable the user to control the volume of the earpiece, audio, speakerphone, and microphone.
Fax machine integration– Fax machine integration offers you the chance to use your existing fax machines and connect them with your multi line phones systems. 
Internal and call external call transfer feature– this feature will allow an extension to transfer a call to an extension or external number.
Speed dials directory– Speed dial makes calling critical numbers simpler for your business by storing numbers for easy access and dialing.
Personal directory– this is a personal phonebook in each desk phone your business has. 
Call waiting– be notified of an incoming call while you are already on the line. This feature enables you to use your handset to put one call on hold to answer the second call.
Voicemail– allows your customers to leave a message if you have missed their call.
All page– paging allows you to speak to all phones at the same time via the speakerphone. This intercom function can be utilized to make announcements or to inform your staff of waiting call.
4 line small business system advanced features
Auto attendant– this feature greets callers and routes them to the right person or information, 24/7. With an auto attendant feature, your company sounds more professional.
Texting– testing services allow you to use your existing landline number to text your clients on their cell phones. You can employ this feature to schedule and confirm appointments or to offer text-only deals and coupons.
Conferencing– this feature permits your phone systems to function as conference phones, giving you the chance to connect with clients and employees, even though they are not in the office.
Included installation– many telephones do not include installation. It is worth noting if installation comes included, or if you will need to install your multi line phone systems and handsets yourself.
Wireless adaptors– eliminate the need to run wires to every phone in your office with wireless adaptors.
How much does a 4 line system cost?
A 4 line phone system typically costs around $100 to $200 for the system base stations plus an additional cost for every handset. Along with service, setup, and maintenance costs, this can make 4line phone systems more expensive than many VoIP phones. 
---
What is the best phone system for small business?
Best 4 line office phone- cordless and corded phone
When your small business is expanding, it can be challenging to scale equipment and service to meet fluctuating needs. Whether you presently have one employee or ten, being able to move quickly when your business changes are vital to successful expansion. That is why the phone system for businesses we recommend for expanding businesses work for both small and medium-sized business. Best of all, the systems can expand with your business. We evaluated systems that are adaptable compatible, and most of all, affordable.
AT&T Expandable 4line corded phone/cordless phone for small business 
Even though it is more expensive than Vtech 4line small business phone system, this catchily named offering from AT&T comes with some pretty 4line capability advanced features. Call waiting, remote access, intercom, and an innovative voicemail system use this corded 4line or cordless system up to a notch.
RCA unison 2545RE1- 4line speakerphone with call waitingcaller/caller id and digital answering system
The key features of this phone include; 4 line corded phone, digital answering system, and caller id, optional cordless handset available, expandable corded phone system to 16 stations and 16 number speed dial and memory.
RCA H5401re1 4 line dect 6.0 cordless expansion handset
Key features of rca 4line H5401re1 include; cord free flexibility, caller idcall waiting, 40 number memory, and easy to read LCD display. While advanced features include rca expansion handset, charging base, and AC power adapter.

VTech cm18445 main console – dect 6.0 4line expandable small business office phone with answering system
The key features include; DECT 6.o digital technology, 100 names and number phonebook directory, adaptable with one to four telephone lines and thirty-two number speed dials and extra large display for easy viewing.
VTech Small Business CM18245 4 line cordless phones
Place and receive phone calls with this expansion desk set. The system includes caller ID, call waiting, and video conference, and call management. It offers features that improve message management, conference calling, office staff coordination, and more. Count on the wiretap-resistant DECT 6.0 digital technology to provide private, interference-free calls, an extra-large display, digital answering system, idcall waiting and speakerphone.
Att SynJ SB67158 DECT 6.0 4-line corded/cordless small business phone system with an answer system
The main features include; DECT 6.0 technology, 1 to 4 line capability, compatible with TL7600 cordless headset, compatible with TL7800 cordless headset and no wired connections means more money in your pocket.
RCA unison U1000 4line expandable system
It enables you to expand your office phone system and can serve up to 9 extension wireless U1200 handsets. Its features include; receive up 4 incoming calls, has a built-in answering system, offers digital mailbox and Unison DECT 6.0 Cordless Accessory Handset. 6-Pack of Blucoil AAA Batteries.
AT&T 1040 KSU-less basic 4line expandable corded phone system
Simple to install and use, this affordable 4line corded telephone has 3-way conferencing, 32 number speed dial, 16 intercom stations and is compatible with hearing aids and headset.
---
How do multi line phones work?
Multi line phone systems



The multi line phone is built with an extension so that another phone or phones may be attached to it. This type of extension is normally cordless so that additional phone may be easily placed in another room. Typically both phones will ring at the same time, and the call can be picked up on both phones at once. In other situations, phone settings can be changed so that one phone rings and the others show a flashing light.
A multi line splitter splits the phone line into two or more lines so that additional phones may be connected. This splitter is connected at the phone jack and requires nothing more than additional cables. But, the 2line phone splitter is confined to being used on two line jacks. These can be purchased or ordered from a telephone company.
Basically, a multi line phone may either be used in a home office setup or business office, especially if you operate in a busy office. However, they are much utilized in a small business where one or more employees may require instant phone access. Often multi or 2line phones are used by executives who desire their calls to be taken, monitored or screened by a secretary. This enables the secretary to take a call without using call forwarding or mobile devices.
With a multi line telephone, it is possible to observe and screen calls and take more than one call at once or to enable telephone access in different areas of a building. But, the multi line telephone both corded and cordless telephones, cannot be used to make more than one outgoing call at ago and faces other limitations similar to those of a landline phone. Anyone wishing to have a multi line phone in a home must also contact the telephone company so as to verify product registration and the decision to choose a multi way extension
---
What is the best 2 line cordless phone system?
Best 2 line cordless phone systems for small business
Whatever type you choose, your business phone system is an essential piece of multi-line networks can provide greater flexibility and with dedicated lines, the company can come across as being more professional and organized which creates a great impression with customers.
Best 2 line cordless phone systems for small business
Uniden DECT4096 DECT 6.0 2line cordless phone with digital answering system and caller id
These phones are effective with repeat callers since they have 50 person phone book and caller id to track who called and when. Features of this phone include; expandable up to ten handsets with one base, alarm clock and scheme reminders with a do not disturb mode, intercom and call transfer capability between handsets.
Panasonic KXTG9582B 2line corded phone/cordless expandable link2Cell telephone system with two cordless handsets
These phone systems are popular due to their Bluetooth capabilities, which make working from home, conference calling, and talking from home much more convenient. Thanks to connect to cell technology, you can pair your mobile phone with this system.Features of these phones include; Handsets have intercoms, speakerphones, and mute options, capacity to connect to your office PC or home and receive calls from Outlook and expandable up to twelve handsets.
VTech DS6151 2-line cordless phone system for home or small business with digital answering system & mailbox on each line
The phone has DECT 6.0 digital technology which provides the best sound quality, security and range in cordless phones. It is expandable up to 12 handsets utilizing only one phone jack. Note-in case messages on the answering system are very challenging to hear you can press the volume on the telephone base or handset to amplify the speaker volume. In case you hear noise on the cordless handset, and the keys do not function ensure the telephone line cord is plugged in safely. The general features of the phone include; a system with caller idcall,2-Line operation, Handset message retrieval, and digital answering system with a mailbox for each line.
Other recommended two line cordless phones include Panasonic KX-TG9541B Link2Cell cordless desk phones, AT&T TL86109 DECT 6.0 Digital 2line answering system cordless phones, RCA 25255RE2 1X Handsets 2 line corded/cordless expandable speakerphone integrated answering machine, among others.