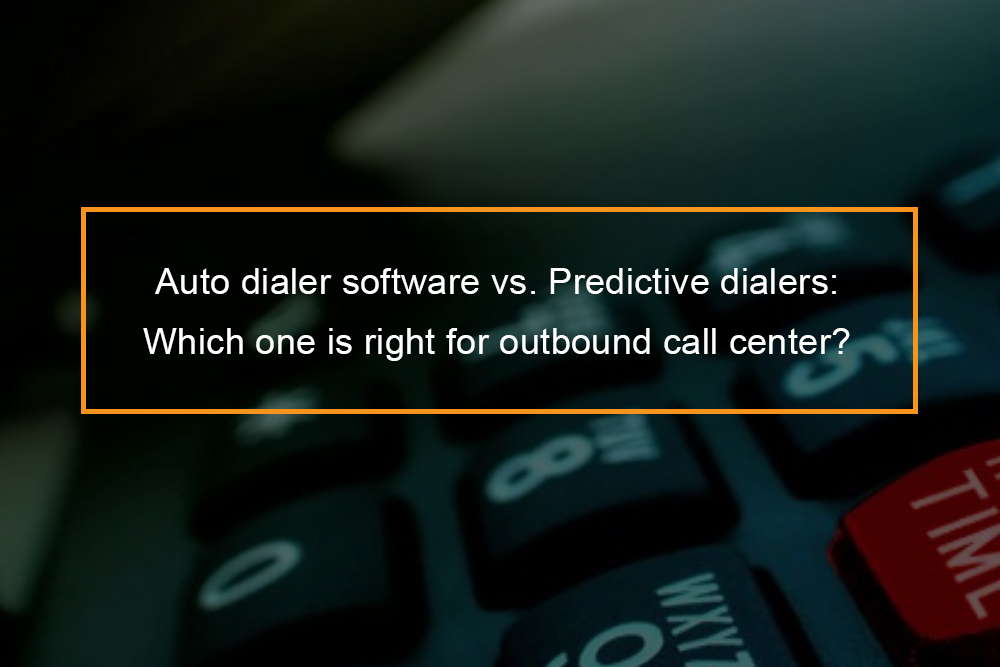 Unlike an autodialer that just places one call after another, a predictive dialer is much more sophisticated; it uses a complex algorithm to lessen the amount of downtime spent by a call center agent. The original auto dialer software is an electronic device that automatically dials telephone numbers and either plays a prerecorded message or connects the caller to a live person. As technology advances, so do phone dialers, the auto dialer concept was migrated to the computer and became a cloud based solution. It became successful over the years until the emergence of predictive dialing.
Technically for predictive dialers, the algorithm is programmed to a customized configuration that takes into account the average number of phone calls answered, the amount of time to answer, and the amount of time spent on the call. The predictive dialer will then route additional automated outbound calls before the agent is finished with the current one. In this way, the call center agent can always have an active call waiting when they are done with the current one.
The benefits that predictive dialers carry are significant to outbound call center needs. Predictive dialers make phone calls after zeroing in the right prospect and correspondingly, at the most favorable time. For this, predictive dialers use a very sophisticated algorithm. They instantly make contact between the customer and the available agents. Let's look at the differences between the auto dialer and predictive dialer.
---
Key differences between a predictive dialer and auto dialer
Comparison of predictive dialer and auto dialer
Call center business industry has changed. For increased sales, call center managers and agents must be armed with the best acceleration devices. To solve the issue, auto dialer and predictive dialer are the best-automated dialers that can help accelerate the outbound sales process and workflow automation. While both the dialing modes are not much different, there are still some critical differences between these two, which can influence and lead the generation process.
Technology: How do auto dialer and predictive dialer work
In auto dialer software, you need to upload the list of contacts and start calling campaigns. After that, the software will make thousands of calls automatically without any delay. Call center agents can also utilize the option of saved pre recorded voicemails if their call is not connected. This eventually allows agents to save time, which was wasted earlier in recording and sending audio messages.
The predictive dialer, on the other hand, uses some algorithms and answering machine detection to make sure that agents' time is not wasted. The predictive dialer also places thousands of calls simultaneously and connects with only live users. However, the software only dials calls when the agent is free to attend and answer the customer. This removes the time wasted in dialing phone numbers and then waiting for the call to be answered. The sales teams must be available at the time when the predictive dialer is running the calling campaigns.
Predictive dialer features vs. auto dialer features
Predictive dialing features
Predictive dialing mode: Inbound calls connect with an agent only when a live person answers the call. 

Progressive dialing mode: When a sales agent completes an automated call, the contact center solution automatically dials the next customer on the list for them. This removes between calls waiting for young agents, thus increasing productivity.

Preview dialing mode: your sales agents can view info about the customer and decide whether to place the call or not.

Click to call dialing mode: click to call any telephone number instantly. Your call center agents can pick and choose which numbers to call anytime they want.

Caller ids: Use your caller id on the omnichannel contact center, notification solutions, and on-premise software.

Dialer CRM integration- integration of CRM with predictive dialer increases business productivity to a greater extent. This system integrations reduce the average call handling time of agents as it offers easier access to customer data and other info.
Other predictive features include: 
call management, call recordings, customized auto dial time, call routing, call monitoring, appointment scheduling and appointment reminders, automatic dialing, data mining, interactive voice response, and call transfer. However, the predictive dialer lacks the call waiting feature.
Auto dialing software features
Voice broadcast time: automatically stop the campaign at a set time with time zone management

Text to speech, phone messaging feature: type in your message and have the computer generate the audio message for you automatically

Multiple campaigns: run multiple simultaneously, each with its own message, call list, campaign options, and transfer agents.

Collect responses: automatically collect touch tones key or speech command responses

Transfer to computer: transfer call to auto dialer system, a unified desktop to CRM screen pop, conference call, and inbound and outbound calling queue management

Automated phone survey: deploy phone surveys for political campaigns, public policy research, and polling.

Speed control: Adjust the phone number of simultaneous calls during the emergency notification event and other campaigns.

Call recording: Call center managers can listen to the past sales calls whenever required; also, they can save the recordings for future references, without using any other equipment or device.

Automatic call distribution software integrations:  disperses inbound calls to contact center agents or employees with specific skills.

Workforce management and optimization: capture interactions and manage the performance of call center agents across the business.
Features that automate dialing lacks include:
Data mining, time management, agents availability check, and Customization (based on Time & Demography). Generally, the overall productivity of a contact center and customer to agent talk time is low when using an autodialer as compared to predictive dialer.
Call center software prices: Predictive dialers cost vs. auto dialer
Auto dialer price is high compared to that of predictive dialers. When you are considering investing in a cloud call center solution, predictive dialers, progressive dialer, and preview dialer or any other telemarketing software, for use with call center price is an essential factor. Some of these dialers are hosted, run in the cloud, and feature integrated crms. Whether you are looking for something just for you or you need outbound call centers software or inbound call center something, look for a software that fits within your budget. Also, make sure the system integrates with your current business phone system. Otherwise, you might have to upgrade your entire phone system adding your expenses.
A professional auto dialer system starts from around $500 for a single channel and range up to $ 40 0000. However, charges vary based on the version and vendor. On-premise predictive dialers start at around $5, 000 and price runs upwards.
Let's look at the price of some popular dialers in the market
RedCloud offers a predictive dialer at $200 per seat.

Kookoo cloudagent starts at $45.00 per month per user

Zapier integrations dialer professional accounts cost $50 per month

Vanilla soft – for the premium service with VoIP and lead management features, included costs $ 150 per seat. It also comes with a free trial- no credit card required.

Adversus dialer costs $150 per month for each user.
---
Power dialer/ preview dialer
Beside predictive dialer and voice dialers, you have other options- preview dialer. This type of dialer is famous for various reasons. If the number is busy, no answer, or disconnected, it rapidly moves to the next call without any input from the user. If the voicemail comes up, the agent can then click the button to leave a prerecorded message on the machine. Based on the power dialing, it can be personalized with a brief greeting.
---
Increase talk time with progressive dialer systems
Progressive dialers are automated phone dialing systems that only connect agents to calls answered by a live person. In progressive mode, the dialer runs through your phone calling lists across various calling campaigns at the pace of your operations. By automatically dialing the system only dials when an agent becomes available. Using progressive and preview dialer, the contact center can experience the productivity benefits for automatic dialing, whereas making sure each connected outbound call is delivered to an available agent. Predictive, progressive dialers only dial when agents are accessible, ensuring an increase in dialing rates and a decrease in abandoned call rates.