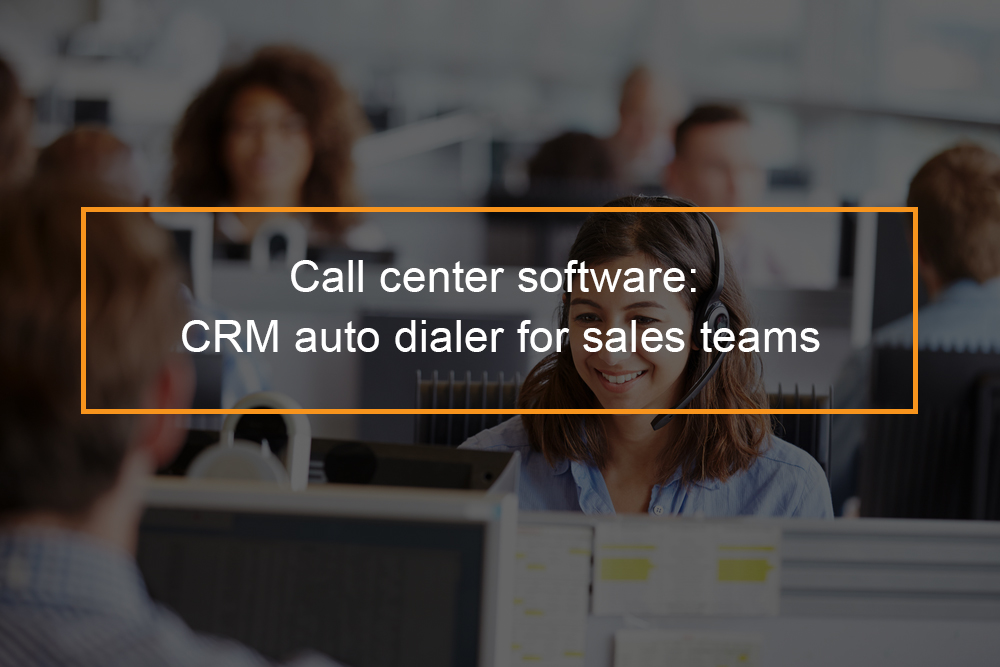 A CRM dialer helps call center agents in the process of dialing telephone numbers and connecting answered dials to the contact center. Thus, they can get more leads and revenue. Customer Relationship Management, CRM, is a customized system for identifying, acquiring, targeting, and retaining the best mix of customers. CRM assists in profiling customers and understanding their needs. It also aids in building relationships with customers by offering the most suitable products and enabled customer service. Typically if you are handling outbound sales or customer service over the phone, with a CRM that is not dialer integrated, you could be losing sales. Dialer systems help you to work more efficiently. You can make a significant improvement in your sales by investing in a CRM dialer with different dialing modes.
---
How does CRM dialer boost a call center?
How does auto dialer software for CRM benefit your business?
Below are highlights of dialer CRM integration:
Match inbound calls with a CRM contact
The telephone number of an inbound caller is checked for a matching contact in the CRM. In case found, the customer's details, orders, and activities are shown in the agent's streamline auto dialing software view. Edits are saved directly back to the Customer Relationship Management software. This makes contact handling fast, increases talk time between agent and customer, and reduces manual data entry.
Call ending reasons trigger CRM sync
When a sales agent selects a call ending reason, a new lead is developed in the CRM. There are various fields aligned, and goal-specific is automatically synced. Call center agents to use power automated dialers features such as predictive dialing and power dialing for massively increased hit rates, with absolute transparency.
Appointment scheduling efficiently creates new leads
When an agent makes a meeting booking, appointment reminders, a sales force lead is automatically created with full contact, and agent information. Besides, a Salesforce Event is developed with meeting information. Deploying an auto dialer system for Salesforce in this way makes for very efficient workforce management with outsourced bookers.
Hotlists enhance the whole sales team performance 
Detailed contact, automated phone call, and environment data are combined from phone dialers and the CRM to segment and manage hotlists. Hotlists' numbers are then automatically assigned, centered on agent performance, previous contact, and other factors. Placing hotlist lead with underperforming call center agents makes the whole team more productive and offers a considerable boost to hit high dialing rates.
Advanced call routing and priority traffic
Inbound calls and emails are checked for a match in the CRM and routed according to defined regulations. Call routing can be based on sales agent skills, priority, and geography, and language can be provided to different lead or customer kinds. This increases agent efficiency.
Cost-effective surveys by the third party 
Various call ending reasons trigger survey codes that are offered to an external survey company. Different automated studies conducted improve call center phone dialing procedures. 
A CRM dialer improves productivity
Integration of CRM with voice dialers enables call center agents to place calls with a single click on any device. By automatically dialing numbers, the automated dialing system allows agents to focus on selling, while in-depth call reporting assists call center managers to improve their teams' phone calling techniques.
Make and receive sales calls
CRM dialers allow you to upload your leads and start calling from your business phone system. Professional interactive voice response, phone messaging features, call recordings, and live person (agent monitoring) are features that are often included in CRM dialers.
Other services of CRM dialer include:
Combine inbound and outbound calls

Send and receive text messages

Call follow up automatically

Send emergency notification 
---
How does CRM dialer work?
The best contact center solution, such as Kookoo Cloudagent, LeadDesk, Five9 omnichannel contact center solution, and Adversus dialer, should have a web API to make various dialer CRM integrations easy and fast. A powerful multi-mode auto dialer software can be a significant front-end for CRM. You get the benefits of using your existing CRM with faster, more effective automated phone calls handling, better call monitoring and workflow automation, and more sophisticated interaction data. There is no need to change your phone system or install new hardware to get an auto dialer for Salesforce. Cloud call center dialer CRM integration indicates no capital expenditure and no need for a heavy IT project.
---
What are the features of CRM dialer software?
Dialer CRM features
CRM dialers are built on many years of direct sales management experience of large sales teams. Below are the top features of CRM dialer software (not in any order).
Click to Call
Why waste time using a manual dialing software when you can make and receive automatic calls directly from your browser with just a single click. Click on any telephone number to place a call or generate call lists for faster-automated dialing.
Integrated texting
No answer to your call? You can follow up with quick audio messages and have all you sent and received text messages automatically tracked and attached to your lead.
Mobile CRM
Call center managers on the go should not sacrifice functionality. Mobile sales app enhances call recording and logging from any device, as well as provides you access to the analytics you require anytime, anywhere.
Calling campaigns result in contact lists
You can easily create calling campaigns lists based on a previous campaign's results, like a list of all answering machine answers.
SugarCRM, Zoho, Zapier integrations
Most telemarketing software helps you to eliminate the costly application, software, and system integrations.
Predictive dialers for a call center: Predictive dialer built-in CRM features
Predictive dialing is outbound calling software that automatically dials from a list of telephone numbers. Like other auto dialer software that automatically dials from a list of telephone numbers, predictive dialers call numbers automatically. It also has answering machine detection features to help agents detect pre recorded voicemails, no-answers, busy signals, live people, and disconnected numbers.
CRM features of predictive dialers include:
Automatic call tracking
Tracks and saves your caller's phone number, email, name automatically into your CRM.
CRM web integration
This feature allows agents to place thousands of calls to customers by enabling the website to push leads into outbound call centers campaigns and automatically calling them.
Opt-in opt-out management
There is no need to separately opt-out list. Predictive dialers automatically check the opt-out flag in the client record before making automated outbound calls. Most predictive dialers come with other features to complement CRM features. Such features include: Caller ids, call routing, automatic call distribution software integration, call transfer, touch tones, and voice broadcast. The best part about dialers is that you can request for a free trial- no credit.
Outbound call center CRM dialer features: Preview, Progressive and Power dialer
With simple to use campaign management tools, you can manage automatic dialers campaigns, call transfer options, set volume options, and use different dialing modes including: Progressive dialer, preview dialer, and power dialing. Progressive dialers remove the option of when the next automated call is made from contact center advisors. On finishing the previous phone call, the system automatically dials the following number on the list. Progressive dialers remove the wait time between calls and can enhance productivity significantly. Progressive and preview dialer are almost similar. But at the end of a preview dialer, the call agent can see the next call on the list. It is up to a call center agent to make the call, and they may also skip to the next name off the list. Predictive, progressive dialers are typically used in high volume outbound call centers. A power dialer is an automated phone dialing system that links customers with agents more effectively by enabling agents to focus on live connections rather than manual dialing. CRM features that you can expect to reap from using the three dialing modes include: CRM popup screen, advanced search, share customer information, define new CRM fields, and built-in DNC scrubber.