IP phone systems for small business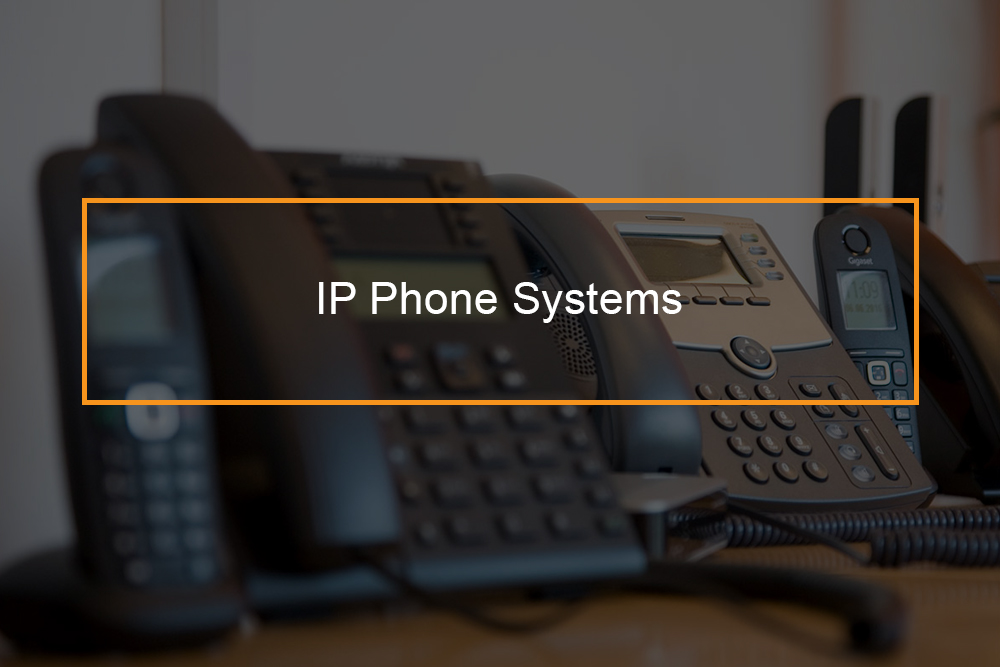 An Ip phone system is another term for VoIP phones. VoIP phones allow users to place phone calls through the internet. There are many advantages to implementing an IP phone system in your business. The benefits include: saving money, application features, benefits of unified communication, tool flexibility, call quality, among others.
As you upgrade your office phone systems, some of your staff may need some training on IP phone systems. This post will provide a beginner's level overview of IP phone systems for small business.
---
What is an IP phone system?
What is IP telephony (Internet Protocol telephony)?
IP phone system refers to a group of technologies for transmission of voice communications and multimedia sessions via internet protocol (IP network). IP phone systems term can be used interchangeably with broadband phone, IP telephony, and broadband telephony service. The IP phone system enables modern communication technologies such as email, cell phone, fax, audio, and video conferencing to be combined using a single unified communication system.
The main difference between the IP phone system and landline phones is that for IP phones, data is transmitted via public internet or private internet connections, rather than public switched telephone network (PSTN).
IP phones include conference phones, desk phones, and cordless phones that are similar to your daily telephones, but they use different technology to support call quality.
How IP phone system works?
An IP phone system is composed of VoIP private branch exchange and desktop phones which connect to a VoIP service provider via a Local Area Network. With VoIP telephony, analog voice calls are changed to digital signals that are transferred via the internet. 
The signals are transmitted like any other form of data like email, through private or public internet protocol.
IP phone system protocol listing
An IP phone system must utilize a codec and protocol which is compatible with your IP phone service or IP phone system so that it can function well. The codec and protocol affect the call quality- they can decrease or increase it. 
An IP telephony protocol controls how your voice packet is transferred across a network. The most common IP telephony protocols include;
H.323: It is an older VoIP protocol and is no longer widely used or supported.

Cisco Skinny Client Control Protocols (SCCP): It is a proprietary protocol used by Cisco's call manager and IP phones.

MGCP: Similar to H.323, it is no longer widely used or supported.

Session Initiation Protocol (SIP): it is a standard-based protocol that is applied and supported by most IP phone systems and services.
---
What are the advantages of an IP phone system to a business?
Key benefits of IP phone systems
Let's look at the main benefits that make IP telephony suitable for most, if not all, companies.
IP phone systems help to reduce international expenses and network costs
Upgrading to an IP phone system can help you cut down international calls expenses.  IP phone termination charges are low and competitive.
Apart from international calls cost, IP phone systems can also save you hardware and installation of new phone lines expenses which come with traditional phones. The best part is, some IP phone systems such as Skype, Facebook, and Google Voice lets users make free calls.
Add innovative application features to your office phone system
By upgrading your phone to IP phone systems, you can enjoy an array of features such as call forwarding, call recording, auto attendants, call analytics, conference calling, caller id blocking and anonymous call rejection. Besides, you can enjoy VoIP softphone abilities such as make any device to be a phone. This includes a tablet, laptop, and mobile device.
Effectively bring together all channels of communication with unified communication infrastructure
IP phone system allows employees to communicate and collaborate effectively via chat, video, web conferencing, instant messaging, and voice. Thanks to unified communication software, IP phones enable employees to collaborate with each technology personally or all the channels simultaneously.
Increased mobility
With the introduction of IP telephony, employees are not tied up with the phone in their work stations. This, in turn, has enabled the employees to communicate on business issues from home or even on the road.
Effective call quality as well as efficient management of messages
The call quality of IP telephony is clear with no distortion, not unless you have a bad internet connection. Also, you can manage email messages, voicemail, and fax messages efficiently.
IP phone systems are easy to repair
Even though IP phone systems are not perfect, their problems can quickly be resolved. You will be happy to note that most IP phone system providers offer proactive network monitoring and maintenance.
Integrated applications
Unlike traditional phone systems which are challenging to integrate with other systems, IP phones easily integrate with other devices. For instance, you can record voice calls and have them accessible in customer reports, or start calls from various programs or even voicemails to email.
You can also integrate analytics into your business phone system.
Enhanced operational efficiencies
IP phones enable flexibility in that employees can move freely around an office while on a call.
---
IP phone system installation
What you need to set up an IP phone?
You need both network and hardware components to set up an IP phone system. The following are the things you must have to have a successful IP phone system installation.
Purchase a decent router that is within your budget. However, make sure the router has the right amount of concurrent connections volume.
Ideal IP phone for your business
There are a wide variety of IP phones in the market today. Choose an IP phone that has all the essential features for your business. Check the price and the compatibility with the PBX server you bought.
This is the phone company or the service you need to subscribe to. Ensure that their customer service is reliable. You can sign up for VoIP supply program or partner portal to look for the best telecommunication solution.
Compatibility with a home security system
You may want to check that your phone is compatible with your security system, especially if you are working from home.
PBX is what gets positioned in the server to be the central part of your local phone network.
---
What is the best IP phone system for small business?
5 best IP phone systems for small business
Finding the best IP phone system for your business is a fundamental part of adopting IP phones. In this section, we have drafted out some of the best IP phone systems in the market based on ease of use, affordability, customer service, and features.
Cisco office review for small business
Cisco Unified Ip phone systems provide a wide variety of communication features. They are suitable for business in need of a variety of functions.
Features
Voice quality

Clear displays

Wireless capability
Grandstream gxv3275 Ip phone
Grandstream gxv3275 is one of the best IP phone systems in the market. And you can use it you are established small business owner or merely starting.
Features
44-fully programmable soft keys

Support an extension module with 160 additional keys

Support google voice, internet, stream stock

Internet radio

Currency updates
Vonage phone for business
Vonage phone provides a variety of small business tiers that allow enterprises to secure their business number.
Features
Reliable mobile app

Conference calls

Online meetings

Video integration

Multi-level auto attendant
Ooma office Ip phone service
Famous for its easy to use web admin system, Ooma office provides a reasonably priced way for small businesses to utilize modern communication system.
Ooma office Features
Conference line phones

Set call routing preference

Accessing smartphones and other smart devices via Ooma app
RingCentral office VoIP service provider
RingCentral is a powerful but easy IP phone service, provider
Features
Automatic call recording

Voicemail to text feature

The reliable cloud-based phone system

Select a toll-free or local number

Unlimited phone calls in the Canada and United States 

Unlimited audio and video conferencing

Custom greeting
You may also consider Comcast business voice or Yealink SIP-T29G high quality with color displays and HD technology.
---
Should your business use IP phone systems?
If you run a small business, the IP phone system is a technology you want to adopt. Thanks to IP Phone systems, you can compete withbig companies, by building a social media and web presence. You can also place international calls at an affordable rate. You will also save office phone system costs and your office operations will more effective.
Fortunately, if you are migrating to IP phone system, you do not need to employ new IT guys to help you get started- IP telephony is still a regular phone, with all the features you are used to.