How to stop calls from unwanted VoIP phone?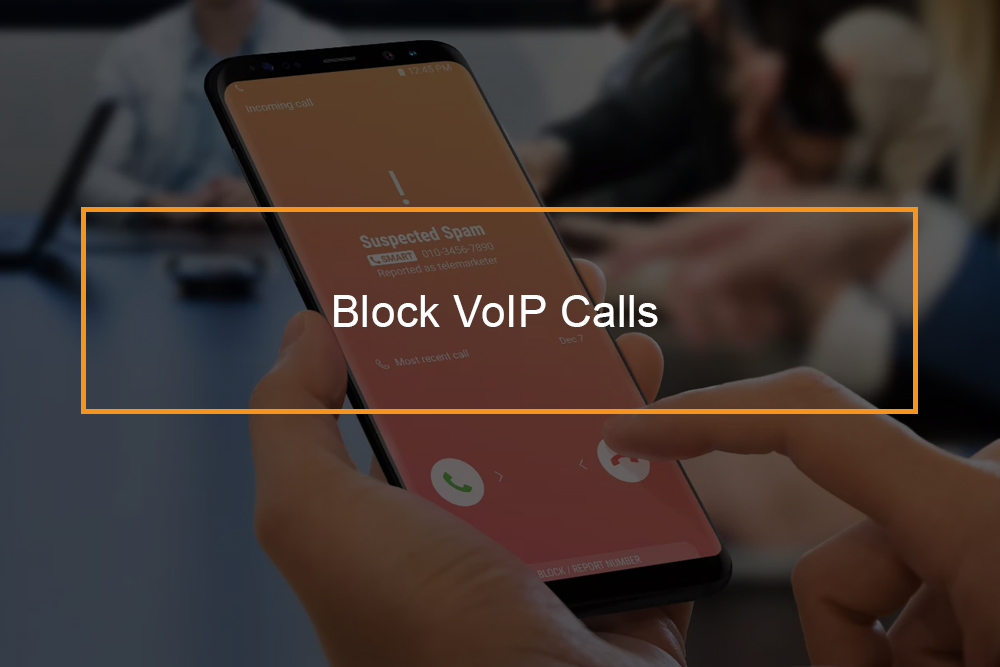 To block VoIP calls, use the call blocking feature accessible in your device or accessible on your Voice over Internet Protocol services. Blocking VoIP calls is similar to blocking other kinds of calls.
Select good quality VoIP services with a wide range of features. This will save you trouble in the future. VoIP service [providers with excellent customer service also aids one in any problem, such as having calls from nuisance numbers. There are many VoIP service providers available today. But it is best to stick to the long-established and reputable ones to avoid any fraudulent cases and also to have excellent services. To know about blocking VoIP calls, keep reading.
---
How can I block a VoIP number?
How to block internet calls?
Most people tend to get nuisance VoIP (voice over IP) calls on their phones, which tends to waste their time and can be annoying too. It may not be helpful to call for sale promotions, or it might be some wrong number who never appears to get the hint, or it might be a call from someone who keeps harassing you. Nonetheless, you have a choice to block these annoying and nuisance calls. Simply follow the tips given below to block incoming voice over internet protocol telephony calls.
Step 1: locate the number
To block a VoIP number, you must identify it in your call log. You will see it in your received calls or most probably in your missed calls because you have been avoiding them.
Step 2: Choose the number
Find the phone number in your call log; you must choose it. Ensure that you do not accidentally call the person.
Step 3: Save the contact in your phone
The next step is to save the phone number into your phone's directory or your contact list. You can do this by choosing the numbers and pressing it until a pop up comes. That pop up will have a list of commands. You should find the command that says 'add to contacts.' After you find it, you must press it. By pressing that command, you will be directed to a contact form. Just add any name to that contact and save it. Then exit out of the directory or contact list by clicking your home button.
The next step requires your discretion as to what means you want to use to block calls from that number. Below are a few useful VoIP call blocking features that you can opt for:
Call blocking devices or gadget
You can block incoming VoIP calls via various call blocking gadgets or devices. You can buy this hardware to block incoming VoIP calls. Some examples of such equipment, gadgets, devices are CPR call Blocker V202, Pro Call Blocker Version 2.2, and Digi tone Call Blocker. They will load your contact list from which you can select the contact you want to block. As a result, when one of these blocked numbers will call your phone, the calls will be disconnected naturally right away.
NoMoRobo.com
This call blocking features uses a caller blacklist to block specific callers who are nothing but a nuisance and spam. In case you are a non-business user, then you can download this call blocking feature utterly free of charge. You can download it from its executive website, known as NoMoRobo.com. Just download the software on your phone and add the contact that you desire to block, into the blacklist. Then when a call comes from that blacklisted contact, your telephone will naturally decline the call after just one call.
Auto reject list
You can use the auto reject list alternative to block these unwanted incoming Voice over Internet Protocol calls. You can do this by allowing this feature by using a specific subscription code offered by your Voice over IP provider. When you enhance this feature, you will be able to add those unwanted numbers into a blacklist or a reject list. In case you have any number belonging to that reject list calls, then they will get a message which will be indicating that their call cannot be connected at a specific time.
Using the Pulsar360, Inc. phone system
You can block incoming calls within the subscriber control panel by allowing Do not Disturb under Endpoint Settings. I have provided screenshots below. After you are logged in, click Endpoint Settings to the justify.
---
How do I stop telemarketers from calling my cell phone?
How to stop telemarketing calls?
Use the following methods to stop calls from telemarketers.
Truecaller
The Truecaller application for iOS and Android allows you to find out who has been behind that unknown number. Copy and paste the number into the application's search bar. Truecaller will look for the unknown number to identify the caller. With a community-based spam list from over two hundred and fifty million subscribers, it is a great tool to avoid answering an unwanted robocall.
Another great functionality of Truecaller is its ability to block spam calls. When a telemarketer calls, there will be a significant warning in red, informing you of a spam call.
Swipe up when this happens to naturally block that caller and add them to the spam list.
File with the national do not call registry list
Most people were happy when FTC created the National Do Not Call Registry and is an excellent world, signing up would stop telemarketers from calling you. It is unlawful for telemarketers to call you in case you are on the list.
However, the world is not perfect. Scammers do not follow the rules, nor do they care about this list. It is still smart to register your phone number as an added layer of protection against unwanted calls. Enter the cellphone or landline number you require in the list via donotcall.gov.
You can also dial1-888-382-1222 from any phone you need on the list. That is all it takes, and your number stays on the list until you request it to be eliminated or you give up the number. After you sign up, the Do not call list takes you off tor [profit-enterprise call lists, but it is not immediate. Telemarketers update their listings only periodically, so the FTC says it can take up to one month.
Also, charities, political organizations, and survey takers are still permitted to call you. The business you have bought something from or made a payment in the last eighteen months has a right to call. When they call, however, tell them firmly to take off their list, and they have to honor your request, even though they may still try to talk you into reconsidering.
Haiya-Caller ID and block
The Hiya- Caller ID and Block app are excellent for identifying calls that you want to accept and blocking calls and texts you need to avoid. The Hiya app is available for free on both Android gadgets and apple with no ads, and it is simple to use. In case you had to choose one, this is the best choice, in my opinion.
It enables you to block calls, blacklist unwanted phone numbers and text messages, reverses phone search incoming call information, and receive spam alerts. This application is powered by a database of hundreds of millions of phone numbers confirmed to be spam by other subscribers.
Common Sense prevails
This is the easiest solution, and many people try this low- tech approach to robocalls. In case you receive a call from an unknown number or one that does not show up on caller ID, do not answer it is an essential call, the person will leave a message, and you can get back to them.
Note in case you answer the phone, and the caller asks you to hit a button to stop receiving calls, hang up. Scammers frequently use these tricks to identify and target live respondents. After they know the number is active, you may get more calls in the future.