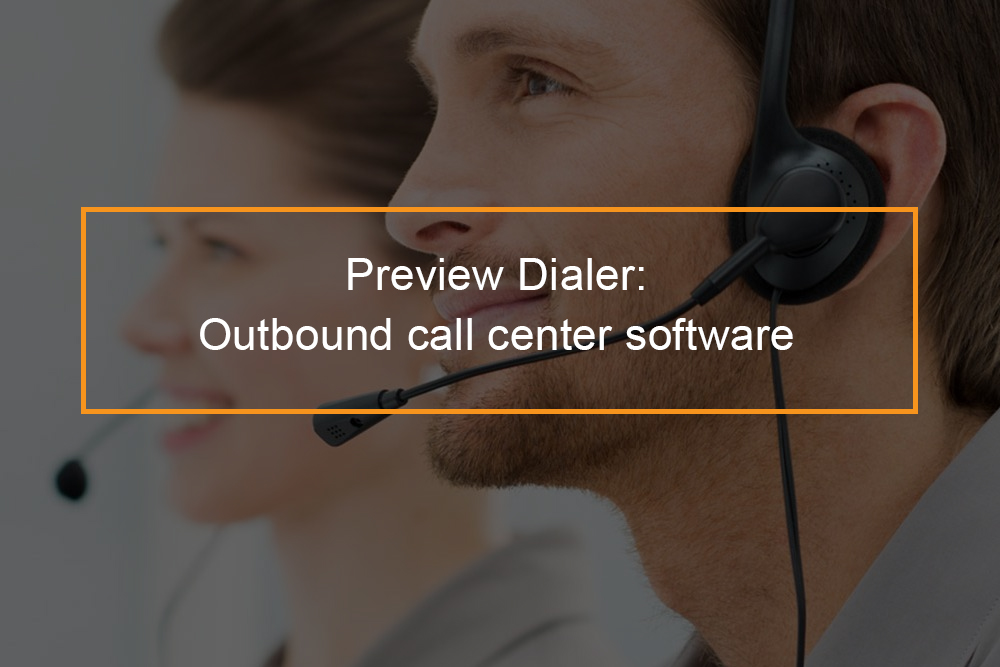 A preview dialer enables each contact record to automatically be delivered to call center agents based on your outbound campaign settings, like list ratios and priority. Preview dialing allows agents to review contact details prior to placing a call, enabling them are entirely prepared before engaging the customer. A preview dialer system automatically dials based on your calling campaigns settings, and sales agents can optionally skip records that should not be called.
Preview dialing is ideal for contact centers that deal with complex outbound sales. Before dialing, preview Dialer delivers essential information to call center agents so they can better prepare for their next automated outbound call, increasing the chances of a positive business outcome. This functionality empowers your call center agents while leveraging automation, ensuring powerful customer connections.
---
How does a preview dialer work?
A preview dialer is an automatic dialer with an ability to make call center agents aware of the customer information just before phone dialing the number. So, an agent to see some essential information about the customer before the dialer places the phone call. Based on information popped up, the sales agent gets an option to either skip the number or let the dialer to dial it. This methodology of customer engagements saves a lot of agent time and makes the outbound calling procedure more result-oriented.
---
Preview dialer features
Why preview dialing make a complete contact center tool?
With preview dialers, agents get time to be fully prepared with the essential customer information to assist customers with the most accurate solution. Preview dialer is a useful outbound contact center tool since your agents communicate with customers with the point insights. Below are some of the features and services you can expect to experience when using preview dialer software.
Answering machine detection
A preview dialer detects and gets rid of an answering machine to ensure that the agent time should be used on all the useful numbers only while outreaching customers.
CRM integration
Sales automated dialers, including preview dialers, integrates with CRM to ensure each customer information stays handy to the agents for purposeful customer engagements.
Call back
Preview dialers empower agents to schedule an automated call for those outbound calls that went unattended. This way, call center agents do not miss out on a single lead by attempting to reconnect with them.
No downtime
A call center agent dials the customer number after reviewing the customer info. So there remains no question for dropped calls.
Click to call
With a click to call functionality, a call center agent automatically calls all those contacts whose details already exist in the CRM without manually punching the number in the autodialer. This eliminates any cases of error and improves efficiency as call center agents can dial out more numbers at a given time.
Agent performance dashboard
Call center managers have access to individual agent performance dashboards. From this, the call center manager can check call history and other key performance metrics.
Multi call campaign management
Preview outbound dialers assist outbound contact centers in running multiple calling processes simultaneously in the form of campaigns. With an autodialer, you can create, modify, and delete calling campaigns quickly from a single unified platform.
Call center agent script
Users of preview dialer software can also upload an agent script in the dialer to guide the agents with particular information and detailed instructions by defining some preset goals and mandatory points.
Time zone navigation
Dealing with different time zones for outbound campaigns can give contact center managers a lot of headaches. With preview dialer leading providers, time zone management is automatic and simple.
DNC filtering
A phone dialer filters the non-productive numbers that are registered on the DNC list. The preview dialer saves the call center agents' efforts and time by only dialing the useful numbers.
Other preview features include:
Safe dial tools, voice broadcast, CRM referral programs, cloud-based, and detailed analytics.
---
Why choose preview dialer for your business phone system?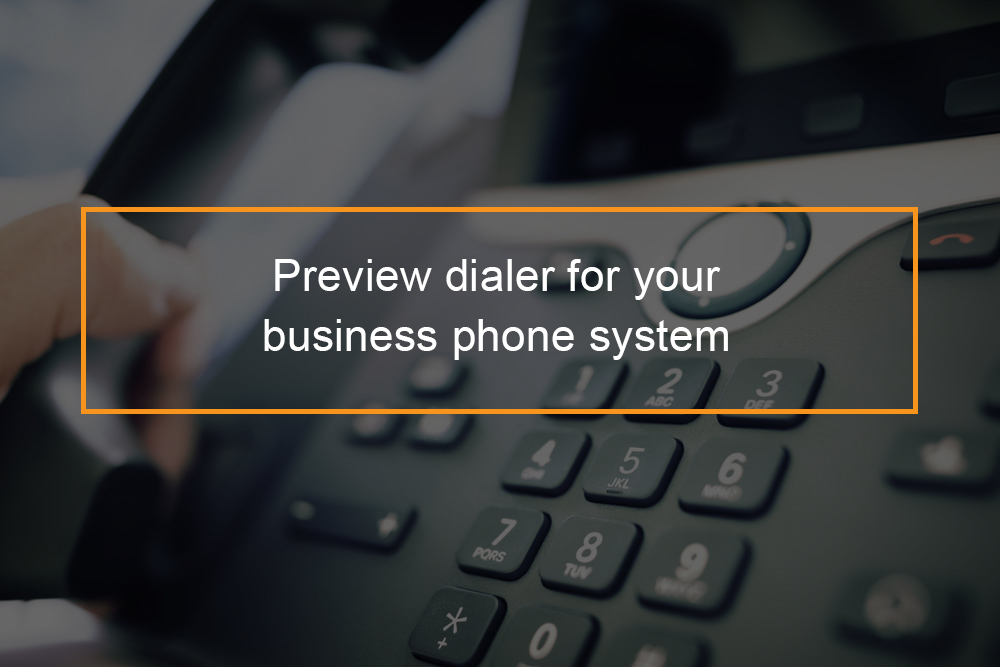 Preview dialers are ideal for any company despite the business size: small, big, and midsized businesses can use preview dialers. Most automated dialers prioritize customer agents' efficiency over client experience. An intelligent preview dialer supports your outbound contact center agents with access to highly customizable audience insights before connecting the agent to the client, ensuring they deliver a personalized experience. Below are some of the advantages of preview dialers.
Make stronger connections
With automated dialers, contact centers can make stronger connections with live prospects and increased productivity.
Tailor campaigns to your contact center goals
With rule-setting and data integration capabilities for establishing the customer you are calling, when you are calling and how often, preview dialers tailor your calling campaigns to your goals.
How to promote customer engagements with preview dialer
The following tips will aid you in building trust and encouraging customer engagements with preview dialers:
Mind rules and regulations as you go: Opt for a dialer with the safe dial, human intervention, featuring TCPA compliance supporting tools and time zone intelligent technology.

Respect your customers: For outbound and inbound calls, call center agents should handle them with respect and polite language. Also, choose a preview dialer with seamless DNC list integration that allows customers to opt-out and assist agents to stay aware of their choice.

Opt for a preview dialer that supports callbacks: With an around the clock reachability from IVR, inbound routing and intelligent blending.
---
Types of sales dialers
Power dialer, predictive dialers, and progressive dialers
The main aim of contact centers is to handle both outbound and inbound calls with style. Here we give you a quick introduction to the sales dialers that are compatible with business VoIP phones. 
Predictive dialer for outbound contact center
According to PC Magazine, a predictive dialer is an automatic telephone dialing system that dials from a list of numbers. It turns the automated phone call over to an agent when a live person responds. It increases business productivity in a call center since the agents can spend their time talking instead of waiting for calls to go through and hanging up on busy signals and answering machines. Following PC magazine, a couple of seconds of pause call center agents often hear when they answer a call from a telemarketer is a time it takes for the system to determine that you are a live person.
Progressive dialer
A progressive dialer gets rid of the option of when the next call is placed from your advisors. On finishing the previous call, the system automatically dials the next number on the list. This gets rid of the wait time between calls and can improve business productivity significantly. This is ideal where the calls are very similar, and advisors benefit from having the system dial up the next call for them.
Power dialer software solution
A power dialer software solution is used by live call center agents to call telephone lists, one number immediately after the other. In case a number is busy, no answer, or disconnected, the power dialer immediately moves to the next phone call without any input from the agent. The call center agent will hear a live person say hello and can talk immediately with no delay. Unlike a predictive dialer, in case the agent hears an answering machine or voicemail, he or she can either make one mouse click to hang up and immediately move to the next phone call, or she can wait for the greeting to play then leave a voice message. By automating outbound dialing, power dialers increase the amount of time agents spend talking to real customers and prospects. The power dialer is particularly useful when a contact center has a small number of sales managers and a large number of prospects. You can throttle dialing rates up or down by choosing power dialers.