What is a cloud PBX system and how does it work?
PBX stands for Public Branch Exchange. A cloud or hosted PBX is a computing technology where data and information are stored and transferred through the internet instead of a hardware device. It is a virtual system that offers a reliable office phone system through the internet.
How do cloud-based PBX phone system work?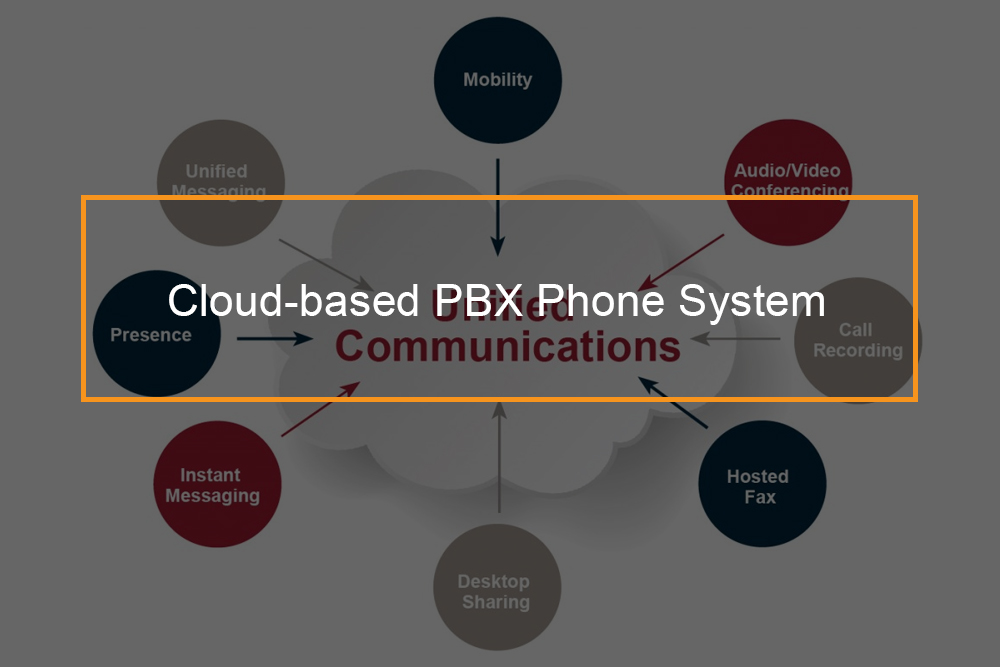 Mainly cloud technology depends on the internet. To be able to use cloud PBX technology, you must have an IP system in the office like Voice over IP (VoIP). Cloud PBX operates by connecting the internet phone or IP to the internet.
Users of cloud-based phone system can access it from any place. All you need is your logins and an internet connection, and you can access the system. Witch cloud PBX all the data and information is stored, managed, and backed up your PBX service provider.
---
Setting up a hosted PBX
A cloud PBX system is easy to set up. The setup process takes only a couple of hours. Companies can customize their PBX systems, add new users, add phone numbers, and other personalized details as soon as a cloud service provider registers them. Once you are done with the setup, the cloud PBX can be accessed by all users from anywhere as long they have access to the internet and the credentials to log in.
Basic cloud PBX system features
Cloud PBX has many advanced features. Cloud PBX is more useful to a business compared to the traditional PBX. The following features are some of the reasons why you should adopt a PBX system.
CMS and CRS integration

Fully automated software upgrades and data backups

Live call monitoring

Reporting and analytics

Virtual attendant

Call recording features

Automated call distribution

Call groups

Online user interface

Call whisper

Call queues

Call barge

Voicemail transcription
Note that the cloud PBX features mentioned above are not exhaustive: cloud PBX features are not limited to this list. Every cloud PBX service provider has its distinct features and additional specific capabilities. Some provide the service at a better charge than others while others offer their services for free.
---
Hosted PBX vs. onsite PBX
The main difference between onsite or traditional PBX and cloud PBX is the location. The cloud-based system lacks a physical location, but instead, it is based on the cloud, which is the internet. On the other hand, onsite PBX or on-premise PBX is located within the site of the business. In other words, all the hardware and necessary equipment are located on the company premises, and all repairs, upgrades, and maintenance are done in that location.

---
What are the pros and cons of a cloud PBX system?
Cloud PBX system advantages and disadvantages
Cloud PBX system offers a large number of benefits. However, it is not perfect; it also has some limitations.
The pros of a cloud PBX system
Cloud PBX system saves cost
Cloud PBX is inexpensive compared to the traditional PBX system that is hosted in the business. The system does not need expensive hardware and expensive costs linked to hardware repair and maintenance. Traditional PBX systems have high monthly charges. Cloud PBX also have low initial prices.
Cloud PBX enhance flexibility
A cloud PBX does not tie down a business to a specific location. Physical boundaries do not confine them. Therefore users can access it from any place as long as they have a reliable internet connection. Your business keeps on operating whether your employees are in the office or not.
Cloud PBX is scalable
A cloud-based PBX system grows with your business. It gives your business room to grow. It makes it simple for a small business to expand without going through the logistical process. For instance, you don't have to buy new hardware, hiring new space, or expanding your PBX space or even purchasing new lines as your business grows. Moreover, you can scale down when required. You have to sign up for the services you need, and all resources are utilized.
Advanced features
Cloud PBX has more and sophisticated features compared to a traditional PBX system. Traditional PBX has basic features and cannot be compared with the superiority of cloud PBX capabilities. Cloud PBX systems are also simple and easy to run and do not require new equipment.
Cons of Cloud PBX system
Affected by power and internet
The only obvious con of cloud PBX system is that it relies on the internet. This implies if for some reason you lose internet connection or place the system without the internet, you will lose access to the cloud PBX. That is no internet, no operation. Besides, if the internet connection is slow, the call quality will be poor, and you may just be dropping calls without warning. However, if your company has reliable internet, this should not be a problem.
Security concerns
Similar to any other internet-based technology, cloud PBX is affected by security issues. Data can easily be hacked or tampered with. The solution to this problem is to sign with a well established and trusted with cloud PBX service provider.
https://www.youtube.com/watch?v=I3K5SN33nRY&t=56s
---
How much does cloud PBX cost?
Cloud PBX is relatively cheaper compared to traditional PBX. The running cost of an on-premise PBX system is anywhere from $5,000. This includes installation, hardware and other charges for an operator, who are paid about $10 for every hour. If you do not need an operator, the fees will be around $400. But this is still costly.
When it comes to a cloud PBX system, it is a bit cheaper. For beginners, some providers offer some of the standard features for free. For the premium features, your charges will range from $10 to $20 depending on your service provider. Generally, some pricing plans begin at $4 for every month. PBX service providers have different packages for various charges depending on your business needs.
---
IP PBX vs. Virtual PBX system
Unlike a virtual PBX system, IP PBX system needs more hardware and maintenance. The virtual PBX system only requires a PC with access to an astable internet connection and some IP telephones. When it comes to IP PBX, you own the system, and it is your responsibility to run it from the office.
Even though virtual PBX and IP PBX are beneficial to a business, a virtual PBX is regarded better. Advantages of virtual PBX include affordability, scalability, flexibility, and advanced features and capabilities. Some of the features of the virtual PBX system include:
Music on hold

Auto-attendant

Voicemail

Dial-by-name directory

Custom greetings

Faxing

Unlimited extensions
---
Best cloud PBX systems for small business
Top cloud PBX system providers
In previous years, the demand for cloud PBX service has gradually decreased. Thus the accessibility of most cloud PBX service providers today. Selecting the best cloud PBX service provider is essential for the growth and success of your company. Below are some of the cloud PBX providers you can opt for.
A RingCentral cloud PBX system
This the most popular cloud PBX provider in the market. It has all the standard and advanced features suitable for any business. Ringcentral pricing plan includes:
Ultimate program at $49.99 monthly

Premium program at $34.99 monthly

Standard program at $24.99 monthly

Essential program at $19.99 monthly
8×8
Virtual office 8X8 cloud communications provide unified communications in a simple and easy to form. 8X8 offers three pricing plans. You can easily get the pricing plan and suitable quote for your business by contacting their sales team.
Vonage business cloud
Vonage offers cloud PBX software suitable for small to midsize businesses. Vonage hosts a lot of features and plugins. The best part is that some of their services are free. The pricing plan for Vonage include:
The top-tier tier which begins at $39.99 monthly

The premium tier which starts at $29.99 monthly

The mobile tier which starts at $19.99 monthly
Ooma office manager
The distinct feature of Ooma office is that it does not tie down its subscribers to a contract. There is no kind of any long term dedication since clients are allowed to leave any time they want. It is suitable for small businesses and has a standard rate of $19.95 monthly.