How to trace a VoIP phone call?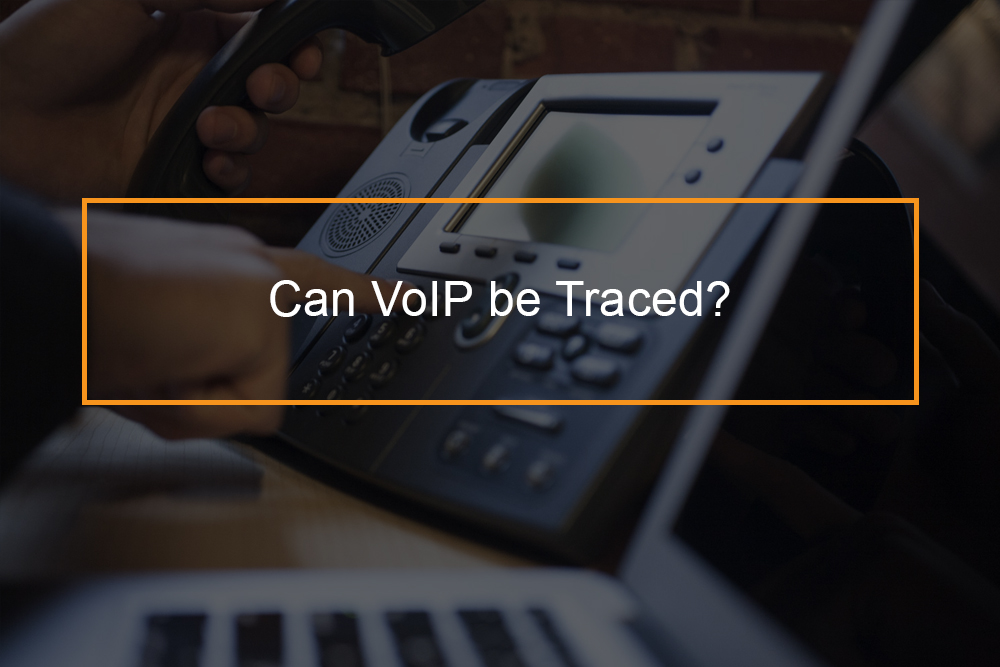 All VoIP numbers can be traced down, mainly if there is a real need for this. However, tracing a VoIP number depends on what you have access to. In case you have access only to the phone, then you will not be able to tell much since today servers or routers are not using media flow around for you to be able to see the initial location of RTP stream.
In case you have access to the server, and the call was IP only, then you can see it in the Logs or CDR where the call came from. In case the call was TDM and came from an SS7/Landline, then you should either look on the logos or ask the upstream provider. 
In case the call was a scan from sipvicious, then you should be able to look in the phone logs to see who, and where that call came from.
---
Are internet calls traceable?
VoIP calls retraceable. VoIP calls need IP addresses on every end so the information can be routed. IP addresses can be traced. There are various reasons that would make you want to want to trace someone's number. You could be concerned about someone who is snooping on you. 
It is worth noting that VoIP phone calls are comparatively safe from surveillance since they are made possible because of the internet. When you place a VoIP phone call to another VoIP user, your voice is broken into data packets that are conveyed via the internet. When you make a VoIP phone call to another VoIP user, your voice is broken into data packets that are conveyed over the internet till it reaches its destination. 
Similar to when you use a traditional phone service, your voice is broken into traditional analog signals that manage to intercept your call will have a difficult time cracking these patterns.
VoIP calls are also more secure since the mobile nature of the infrastructure. Whereas business VoIP might be viewed as a static operation, most VoIP users are going to access the service on their mobile device. Thus, while you may be able to pinpoint the IP address and attribute it to the person it was assigned, you may still not know the physical location.
Are VoIP secure and private?
Seeing that VoIP numbers are traceable, one may wonder if VoIP phone systems are secure and private. Well, VoIP has deemed private and secure that the US military uses them for communications.
---
How do I find out who owns a VoIP number? 
Can I find out who called me?
VoIP calls are trending now. VoIP makes communication easier by enabling you to make calls over the internet. With Voice over IP calls, you can make phone calls to anybody in the globe as long as there is an internet connection for all parties. VoIP calls also enable conference calls and VoIP meetings. It is now usual to see that business companies have implemented using VoIP calls in their communication procedure.
A primary concern when utilizing VoIP calls is tracing an unidentical phone number to its owner when VoIP calls are placed. When unknown callers call to you on VoIP, you only see the caller ID, which is the number that appears on your phone. The problem is now tracing the number to the owner.
Ways you can use to trace the VoIP phone number owner
The reverse phone detective approach uses different online apps to trace the owner registered to the phone line. There are many reverse phone detectives available online. They are free and need you to input the caller ID in the search engine, and they assist produce the owner immediately. Generally, these online detectives can be used to search for landline numbers too.
Another approach to figure out the owner of an unidentified VoIP number is via the VoIP service provider. You just have to note the caller ID, and the time the call was placed. Then, converse with your VoIP service provider to trace the owner of that number for you.
The only clause to using this approach to trace the caller is that the caller whom you want to know about must have registered caller ID or IP address with which he or she is using to make the call. In case the caller is using a fake IP or third party to place the call, then it makes it harder to trace the caller.
Organizing your device to display the VoIP caller ID name
Tracking the owner of a VoIP number becomes simple when you have the original number. This number is made up of two parts; the first is the caller ID which is the number you can use, while the second is the caller ID name, CNAM.
There are many websites like callerID.com assist show you step by step process on how to configure your device to manifest the caller ID name. They use an external question capability and add it to the database, so it can be managed to show both the number and the name. The kind of question is system related, but one type of question is Ajax or JSON, so for those with programming skills, it will not be challenging to implement a question for that number. They would most obviously send back the name you want as long as it is in that database.
Using softphone or headphone application
When connected with a server or proxy and applying a Session Initiation Protocol(SIP) hard phone or softphone, there is a form of tracking a VoIP number depending on how you are connected with the proxy or server.
Whereas utilizing a softphone, install any packet analyzers like Wireshark on your device and insert a SIP filter. On the invite packet, press on the FROM field. It shows you have the IP details of the originator of the cat. 
When you are using a hard phone, use packet analyzers like Wireshark on your server or local router, and filter for hard phone IP and SIP. In case you have access to an Internet Telephony Service Provider Server, you can trace the number yourself by downloading a Secure ShELL client and running a trace command.
Usually, the VoIP address comes in the format of [email protected], [email protected], [email protected] 127. All incoming calls are recorded to your phone as the VoIP address or mapped number. With the domain name, you can trace the IP address of the domain easily back to the number that called you.
Lastly, depending on what you have access to, all calls can be traced. You can see in the logs who placed the call from in case you have the call was IP only and you have access to the server.
All the calls can be traced, mainly if the need is dire and the authorities can use other meanings to trace these calls.
---
Can you trace a non-fixed VoIP number?
How to trace non-fixed number?
Non-fixed VoIP numbers can be traced sometimes, even though not entirely so. This is since VoIP numbers can be assigned with any code and with no consideration for where a business or user is working or living. This makes it simpler to do business in other regions, even though it can make it harder for people who need to find a spam user or locate where a company is calling from.
The non-fixed number can be traced by searching phone books and records; online or offline, you can try searching phone book records for a specific owner or user linked with that number. Bear in mind that the number may have already changed since it was registered in the phone book. Thus the user you see associated with that number may no longer use it.