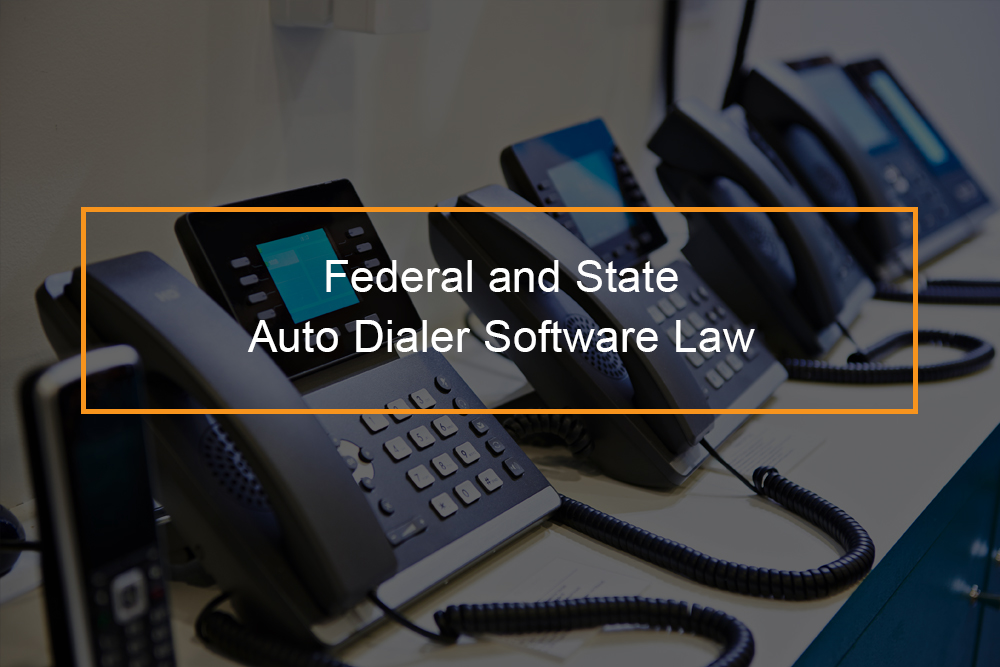 Auto Dialer software is illegal in the United States if the device meets the interpretation of the Federal Communication Commission or TCPA. There are several types of auto dialing software: predictive, power, progressive and preview dialer. An auto dialing system that randomly or sequentially dials a list of numbers to deliver a prerecorded message to the recipient is referred to as a voice broadcast auto dialer, or robocalling autodialer. 
This a fully automated procedure without human intervention unless the called person was given the option to be transferred to a live person. In some outbound call centers, a power dialing mode is used to dial ahead and find people for a sales agent to speak with. These automated dialers wait until call center agents are available and then auto-dial multiple lines to find another person. More sophisticated automated dialing systems, known as predictive dialing, will start even before an agent is ready, and they use real time analysis to recognize when to begin dialing and how many lines to dial out to increase talk time.
Unfortunately, the Federal Communication Commission order does not address the exact contours of the auto dialer systems definition, or seek to recognize comprehensively each type of device that falls within that definition. Instead, FCC leaves the question open-ended to be determined on a case by case basis. A call center manager ought to understand if your business phone system would be classified as an autodialer.
---
Outbound call center software: What does auto dialer law apply to?
Does auto dialer law apply to predictive, progressive and power dialer?
Autodialer law applies to the use of any device or software which can generate or store numbers and automatically dial them without human intervention. This is regardless of whether the numbers called are randomly or sequentially generated or come from phone calling lists. Auto dialer law also includes predictive, progressive law, pre recorded voicemails (robocall law), and preview dialing law.
Most states prohibit or outright restrict the use of automated outbound calls. Before committing time and resources to automated phone calls, make sure you know what laws apply to you within the states you are phone dialing. Even though the campaign now LLC cannot offer any legal advice, it is important to note any laws that might affect your contact center solutions.
Federal laws
All the United States must comply with federal laws. Even though the TCPA allows the use of emergency notification solutions, healthcare appointment reminders, and general appointment scheduling without prior consent, prior consent is needed before you can send audio messages or text messages to cell phones.
State Laws
Some states do not publish laws that would be applied to voice dialers or phone dialers besides federal regulations, while others have additional laws. For example, the Alabama telemarketing act recognizes a ban on outbound sales calls solicitation together with a list of exemptions to the law and definition terms. While the Alaska unwanted telephone Solicitations explains what is regarded as unlawful and unsolicited telemarketing software advertisements within the state. It is critical to comply with your state.
 Is autodialer law settled?
Auto dialing software law, like most cloud call center software law, is constantly changing. For instance, new FCC rules concerning autodialer law and cell phones were implemented on October 16, 2013. It is worth noting that most courts also keep on having a difficult time evaluating exactly what type of phone dialers meet the Federal ATD interpretation.
---
TCPA compliance: TCPA rules for contacting customers using auto-dialers and predictive dialers
Do not place automated calls to anyone listed in the DNC call registry

You cannot call residences before 8 a.m or after 9 p.m in the time zone of that residence

Do not deliver artificial voice phone calls or call recordings to houses without prior express written consent

It is prohibited to make automatic calls using an autodialer to:
To telephone line of any patient room or guest room

Emergency telephone line and any emergency line of a hospital, service office, poison control center, or fire protection.

To any phone number assigned to a paging service, cellular telephone service or other radio universal carrier service
Nonetheless, an automated dialing system may be used in case:
The phone call is made regarding goods or services that have been ordered or bought previously.

The phone number chosen has been screened top exclude subscribers of the current DO Not Call List.

You leave a live message, and the messages are solely in response to phone calls initiated by the person the auto-dialer has dialed.
The TCPA prohibitions on utilizing an automatic telephone dialing system to call a mobile phone could apply to the sending of messages and regular phone calls. Nonetheless, various appeals court cases have currently justify the TCPA's application unclear. Besides, researchers that send text messages to mobile phones in compliance with the TCPA (either manual dialing or automatically dialing) could find their messages, which regulates commercial e-mail.
---
What is the current role of auto dialer in a call center?
Benefits of call center dialer
An auto dialer is a system that places outbound calls from a contact center to clients. The purpose is to decrease the cost of placing automated phone calls by removing a lot of repetitive and error-prone work. Dialers also improve sales teams efficiency by directly connecting call center agents to customers as they become accessible. Typically call center agents can place thousands of calls using auto-dialers.
Call center software plays a significant role in keeping actions and efforts in place of any omnichannel contact center. This telemarketing software comes with some amazing phone calling and phone messaging features, which can play a significant role in increasing revenue of your outbound call center. One of the must-have features is answering machine detection. With this feature, you will sense busy signals, touch tones, and pre recorded voicemails. 
Other must-have features include: Call recording, call transfer, call routing, caller ids, dialer CRM integration, click to call, workflow automation, automatic call distribution software integration, calling campaigns management, workforce management, voice broadcast, and interactive voice response. These features will help increase the dialing rate, talk time, and revenues.
Auto dialers can increase call center production. Every agent will be engaged in live calls, while call center managers can evaluate agent performance via live call monitoring. Autodialers such as kookoo cloudagent and Adversus dialer reduce agent idle time up to ninety percent. This will increase the productivity of a call center remarkably. Besides sales, auto dialers save your business money. Filtered inbound calls are passed to your sales agents. Thus, you can save money getting wasted in slow manual efforts dialing numbers and receiving calls. Also, you may enjoy auto dialer services without spending money- there are free versions of auto-dialers- no credit card required. 
---
Kinds of dialers
Probably the most common dialers are progressive dialers, preview dialer, and predictive dialers. Predictive dialer dials multiple numbers at the same time deploying algorithms to detect when a call center agent will be available and also the possibility of reaching a callee for a sales agent. As with auto dialer technology, the purpose is to waste less time. With a predictive dialer, wasted time can be reduced via a variety of supporting technologies that sense answering machines and busy signals.
With a progressive dialer, it removes the option of when the next call is placed from the advisors. On finishing the previous phone call, the system automatically dials the following number on the list. While a preview dialer at the end of the phone call, your advisors can see the next call on the list. It is up to the advisors to make the call, and they can also skip to the next name on the list. Preview dialing mode is ideal for more sophisticated sales where some research is needed between calls to accelerate the chances of success.