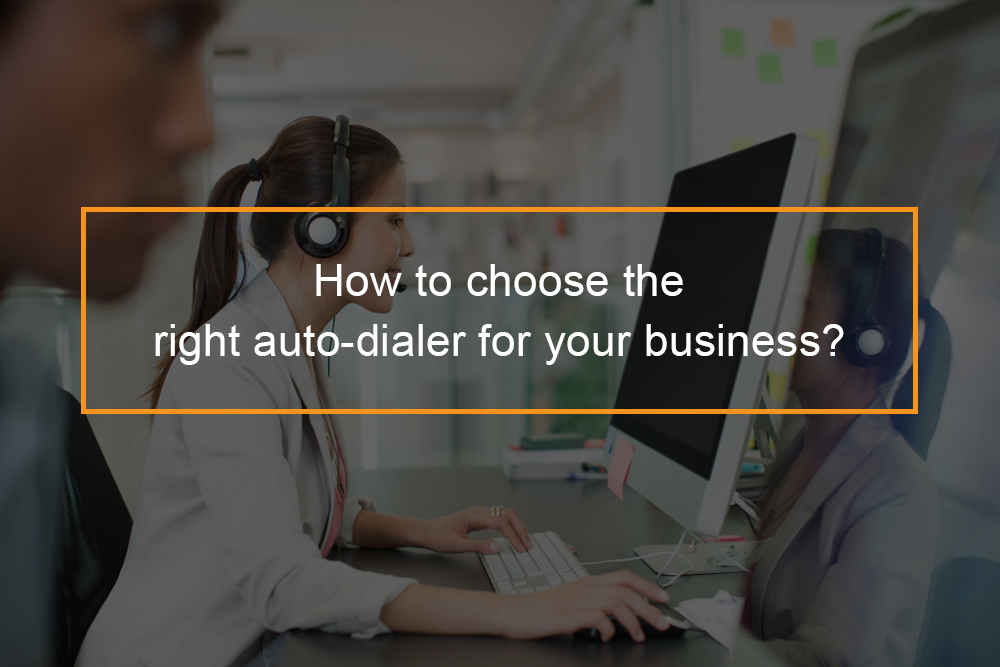 When buying an auto-dialer, look for one with cloud-based speed dialing that runs from your computer. Also, ensure that the auto-dialer can manage outbound calling campaigns with integrated CRM software. Having the right auto dialer system can make your business successful. Outbound sales have changed since TCPA, and other regulations have been enacted. Today professionals are looking for an edge that will tip performance back into their hands. In this article, we are going to discuss how to choose the right auto-dialer for your system.
---
What are the features to look for in an auto dialer?
Features of the best auto dialer system
You may not have a team of telemarketers to control, but regardless of your business, apart from emergency notification, there are a few features top-level auto-dialers include. 
Cloud-based speed dialing that operates from your computer
Even though manual dialing has not changed, the procedure that surrounds dialing customers is a new field. Your whole outbound strategy integrates seamlessly with your computer and smartphone. Look for an auto dialer that increases your phone dialing rate. So what does this mean for your company?
Speed dialing by just clicking a button, without punching in numbers or wait for a connection

A lightweight application that backs up all your information into the cloud and does not slow your devices

Everything is in one place (prospects, referrals, leads, phone scripts, outbound call centers campaigns milestones)
Managing outbound campaigns with integrated CRM software
Call logic is not just an automated phone system; it is an entire CRM built to plan, execute, and manage outbound call campaigns. All you need for a successful campaign is built into the application. So administrators can control and monitor in one place, and salespeople have all of their right tools right there, too. This makes workforce management easy.
Below is an outline of how it looks:
Planning
Customize caller IDs

Record custom voicemails

Call recordings

Customize emails, dispositions, and scripts

Import and organize contacts auto

Set-up calls dialing speed and campaigns

Assign call campaigns to salespeople

Utilize appointment scheduling feature
Executing
Click-to-call dialing (click and call in seconds)

Power dialing pace (automated phone calls from the list)

Preview contact info before automatically dialing (so salesperson know their prospects)

One-click pre-recorded voicemails (no one picks up, click a button and leave a recorded voicemail)

Record history notes or sends emails in the CRM

Live call transfer/ three-way calling and touch tones

Send appointment reminders
The Telephone Consumer Protection Act TCPA compliance
The Telephone Consumer Protection Act is a wide-reaching, continually developing regulation set by the United States Federal Government. Bending these rules could mean hefty fines. It is significant to choose auto-dialer software that builds The Telephone Consumer Act into its design. That indicates keeping track of calls, automatically updating Do Not Calls lists, and organizing information for reports.
Options for pacing calls
Call logic provides two possibilities for end-users: power dialing and clicks to call. The first is the streamlining of the auto-dialing software procedure for a hands-off experience. After your current call ends, the auto-dialer software calls the next number on your list automatically. You do not have to wait or do manual work.
The second allows you to choose your next automatic call within the software program. Click on the next name on your call list, and dial out faster.
Detailed reporting for outbound call campaigns
Data managers are a fundamental part when it comes to automated outbound calls campaign. A call center manager can track your salespeople's success, create actionable goals, set milestones, and view reports all within the auto-dialer software. You should be able to view:
Total time on the system

Number of campaigns running

Number of calls connected

Number of calls made

Number of calls scrubbed out due to Do Not Call lists

Number of calls connected

Designated ring time

Number of audio messages and prerecorded messages used

Prerecorded voicemails used for calls

Why it ended (note on status)

Average talk time with a prospect

Total talk time with a prospect
Whisper coaching
Training new salespeople can be challenging for managers. Whisper coaching gives distinct and on-the-spot call monitoring. Not only can you listen to the discussion, but you can talk to your salesperson without anyone else hearing. Live coaching without the prospect's knowledge is a powerful business tool.
Pre-recorded phone messaging
Most of your sales calls may end with a voice message. However, manually leaving a voicemail even though you are following a script, wastes a lot of time otherwise spent calling more prospects. The pre-recorded feature enables end-users, you, and your salesperson, to prepare voicemails ahead of time and leave them automatically. So you will not even think about speaking clearly at the moment.
Ease of navigation
No one likes to keep pushing their way through a complex and never-ending navigation tree when they are on the phone. By the period reps press one for the help desk two and three for that, they have wasted a lot of time attempting to evaluate the correct actions to take to get on the telephone with a real, live person. And there is no assurance all of the time spent will send you the appropriate contact. Instead, choose an autodialer that allows you to bypass navigation to connect your team with real humans and has call routing features.
Customer support
An auto dialer company should offer easily accessible online documentation and customer support. Look for a company that provides a combination of email, phone and chat support, online knowledge bases, and community forums. Ensure the system has social customer service and automatic call distribution software.
Call analytics
This feature offers detailed reports on sales agent performance, campaign success, automated call volume, caller demographics, and multiple other reports.
Dialer CRM integration
Auto dialer's relationship management integration saves you money and time by tracing call data automatically and promoting efficient team collaboration.
Voice over Internet Protocol (VoIP) system integrations
Phone dialers work with a user's existing phone service to dial calls. Buy an autodialer based on its ability to integrate easily with VoIP business phone systems.
---
What is the best auto dialer?
Best auto dialer for small business
Below are some of the best auto-dialers and notification solutions in the market for small businesses.
ChaseData auto dialer software: Best overall auto-dialer for small businesses
ChaseData is the best auto-dialer software platform that provides auto-dialing as part of its center package. It is known as one of the best cloud-based auto dialers software in the market with features such as inbound calls capability and CRM integration. Its prices start at $89 per month. ChaseData is ideal for businesses that require inbound call center features with outbound auto-dialing.
Five9: Best auto-dialer software that does not need extra equipment
Five9 is a cloud based contact center solution that does not require costly equipment to use. FIve9 technology is cloud-based so that call center agents can log in from anywhere with only a high-speed internet connection, a headset, and a computer. Five9 has plans starting from $185 per user, for every month. Five9 is not the cheapest option in the market, but it is excellent for a business needing to avoid complex auto-dial setups or solutions that require workers to be in one location.
Velocify dial-IQ call center software: Best auto-dialer software for lead management
Velocify Dial-IQ is an auto-dialer with a built-in lead management application designed to boost the productivity of sales teams, with tiers from around $100 per user in a month. The outbound sales dialer integrates into current phone systems to control thousands of calls simultaneously. Velocify sales dialers help sales teams work more effectively, making it the best choice for lead management.
Voicent: Best auto-dialer software with most features
Voicent is a full-featured auto-dialer system with a menu of many choices for growing companies. Extra adds-on to the base package includes an inbound cloud call center package, workflow automation, call center management software, and more. With a $29 monthly plan, Voicent is ideal for companies that need a solution that can grow with them.
PhoneBurner: Best auto-dialer software for Customer Relationship Management integration
PhoneBurner is an autodialer software that integrates seamlessly with Zapier, Salesforce, and HubSpot. It also has an open API that businesses can use to design their software connections and is priced at $149 per subscriber, per month. PhoneBurner is ideal for businesses that depend heavily on CRM tools for moving interested customers and cold phone calling through the sales pipeline. Other telemarketing software in the market includes kookoo cloud agent, zapier integrations, omnichannel contact center, and Adversus dialer. The best part is some of these software have free trials and with no credit card required.
---
What is the difference between predictive dialer and power dialer?
Automated dialer systems are applications used to automate the process of dialing to an external contact number so that contact center agents can choose calls strategically. Automate dialing systems are installed to reduce missed calls, calls not picked up, call waiting, and also accelerates performance in terms of time talk per hour. 
An auto dialer uses AMD technology to detect if the call is being transferred to an answering machine detection or voicemail inbox based on three important principles.Predictive dialing is a means of outbound calling, where the system dials the numbers on the database sequentially, without an agent online. Voice dialers dial several numbers simultaneously when a live person answers on the other end.
Power dialing is a kind of call center dialer where the agent is already active on the line at the time of the call. A predictive dialer with an interactive voice response is a complex autodialer in terms of setting up and needs a lot of technical support, whereas a power dialer is easy to use and effective. When it comes to the difference between predictive progressive and preview dialer- progressive dialers get rid of the option of when the next call is placed from your advisors while preview dialer offers the quick snapshot of customer's contact details before dialing the call.