Vanity phone numbers ideas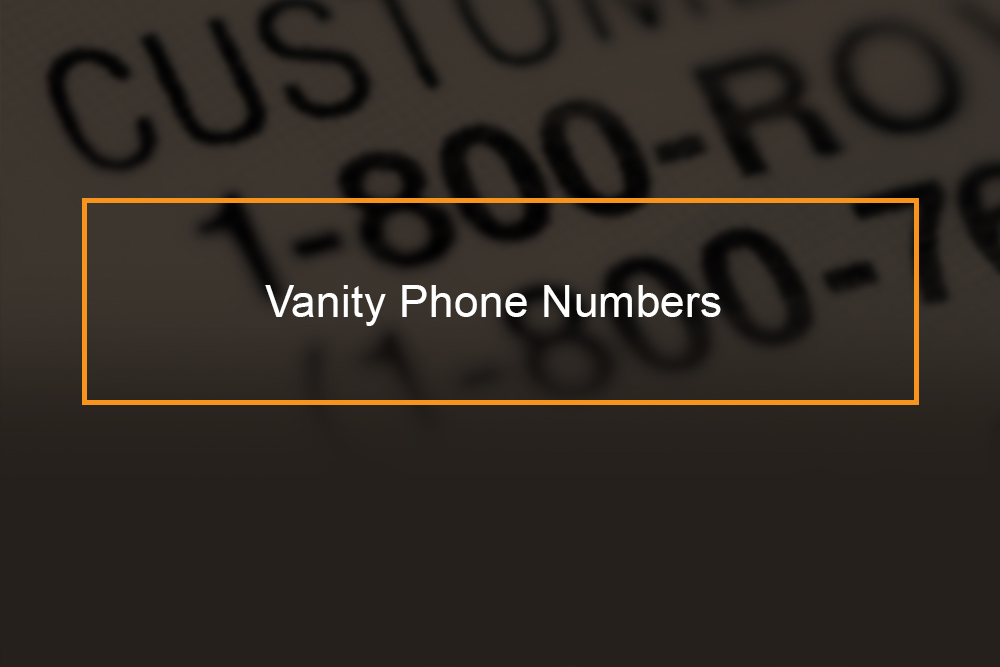 A vanity number can be defined as a toll-free or a local telephone number which the subscriber requests an easily remembered series of numbers for marketing reasons. Vanity numbers allow customers to call a business at no cost and their calls are routed to any existing phone lines, including cell phones, or PBX  systems. You can also manage all your forwarding online and access real-time call logs. 
There has been a concern if businesses should use vanity phone numbers to attract customers or not. Vanity numbers spell out words in the phone number that match the numbers on the keypad. The letters or numbers can be the company's abbreviations, logo, or even phrases that the company often use during advertising campaigns.
The main reason businesses use vanity phone numbers is to increase brand recognition. When customers recall your phone number, they are more likely to call you when they have a query or a need for your product or service. In case you are in the procedure of beginning, or you want to attract more customers, keep reading this article.
---
How do vanity numbers work?
What are vanity phone numbers and how do they work?
Vanity phone numbers, like Freephone or premium-rate numbers, are meant to encourage potential clients to call. Vanity numbers build a professional brand image of a company that provides services to a nationwide audience, and they are if selected well, easy to remember.
The easiest way to define vanity number is by outlining some examples — 1-800-flowers for the United States-based flower delivery service or 0900-LIDLINFO for Supermarket giant customer service in the Netherlands.
Vanity numbers function because a word or a number is easy to remember than the number combination it replaces. Now let's look at how this works. If you look at the dial screen of your cell phone or the dial pad of the phone on your desk, you will see how below each of the numbers two through to none are three letters printed. 
Calling a vanity number is as straightforward as pressing a letter by letter, the corresponding keys. For example, to dial 1-800-FLOWERS, you would key in 1 800 3569377. You can now tell how easy it is to remember FLOWERS than 3569377. Replacing the numbers on your telephone number with a word makes your number immediately memorable. The length of vanity number varies with the extent of telephone numbers in a country. It is worth noting that prefixes are never a part of the vanity word.
However, vanity words do not have to match the length of the telephone number precisely. They can be several characters longer. The telephone network will ignore the additional characters.
---
Reasons why you need a vanity phone number
Vanity phone numbers are one of the easiest and most effective approaches to market your business, and they come with long-lasting effects. Vanity phone numbers are known as 'vanity' since they add some interest to what would be ordinary just local and toll-free phone number.
Vanity numbers help keep your business in the mind of your customers. Creating and increasing brand awareness should be the aim of each company, and having an eye-catching and memorable number is the best way to achieve this. When vanity numbers are repeated on television or the radio, or even put on business cards or the website, clients will be able to link your business to the vanity you have provided immediately.  This has been shown by the positive numbers of incoming calls received and conversion rates. 
Below are more reasons why you possibly require a vanity phone number.
Vanity phone number lend credibility to your business
In case you have a vanity number that is dedicated to flowers or any other service, anyone who sees your vanity number is aware that you have made a dedication to your company, and that you specialize in what they need. Even though your competitors may provide similar services or goods, your message informs clients and potential customers what you do; you are dedicated to it. Besides, customers can use that marketing info to contact you.
Vanity number help you to improve customer service
If your customers remember you and your business and they know how to reach you, since your number is stuck in their heads, they call you when something goes wrong with your service or product. The best part is they will call you before they take their disappointment to social media, and damage your reputation or worse cost you your new customers. A vanity number such as Best Buy 1-88-BEST-BUY customer service line improves customer service.
Even with the era of the website, the customer still remember phone numbers
A study which surveyed 1000 people, found that customers remember vanity phone numbers with more frequency than they remember website URLs. According to the survey, more than twice as many customers remembered a home improvement company's vanity phone number that its web address, after seeing both on print.  With the success that comes with vanity numbers, no wonder, even the government is purchasing vanity phone numbers. For instance, to opt-out of prescreened credit and insurance levels for five years, the FTC requests you to call 1-888-5-OPT-OUT.
Vanity phone numbers broaden your market
Not only do vanity phone numbers increase customer traffic and leads, but they also provide your company with a national presence since you have a toll-free number. With such a number, you might even edge out local organizations. With a vanity number, you can stay on top of customer minds. Your business might not be down the street like your local competitors; however, you are more comfortable to reach in case a customer has your number stuck in their head. 
Vanity numbers make your campaigns live on
Marketing campaigns have a shelf life; that has a beginning, a middle, and an end. However, vanity phone numbers live on, across many marketing campaigns over time. Vanity phone numbers can inspire campaigns. For example, whereas Andrew 8-8000 might have consumed his 8000 cookies some sixty years ago, today people still remember the jingle, even though the days of five-digit phone numbers and exchange are long gone.
Vanity phone numbers are mobile
Long gone are the days when vanity numbers were hard-wired to a call center in the constant place. Thanks to the revolution, today vanity-free numbers are mobile, just like your company. With call forwarding, you can route phone calls to your company anywhere at any time. Also, calls to your vanity number can be forwarded to your home office line. With call forwarding, you cannot miss calls, and your clients can reach you whenever they want.
Vanity phone numbers expand your global reach
Using vanity phone numbers as a virtual phone number, you can forward customer service calls to other regions of the world, and deliver to your customers seamless 24/7 customer service.
---
How to get a vanity number for your company?
Getting your company vanity phone number
If you are looking to get a vanity phone number to choose a vanity phone number provided to assist you with your customer phone number needs.
You also need to decide the vanity phone number that you need. Then ensure your vanity number has the right number of digits. 
Remember to consider what type of coverage you need. You might require statewide coverage, multi-state and regional coverage or nationwide coverage. Then search for available vanity phone number options in the vanity phone number tool. You can then lease your custom vanity phone number and publish it. 
---
How do you call a vanity number?
How to dial a vanity number?
To dial a vanity number just press letter by letter, the corresponding keys on your mobile phone, dial screen or the dial pad of the telephone on your desk.
For example, calling 800-FLOWERS could be as easy as dialing 1 800 3569377.