What is VoIP number and why do you need it?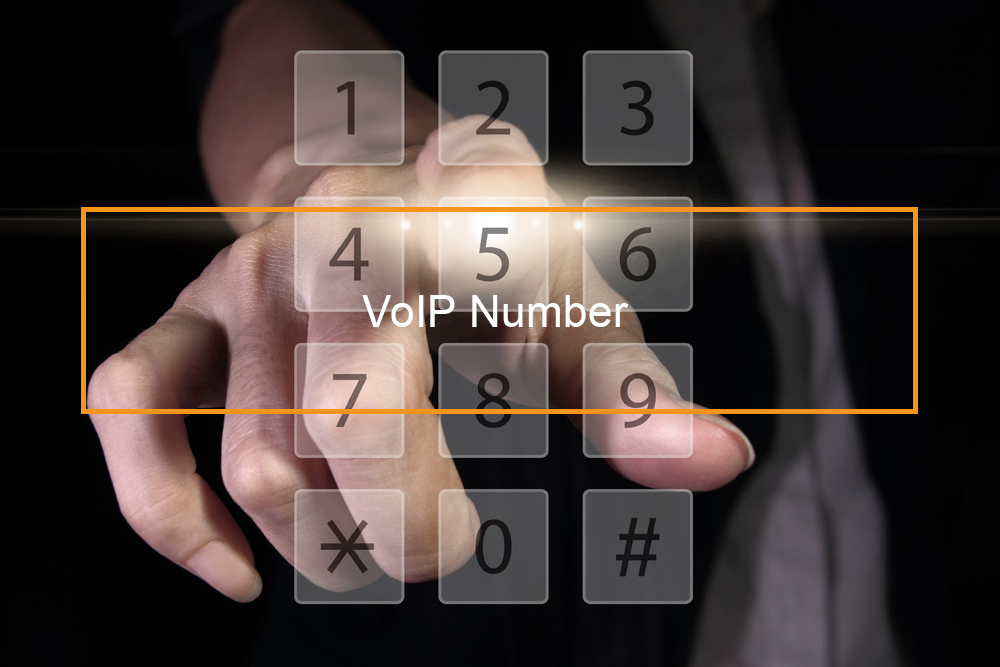 VoIP number is used to place calls via the internet. Unlike traditional analog phone services, where calls get routed via a telephone line, your service travels through the internet. With this approach, VoIP routes a call along the most efficient paths possible. They are often used to enable long-distance service without incurring long distance charges in IP telephony and for call forwarding services.
Voice over Internet Protocol number extends to other kinds of communication such as chat, and text messaging. A company owner can build an organization's communication system, or an individual can use it for personal calls. Read on to find more about VoIP numbers.
---
Why would someone use a VoIP number?
The advantages of VoIP number
Voice over Internet Protocol numbers is a convenient and economical way to conduct business telecommunications. They have many advantages over traditional landline numbers. For instance, the landline is designed with voice conversations in mind, but VoIP allows you to send and receive text messages and videos over the internet in addition to voice.
It makes sense to have both a mobile and landline Voice over Internet Protocol number. This allows you to configure call scenarios so in case you, or one of your staff, happen to be away from their desk phone when an essential client call arrives, they will not miss it. Let's discuss more of the VoIP number's disadvantages below.
VoIP numbers are portable
Thanks to VoIP technology telephones are no longer immobile. In the past, in case you were on the move, the telephone company was called to update the new phone number at the new place. Most of the time, a service technician had to configure the new telephones.
Nonetheless, Voice over Internet Protocol is another alternative, saving any business owner unnecessary costs and usage of resources. Despite the location, the Voice over IP telephony can still use the same phone number. All that the user requires is stable IP connectivity.
Phone number portability means there is no need to change the phone number in case a business selects to deploy VoIP service. There is also no need to make changes to the website, marketing materials, or business cards. Just carry over the old phone number and keep operating as usual.
Toll-free 800 phone numbers
Today toll-free calling is not only for big companies. Both small and medium-sized businesses can now get toll-free 800 calls with the implementation of VoIP phone numbers. Whereas it varies from service provider to provider, most will offer either free or cheap toll-free calling.
Toll-free calling can assist a business get rid of the appearance that they are limited to the local community or one geographical region. Best of all, since you can have many Voices over IP numbers ring on many devices, these toll-free 800 calls can be routed to your personal PC or phone.
Long-distance call
Unlike traditional analog phones, you can select an area code for your Voice over IP phone number that is not in the same state or city you live or work. This feature enables an individual or company owner to place calls to an area code of their selecting and not get charged for a long-distance call. 
This indicates that a business owner can assign themselves a local number to establish credibility. It can be useful for a business that has multiple locations. It can also be helpful for those businesses that would like various local numbers to route to one place.
Nonetheless, in case the area code that is assigned to the telephone is one specific city, for example, Los Angeles, but the Voice over Internet Protocol phone is in New York, then each call made across New York or any other city other than Los Angeles is subjected to long-distance fees.
Ability to connect to multiple devices
One of the best features of VoIP numbers to a business is possibly the ability to connect multiple devices on one virtual number. With the internet telephony number assigned to a person and not a location, they can take the phone number anywhere and access their account from any device of their choice.
You can use a company or personal laptop, cell phone, or tablet that is compatible with VoIP to place calls once you have logged in. These VoIP numbers can also be set to forward calls to various telephone numbers in case the subscriber chooses.
The ability to use many devices with one telephone number allows the user the ultimate flexibility.
Enhances Voice quality
With a stable and potent internet connection and high bandwidth, voice quality is far much better compared to conventional phone connection. But if you live in rural areas without a reliable internet connection, your voice quality might suffer.
VoIP number saves money
Upgrading to VoIP number can save money even after including the cost of buying new hardware or increasing the speed of the internet bandwidth. Subscribers pay less for the same volume of phone calls as before since VoIP service providers can take advantage of existing IP networks, therefore bypassing traditional phone operators around the globe.
Since VoIP calls are transferred over the public internet or local company intranet, operators do not have to maintain different infrastructure for data and phone lines. Voice calls are treated the same way similar to other data packets, making it easier to transfer over long distances. Customers and business Voice over IP usage are two different categories within the department, and upgrading VoIP can save users a lot of money. Below are ways VoIP number can save you money.
Payless for local and international calls: depending on the specific subscription plan, consumers can make unlimited international and national calls for a fixed price or pay incredibly low prices on each call basis. Some VoIP number providers even provide a given number of minutes for free when subscribers buy the phone from them.

Freelancers, contractors, and entrepreneurs: With Voice over Internet Protocol numbers, these subscribers can enjoy enhanced business functionality like visual voicemail and call forwarding for the same charges as a residential phone number.

Call centers, customer support, and sales team: Some divisions such as sales and customer support depend on phone calls, even more than other divisions such as human resources. Not only do they make more voice phone calls on a daily basis, but they also require specific features such as agent queues, and call parking. Voice over IP phone numbers do not only make this whole process easier, but they can be controlled individually via online dashboards and at an affordable price.
This indicates companies do not have to pay for unused lines, capacity, and features in case they are not making use of it. They do not have to dedicate to any contract beforehand and can provision new lines on the day it is required. Call centers and contact centers may benefit the most from upgrading to VoIP phone numbers. Most VoIP operators provide an entire communication suite that has all the necessary functionalities for the customer center in one neat package.
Advanced features – unified communication and videoconferencing presence 
Today's world, organizations have to be flexible, agile, and nimble. They require access to advanced features such as unified communications and video conferencing to operate effectively.
These tools are not a luxury that is only required by big enterprises; they have to become a necessity for companies of all types and sizes. Thanks to the speed of advancement in the VoIP industry, all companies can afford to deploy any or all the features to compete. Conference calls can be scheduled, and participants can join in even if they are only using their mobile phones and calls can be placed to and from anywhere in the globe.
The best part is that Voice over Internet Protocol phone number integrates these features at a low cost rather than high charges by legacy carriers. In case an organization finds that they are no longer using a function, it can just be dropped from the subscription plan.