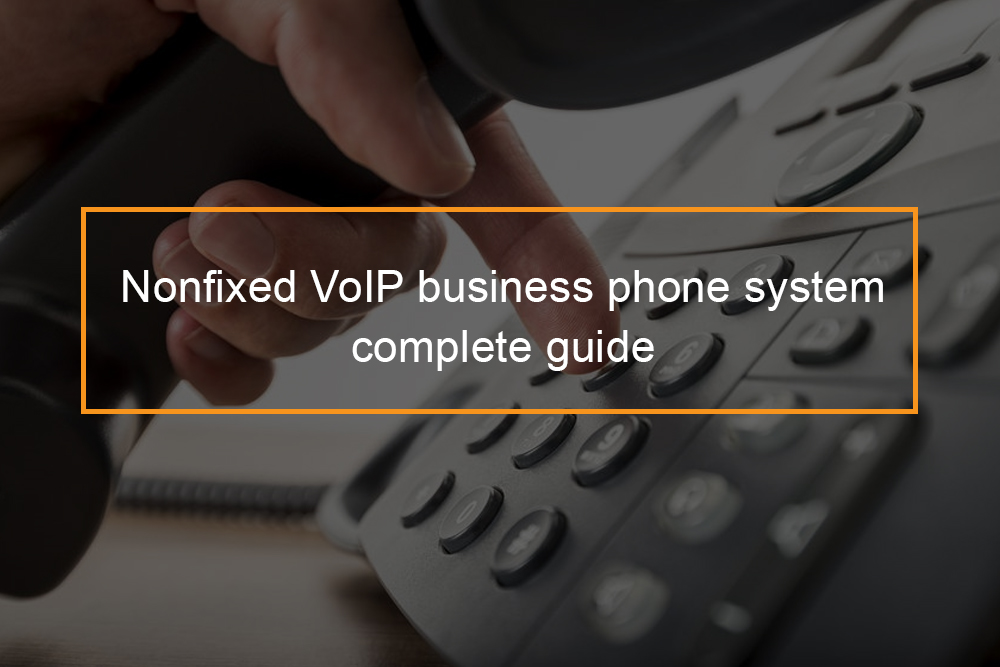 To identify nonfixed VoIP phone number, you can use identification service or caller ID. In case you have an identification service, you might be able to identify the number that way. You can also have the caller naturally show up via the system. Remember, however, that this information might not be correct if the user is spoofing the number, this is common with spam calls.
Typically it is hard to identify nonfixed Voice over Internet Protocol (VoIP). You can trace what internet network routes was used with a specialized packet sniffer application, but what will not identify the final destination or identify the user device. This is because a nonfixed VoIP phone system can be assigned with an area code without considering the physical location of the business or user is working or living. This makes it easier to do business in other regions, even though it can make it harder for people who want to track spam or locate where a business is calling from.
---
Can you track a non fixed VoIP phone system?
How to track nonfixed VoIP phones?
Getting a harassing or unwanted phone call can be a scary experience. You will possibly need to know who made the call, in case only to prevent another one. Unfortunately, you might have to do some legal work, regardless of the call was placed over the PSTN phone line type or internet phone. Below are the ways you can use to identify nonfixed VoIP.
Report the caller to the police
If the caller is harassing you, write down the date and time of the phone call. Also, write down what the caller says and present this information to the police. Explain that you started a trace log with your telephone company if you have contacted your VoIP provider. An investigator may come to your house to file a report. The police can quickly get logs from the phone service used by the caller. They may be able to get the IP address of the sender successfully, and you can take necessary actions from there. With the information from the phone company, the police might visit the caller and warn him. In case he has broken the law, he may face criminal charges.
The caller ID function on your telephone may give you a readout of the phone number, even if it is from a VoIP service. In case you have a phone call screen that can display caller ID information, you can select if you want to their number before answering the VoIP call.
Caller ID is a widely used phone system feature that identifies an incoming caller by name and phone number. Caller ID is not perfect, and it can sometimes mislead a caller's identity. However, for the most part, caller ID is an essential piece of information. It is provided with about every VoIP phone provider, including, Residential VoIP, business VoIP, and mobile app services.
But, unlike local number portability(LNP), caller ID is not regulated by any governing body like the Federal Communications Commission. Instead, the service is typically a patched-together network of decentralized databases that often operate with traditional information.
The calling party determines the telephone number displayed by the caller ID. For a traditional phone, the displayed number corresponds to the phone number that is registered for the line. For a PRI, hosted PBX or SIP trunking, the phone system can typically control what number gets displayed on a case-by-case basis.
Use *69'' on your telephone
An automated service can help you identify non fixed VoIP, by providing the information of the last voice call, including what time and what phone number. It even traces calls in which the caller has placed a block on his ID or phone number.
Contact the VoIP provider
Contact your telephone company, which might be able to trace the identity of the caller. But, you might have to pay a fee to initiate this service.
Telephone number identification
You can also use the telephone number identification or TNI. Telephone number identification authenticates that the number is a real dialable phone number. It will also let you know where the phone was provisioned, the city, and the country region. Finally, it will also tell you the kind of phone number is assigned to.
The best part of the service is inexpensive, and when used with other techniques, it can offer a return to the money utilized to do this task. Ensure the service notes the various types of VoIP as well as the difference between fixed and nonfixed such as Vonage vs. skype. On mobile phones, not all prepaid phones will be distinguished as such, and some might appear like traditional mobile phones. This service can be ideal for protecting your call center software and other phone systems.
Search for the nonfixed VoIP number in records and phone books
Online or offline, you can search phone book records for a particular owner or user linked to that number. Bear in mind; the number might have changed the owner since it was registered in the phone book. Therefore the user you see linked to the number might not be the owner too.
Reverse phone lookup engines have to operate as gatherers and crawlers to feed their databases. Behind each reverse lookup site or app, there is an engine that captures any telephone number that comes within its reach, together with any information accompanying it about the owner, physical address, name, a country, and even photos.
Some apps will even extract information out of the contract lists of their subscribers and feed their databases from them. They also expound communication networks and links of their subscribers and intelligently obtain meaningful info to substantiate data around phone numbers. Thus, if you are searching for a dependable phone lookup app or service, look for one with the biggest database of numbers.
---
What is nonfixed Voice over IP phones?
Nonfixed phone defined
Nonfixed VoIP phone numbers do not need a fixed physical address and instead can be linked with any geographical location. Voice over IP phones accounts with nonfixed numbers can be created with an address where the account creator does not stay or have an office.
These kinds of numbers are also known as virtual phone numbers and are more common and free with Google Voice and Skype. They rarely need anything more than an email registration and might be some payment information in case relevant, even though the access to these platforms may be free.
Since nonfixed VoIP services provide greater flexibility, and advanced calling features such as video conferencing, unified communications capabilities, call routing and low charges for international calling, the non-fixed VoIP numbers provided by these kinds of web services certainly have their place in the business. For example, in case your company has employees in different countries, you can use Conference phones via Skype without incurring fees for long-dance or international calling.
Whereas nonfixed VoIP has a business purpose, nonfixed VoIP lines are more often used for personal use and typically lack the breadth of professional features that people would use and lack the breadth of professional features that people would basically link to enterprise VoIP telephone. VoIP services with Nextiva, Vonage, or other providers come with dozens of advanced Internet calling features.
---
What is the difference between fixed and nonfixed VoIP?
Fixed vs nonfixed VoIP phones
With respect to Voice over service providers, there are basically two kinds of VoIP services, Fixed VoIP lines and non-fixed. A customer who is using fixed VoIP communication industry solutions would be linked with a physical location and cannot be obtained from any place outside the country. Common fixed VoIP providers include; Vonage, cox communications, and broad Voice. Contact centers mostly use fixed VoIP phones, while nonfixed VoIP is used for international calling and personal use. 
---
How much bandwidth does nonfixed VoIP use; speed test results?
Taking codec and packet size into consideration, a one-hour hour Voice over the Internet using the G.711 codec can use up to 85 MB of data. On the other hand, the same call can use just thirty-five MB in case the G.7729 codec is used.
Voice bandwidth consumption is a trade-off between voice quality and bandwidth accessibility. The right decision for a company will depend on and bandwidth accessibility. The right choice for a company will rely on its priorities, needs, costs, and other business considerations. You can use a VoIP speed test to evaluate the VoIP and bandwidth.