Multi line phone system for small business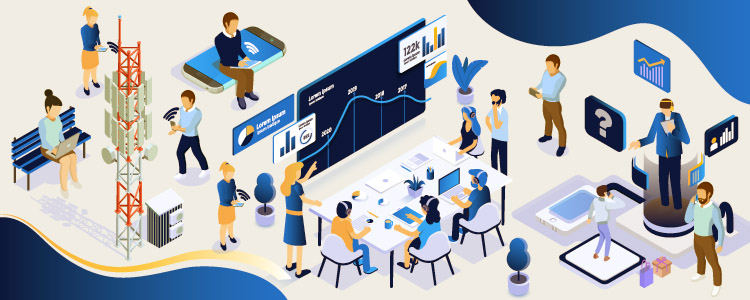 Multi line phone systems are designed to condense multiple lines into a single device, making it easy to screen multiple phone calls from your office desk. Often used across a broad range of sectors and industries to maximize clarity,  communication, and productivity, multi line phone system enables a business to transfer incoming calls to the right contact, quickly and easily.
Multi line phone systems are managed using a physical switchboard that guides callers to the right phone line or simply via the placement of multiple phone sockets around the workplace.
Designed to accommodate all of business communication needs, multi phones are an excellent solution for small, medium to large size businesses. It is not surprising that they are the go-to solution phone system for businesses today. This is true, especially for companies looking for a business phone system with user-friendly, business-based features, and benefits.
As a new business grows, a multiline phone system will also raise its status as it will show investment in an office phone system rather than relying on personal mobile.
This article will assess the best options for multi phone line systems, including 2line phone system, and 4 line phones, before evaluating PBX phone systems. Keep reading to learn some of the nest multi phone that is available to purchase, their advanced features, and how to choose the right one for your home or small business. We will also provide you a rundown of VoIP phones systems, and cloud phone systems.
---
What is a multi line phone system called?
What is a multi line phone system?
Multi line phone systems enhance office productivity and communication by allowing ease of communication with employees and customers. Standard phone systems are designed to carry audio data packets between two users- one on either end of the line. Multi line telephone systems, also known as multiline telephone systems, including 4 line phone systems and 2 line phone systems, are designed to allow multiple people to be on the phone at the same time.
These multiple lines can be internal or external. External lines allow you to communicate with your customers, while internal lines allow you to communicate with your employees and colleagues. These lines become a system since they need to talk with each other.
How a multi line phone system works?
Multiphone systems come in two kinds- multiple phones and private branch exchange(PBX) lines. For standard multiline phones, typically up to 100 phone lines are connected to each phone unit and can be answered individually, these are typically represented as lines, and are usually supported by a receptionist. A PBX system utilizes an automated directory to funnel callers where they require to go. 
The upshot of this is that it equips business with digital answering to be able to set up an internal phone system without having to install a new phone system and new phone lines at considerable cost and inconvenience. You have possibly interacted with these and been requested to press one for certain features.
Features of multi line phones
Multiphone phone systems have several varieties of features such as conference calling, caller id caller waiting. But, these systems provide additional digital answering system features, such as transferring or forwarding a call, personalized voice mail for various extension or lines, and support for a receptionist to answer multiple lines from a single desk.  
In case you have two telephone devices and two phone lines, but neither are multi line models, you can still have two different phones with digital answering for home or small business. First, get a two-line splitter, which has a double-headed jack on end, from either your local electronics store or a telephone company. Cork this device into the wall jack, and then you can link two separate phones to it, each to every jack it offers.  
The main difference for a PBX system is that it utilizes menu options to direct customer calls rather than a receptionist. This enables your system to manage many calls at the same time and process those calls without initially taking up a phone line. PBX platforms also enable you to hold staff conferences online without placing calls to an outside line.
One option for your multiline system is known as the rollover system. For these, you use typical multi line phone devices but only publish one line in websites, phone directories, and other contact materials or press. This enables you to have one phone number that your customers call, however, the system will apply multiple lines in ascending order when the first is busy, enabling you to transfer calls to other people and have many employees answer lines.
---
Does your company need a multi line phone system?
The requirements of your business will vary greatly depending on the size of your enterprise and the industry you operate within. However, most businesses will benefit from having a multi line system in place. Consider getting a multi line telephone system for your business in the following cases;
You who works from home, and you want separate phone numbers for business and phone system for the home. These two lines would become a home office or small office phone system. 

You have at least two customer agent representatives, and both need a dedicated telephone number

Your hotel or restaurant receives a high volume of calls during the dinner rush.

You looked into larger systems such as PBX and decided that cost was too high your small or medium sized business. 

You have two or more employees who require constant access to a telephone; customer calls are qualified leads and last on average four minutes to seven seconds. 
Private branch exchange PBX is a kind of multiline phone system that centralizes the phone system components for many users. This is a scaled-down type of a key system for businesses with ten to fifty users. A key system utilizes a central control device known as a key system unit to offer more advanced features than traditional lines.
With PBX, phones do not have a 1:1 connection to physical phone lines. Instead, various phone lines feed into a PBX system, basically hosted on-premises at an enterprise. From there, the PBX system connects to several cordless handsets, and the systems manage the task of routing calls and switching phone lines within a business and assign calls to lines automatically. IP PBX, sometimes called Voice Over IP phones, is another type of PBX that uses the internet, instead of standard phone lines, to send voice signals. 
---
Choosing the best multi line phone systems
The best multi line phone system for business
When managing a business, you require a phone system that you can depend on, and there are various factors that you should take into consideration.
This can be as easy as getting the right telephone number and area code, and knowing the cost and if you are able to address more complicated business requirements by including features such as voicemail, caller display and call divert.
Any kind of multi line phone system whether it is a two line or 4line phone systems would bring a number of benefits to your business since they can significantly enhance communication mediums, support your existing processes and are flexible enough to adapt as your business grows.
However, you should ensure you select a multi line phone system that is suitable for your business growth strategy to future proof it as much as possible. So let us look at every multi line setup, 2 lines, 4 line and cloud-based phones.
---
Best 2 line cordless phones systems
2 line phone systems are ultimate for a small business or a home-based business owner
They feature various functions such as auto-attendant and call forwarding but can keep business and personal calls separate. A two line phone system has two separate lines, voicemail inboxes and telephone numbers, which can be connected to the same device.
There are several 2 line cordless phone systems available if you are looking for a more flexible communications option — some of 2 line phone system reviews.
Uniden dect40966.0 2 line cordless phone with digital answering system and caller id
These telephone lines are effective with repeat callers since they have fifty person phone book and caller id to route who called and when. 
Pros of Uniden dect40966.0 2 line cordless phone
Expanded up to ten wireless handsets with one base station

Alarm clock and schedule reminders will not disturb me

Intercom and call transfer capability between handsets
Cons of Uniden dect40966.0 2 line cordless phone
Handsets struggle for reception away from base stations

The accessory handset can be prone to interference, often making it hard to hear parts of a conversation.
Vtech ds6151 2 line cordless phone system for businesses or home with digital answer system & mailbox on each line
These phones are effective for businesses with multiple workstations such as a store with multiple departments, a sales office, and a salon. Each line has a separate number and its own mailbox enabling a business to operate seamlessly.
Pros of Vtech ds6151 2 line cordless phone system
Exceptional sound quality

Ability to call from anywhere to check voicemails

Calls are digitized and encrypted shielding them from eavesdropping
Cons of Vtech ds6151 2 line cordless phone system
The headset does not delegate when other lines are in use; you have to use the base station

Soft buttons do not click when pressed resulting in confusion regarding button confirmation
Vtech ds6151 2line cordless phone with answering system and caller ID
Vtech ds6151 2line will bring your business a wide variety of extras in a landline headset. Vtech ds6151 2line cordless phone with digital answering system is free of interference making sure that you can clearly hear every conversation easily. They can be used as conference phones, so you can even talk to multiple people at the same time.
Pros of Vtech ds6151 2line cordless phone system
Digital Answering System – includes a mailbox on each line

An additional keypad on base

Audible date and time stamp on recorded messages
Cons of Vtech ds6151 2line cordless phone system
This phone system can expose users to chemicals, such as Diisononyl phthalate, which are known to cause cancer and birth defects.

Most users do not require a license to operate this wireless microphone system. However, operating this microphone system without a license is subject to certain restrictions.
Panasonic KXTG9582B 2Line Corded phone/Cordless Expandable Link2Cell Telephone System with Two Cordless Handsets
These phones are popular since they have Bluetooth capabilities which make working from home, conference calling, talking while driving much more convenient
Pros of Panasonic KXTG9582B 2 Line Corded Phone/Cordless phone system
Handsets have intercoms, speakerphones, and mute options

Expandable up to 12 handsets that can be named to enhance ease of communication

Capability to connect to your home or office PC and receive calls from Outlook
Cons of Panasonic KXTG9582B 2 Line Corded Phone/Cordless phone system
Charge stands do not have removable power cords, causing charging inconvenient at times.

Poor reception and static noises at times affect call quality.
Other 2 line phone systems include – att tl88102 Dect 6.0 1-Handset 2-Line Landline Telephone Bundle with 3 Handsets and Dual Caller ID/Call Waiting, att tl86103 DECT 6.0 Connect to Cell 2 Line Answering System with Caller ID/Call Waiting, 1 Corded & 1 Cordless Handset, and Panasonic KX-TG9542B DECT 6.0 Technology Link2Cell Cordless Phone Bluetooth Enabled with Answering Machine or UpBright 9V AC/AC Adapter Replacement for AT&T ATT ML17929 ML 17929 ML17928 ML 17928 2 lines phone among others.
---
What is a 4 line phone system?
4 line business phones systems
Four line phone systems are frequently used for big enterprise businesses or those with small departments so that every team member can have their own telephone line and utilize it whereas other people are also making and receiving phone calls.
Having a 4 line phone system indicates that four employees could be on the phone in the same period. Nonetheless, up 16 phones could be connected to a 4 line system.
Best 4 line phone system
VTech cm18445 main console – DECT 6.0 4-Line expandable small business office phone with answering system
The phone is effective for businesses that experience peak business times during the day and often need to place people on holds, such as pizza shops and restaurants.
Benefits of VTech CM18445 Main Console
Easy to set up and configure

Compatible with one to four telephone lines

Thirty two-number speed dials and a hundred name and number phonebook directory
Common Challenges of VTech CM18445 Main Console
Issues with reception and call quality.

Hardware has a history of malfunctioning.
RCA visys 25424re1 4line expandable system speakerphone with idcall waiting Intercom
The feature rich phone fit best in desk phones purpose, in an office setting where everyone has their own workstation. It is convenient for people who spend most of their day at a desk.
Benefits of RCA ViSys 25424RE1 4-Line Expandable System 
Facilitates up to sixteen base stations.

Three-party video conferencing and two-way conference recording.
Common Challenges of RCA ViSys 25424RE1 4-Line Expandable System 
Issues with hardware over time.

Corded phones, so the calls are immobile.
---
Cloud-based phone systems
Today most businesses are using cloud-based, sometimes known as VoIP based. Virtual telephony systems for multi-users, rather than regular multi lines setups. There are several advantages of these, not least of doing away with analog phone setups and upgrading them with a virtual network which can be considered inexpensive, accessible anywhere, and be used on existing hardware like computers and cell phones.
---
PSTN vs. VoIP phone systems
PSTN also is known as landline systems are standard setups that most of us are familiar with. PSTN indicates publicly switched telephone network.
VoIP stands for voice over internet protocol. These solutions route your voice traffic over your existing internet connection. They do not need analog PBX hardware. However, the features can vary greatly between providers and system hardware.