What is the best software for call centers?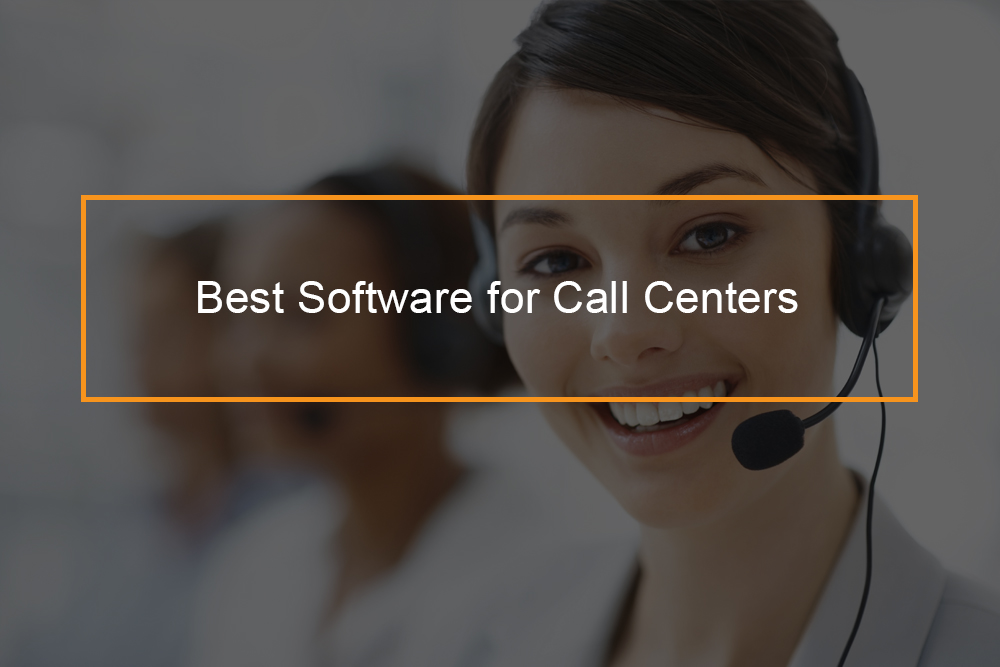 Some of the best call center software include Avaya contact center, Five9, Zendesk, TalkDesk, HubSpotLiveagent, Dixa, ServiceCloud, Bitrix24, and HubSpot. There are numerous call center applications which serve various needs of a business. Thus this list is not exhaustive since there are many different applications and new ones being developed every other day.Call center applications enhance customer service by unifying a business with their customer support service.
---
Why do companies need call centers?
Communication management becomes challenging once a business starts growing. Smaller call center solutions can manage calls and offer virtual help for business. But, for a large volume of communications, it is essential to have a decent call center. Ordinary a call center is meant to handle phone voice calls; but, today, call centers provide email support and can work with social media. Customers on a company's website can also live chat with call center agents. Generally, there are numerous call center applications available in the market, and choosing the right application depends on the volume of calls, the number of sales you plan to initiate and other business needs. 
---
What type of software do call center agents use?
The best call center software in 2019
If you are looking for a robust call center software, consider checking this list.
HubSpot Help Desk software

Hubspot call center software is linked to a marketing application and HubSpot sales. It is also built on its customer relationship management. Thus the front line agent gets all the information required to resolve an issue. Putting this information into a single view assists agents superior customer experience and solve problems faster.  HubSpot software features insightful reporting and advanced automation tools. Other features include live chat, shared email, and self-service tools. All these features improve customer experience and integrate with Aircall for phone support.  Aircall plans begin at $30 per user monthly. The HubSpot application is free.
Five9 cloud call center software
Five9 is focused on business enterprise, and it brings together everything your business needs for sales call center and customer service. Five9 features include: workforce management tools, predictive dialing, and computer telephony integration (CTI) screen pops. These features help agents provide better services.When it comes to cost Five9 price is variable and depends on your business needs.
Britix24 software: Free telephony and call center

Britix24 is designed to help teams collaborate and get their work done. It offers multiple customer service channels, including email queues, live chat, and rentable telephone lines that all integrate into Bitrix24's task management application and CRM. Britix24 is more suitable for on-premise solution for industries that are still needed to or comfortable for hosting their own data storage. Britix24 is free.
Zendesk talk

Designed in very extensive customer service platform, Zendesk Talk solution is suitable for any call of every business size. Zendesk Talk comes with an automatic ticket creation and other slick features which help customers across every channel.
TalkDesk

TalkDesk is a robust call center application that is suitable for enterprise teams. It provides features which are designed to assist big teams manage phone support efficiently. From industry, specific security features to workforce management feature Talkdesk help teams with all they need to deliver consistent customer experience at scale. Similar to Five9, TalkDesk price varies with the company's needs.
Avaya contact center software

Most companies use Avaya product to manage their contact center because it has been a heavyweight in the customer service market for many years. You can be sure you are getting an enterprise-level software with Avaya since it is designed with multiple advanced features. Avaya prices are variable with your business needs.
Dixa call center software
Dixa is an easy to set up call center solution that runs entirely in the browser. Dixa is a modern solution and features advanced features such as call distribution algorithms and caller recognition. It is purposed to improve the experience of both the customer and the contact center administrator. Dixa cost $19 per month.
Salesforce service cloud call center software

Service Cloud is built on the Salesforce site, which brings your call center and CRM together to offer a better customer service experience. Service Cloud has many features which are proposed to improve agent efficiency via workflows and procedures. It is also customizable. However, Salesforce ServiceCloud comes with huge monthly charges of $75.
LiveAgent cloud-based call center

LiveAgent is built directly into their multi-channel help desk, so an agent can assist an agent over any channel they decide to. Live Agent is suitable for small and medium-sized businesses since it does not charge per minute usage fee. But it has a monthly cost of $39.
---
The most common call center software features
Call center software features
No call center software is perfect; they all have their benefits and disadvantages. However, it can suit your business needs well. Thus, the best call center software will depend on your business needs. To select the most suitable call center software for your business, you need to recognize the essential features your company operates around. Below are some of the most common call center software features.
Call routing service
Call routing feature allows customers to be connected to the appropriate department or customer agent when they call. Call routing can be automatic meaning the call is routed to the right Agent or department without selecting an option. Call routing is essential, especially if you have many divisions. If your business is small and you operate with one office or line, call routing is not an essential feature.
Omnichannel feature
The omnichannel feature allows the call center to integrating with other communication channels such as social media, email, and live chat under one roof. As a unifying feature, omnichannel does not only provide better customer service but also increases the efficiency of customer service. Incoming calls are recorded on the help desk, and it makes follow0ups easy. Besides team members can see the history of customer interaction on various communication channels. Omnichannel guarantees consistent customer experience, no matter the channel a customer chooses to use.
CRM integration
If you have a record that provides context about the calling customers, then resolving a problem will be easy. Research shows that solving a customer problem can take six interactions. This can be frustrating to the customer and consumes time. CRM integration feature allows you to look at previous interactions with the customer hence save time and improve customer experience. There are many other benefits of having integrated CRM call center software.
Outgoing calls for the sales team
Call centers are not just designed to receive calls and handle customer issues and complaints. Call center agents can also make calls for various reasons. An ongoing feature is very vital for sales teams. Agents might need to place calls to potential customers and pitch their products and services. A call center agent would also need to make a follow-up and provide client support options.
Analytics and reporting
A call center software should have the capability to let management evaluate performance and access other essential insights. Metrics such as agent efficiency, call volume, and call trends are necessary for a call center success. With such information, a company can be able to plan its future and make realistic targets. Such information will also help you identify the route course of a problem and areas which need to be improved. You can also tell if employees are slagging off. Reporting and analytics feature in your call center software can, in the long run, shape the direction of your business.
---
Call center software cost review
Price is an essential factor when selecting a call center service. Call center price varies depending on how the application assigns your telephone number. For example, you can find your business overcharged for each minute on the phone. Confirm your package and cost of the call per minute before getting a new line or call center software.