Web-enabled call center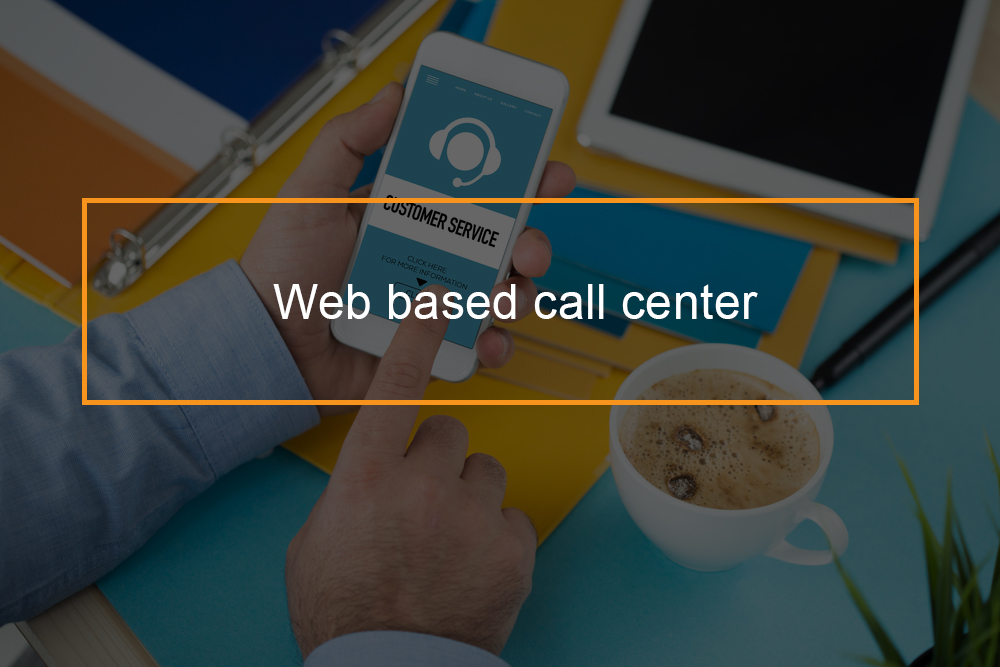 A Web-based call center is a call center that a client can call by pressing a button on a website. It is an application that offers a call center the ability to update and maintain agent applications without installing or distributing software on various client computers. A Web-based call center button enables the customer to make Voice over Internet Protocol(VoIP), call via the computer. The button might say call or talk. It is quite literally just that a call center that is operated controlled and maintained over the internet. 
A Web-based call center assists consumers. In an online store, customers can use the button to speak with a live agent before you buy. A Web-based call center can also act as a help desk, which helps employees with technical issues. 
Today, everything is moving to the internet. The fact that customers prefer engaging over the Web is indisputable. That is why the call center has shifted to reflect this proliferation of the internet and the growing popularity of Web-based solutions. This has rapidly led to the advent of the Web-based call center.
---
Features of Web-based call center
A call center website may have a web callback feature of a talk button, where a customer enters their number, and an agent will call them back.
Other Web-based call center features can extend to-
Web push

Email management

Text chat
Let's examine how these features enhance a web based call center and the benefits they offer you;
A text chat enables a customer to instantly message agents via the company's website. Some call centers will manage customer service inquiries via email. Call centers can track and apply automated replies to incoming emails.

Smart routing capabilities allow agents to respond proactively to inbound calls.

Web push allows agents to push web pages to customers for guided browsing.

Multi-channel call center apps help agents to respond effectively to calls and inquiries received through chat, social media sites, email, and mobile phones.

Web-based call center applications are also coupled with workforce optimization and quality monitoring capabilities to improve agent productivity and efficiency.

Some Web-based call center software come with automated dialer options to support the outbound campaigns.
These features make a Web-based call center to function and appear like a contact center.
Requirements of Web-based call center
A Web-based call center button needs the caller to have a microphone, headset or speakers. The user should also have the correct codecs installed on their PC.
---
Web based call center help you control cost 
The most popular benefit of Web-based call center solution is that it does not need any traditional physical hardware, allowing users to save on maintenance, training, and notably the installation costs. A Web-based contact center software can be installed in minutes to keep your business operations smoothly flowing and to keep your consumers connected and engaged. This leads to faster and smarter customers service that never compromises on quality, which then leads to increased consumer satisfaction and augmented sales. 
Connect to consumers with web based call center software
Another significant benefit of a Web-based call center is its ability to connect consumers more quickly and naturally. The web-based solution is always where your consumers are- and today, customers are over the Web.
The average United States customer spends sixty-six hours a month on a computer.

There are eleven billion web searches every month in the United States, with sixty-six being on Google
Enjoy the benefit of unified communications
Besides a Web-based call center comes with unified communications, that integrates real-time communication services like instant messaging IM/chat, video conferencing, SMS, and more. This way, your employees are always available, no matter which way your customers decide to initiate a conversation. The reason why this offering has exploded onto the scene is since it tackles consumers when and where they are in real-time for an overall more proactive and enjoyable user experience.
Web based call center software are user friendly
Web-based call centers are also user-friendly. There are of course advantages of those maintaining the system as well. Not only will you enjoy a better budget with training, feather-light installation and ongoing maintenance cost, you will also access a Web-based call center anytime, anywhere through the internet and secure connection. This indicates you can increase your number of at-home agents. 
With a Web-based call center, you will enjoy the benefits of intelligent routing. When there is a queue of consumers waiting on the line to be served, most companies know that having these customers connected to the right agent and as soon as possible is a priority. Web-based software comes with inbound features built with APIs, and intelligent routing, which enables you to link your customers to the right agent faster. The attribute-based routing evaluates the needs and the context of every caller and connects them to the most qualified agent accessible with the skills to address those needs. Priority-based routing allows you elevate the most significant callers to the front of the queue.
For example, Twilio's TaskRouter is an intelligent omnichannel routing API, for calls and other channels of communication like SMS messages, or interactions from any other system like an email. When your contact center software gives intelligent routing, consumers not only have their requirements met faster; they have an overall better experience. You can also use routing intelligence to provide customers additional methods to receive service. Adding support channels like SMS, chat, and video to existing IVR call flows offers your customers more ways to have a great experience. Natural language understanding changes the conversational dialogue into structured data and offers another way to add context and enhance your routing intelligence when you are building with APIs.
Reach more users globally 
When you use a Web-based call center, you reach multiple countries and regions. Web-based solutions offer a deep local inventory of numbers and unrivaled reliability via global carrier connectivity. This enables you to skip the contract negotiations with carriers in each country in which you do business. Since APIs are based in the cloud, you can get immediate multi-region connectivity and on-demand phone numbers from one site. This international infrastructure allows you to offer a local experience from anywhere in the globe.
Generally, you will add new country coverage in seconds, without requiring codebase changes, carrier negotiations, or dealing with the quirks of global connectivity. The messaging apps will come in handy in getting numbers in all locations since you can send messages in any language your users speak.
The presence web agent interface enables you to flex with call volumes and offer all contact center features to a remote employee. It eliminates the need for expensive modern personal computer hardware to run your call center agent workstations. Presence Web-based call center features and the voice path right via the browser with Web Real-Time communication, providing you the flexibility you require to meet today's contact center challenges.
Other vital benefits of Web-based call center include;

Hundred percent browser based workstation

Built in backup and disaster recovery plan

Ability to take phone calls without a handset

The browser and operating system independent

Screen pop on every interaction

Zero footprint- no software installation or maintenance

Flexible, accessible to implement application-ideal for today's mobile workforce
Generally, a Web-based solution improves call center productivity, customer retention, and marketing campaign effectiveness.