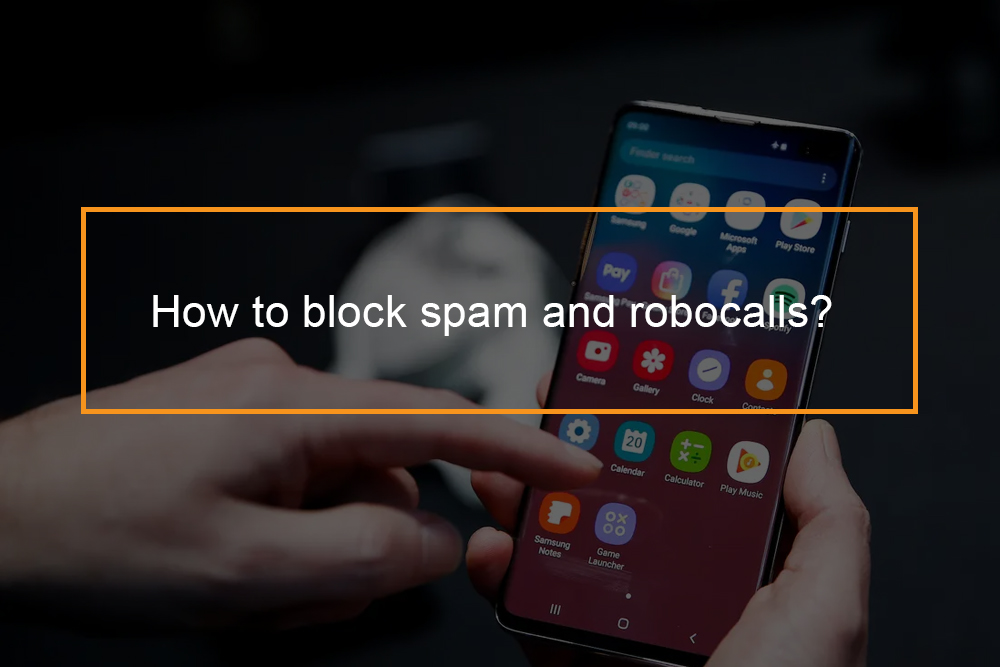 To block Voice over Internet Protocol (VoIP) on the iPhone, open the phone app, and touch the recent button. Then tap on the info icon, which is next to the number you need to block. Tap block this caller. The VoIP number will be blocked.
Robocalls and spam calls on your landline, mobile phone, or VoIP phone systems can be annoying. Lawmakers are trying to pass law formulation that would tackle the issue, but until then, how can you block spam phone calls and identify scam id. Luckily, there are several measures you can take- besides registering your phone number with the FTC's do not call registry. It does not stop scammers and notorious telemarketers from calling you.
iPhones and Android phones are built-in with features for blocking specific phone numbers, and mobile carriers and VoIP providers such as provider caller id offer their own blocking tools as well. Besides various third party apps like Haiya caller id and block, Nomorobo. And Truecaller, strive to block telemarketing calls. Let's look into ways you can block spam calls for both VoIP business phone and home tech phones.
---
How to identify and block robocalls on iPhone?
Best spam call blocker iPhone
Robocalls and anonymous calls are an ongoing problem. Federal Communications Commission refers to these calls as robocall scourge. This is where phone scammers are ramping up their efforts to swindle consumers. Below are call blockers and other methods you can use to block spam calls and unwanted calls.
Turn on silence to block incoming calls from unknown callers
 iOS 13 allows you to turn on Silence Unkown Callers to avoid getting calls from people you do not know. This will block phone numbers that you have never been in contact with and do you have not saved in your contacts list. In case you have previously texted with someone using their phone number or in case a person has shared their telephone number with you in an email, then a phone call from that number will go through.
To set on Silence Unknown Callers, go to settings> phone and scroll down, then choose silence, unknown callers. Calls from unknown numbers are silenced and set to your voicemail, and appear in your current calls list.
Incoming calls will go through from people that are saved in your phone contacts list, recent calls list, and from Siri's suggestions to allow you know who is calling based on telephone numbers comprised in your emails or text messages.
In case an emergency call is placed, Silence Unkown Callers will be temporarily disabled for the next day to allow for your iPhone to be reached. Before you turn on silence unknown callers, ensure you have the essential contacts saved, or you can miss a phone call that you do not want to miss. The call will still be transferred to voicemail and appear in your recent calls list, but you will not get a notification when you get the call.
Configure an app to filter and detect any spam incoming call
Step 1: Download a phone app from the App Store. The phone app detects and blocks spam phone calls. You can also download and install multiple apps with this feature from various developers.
Step 2: Go to settings> phone system
Step 3: Tap call blocking and identification (call block feature)
Step 4: Under allow these apps to block calls and offer caller id, turn the app on or off. You can also reorder call blocking apps based on your priority. 
When you receive a phone call, your device evaluates the caller's number and contrasts it to the list of telephone numbers in your third-party spam apps, and the device blocks calls based on this. In case there is a match, iOS displays the identifying label selected by the app, for example, telemarketing and spam. In case the app determines that a phone number is a spam, it might choose to block the phone call automatically. Incoming calls do not have to be sent to third-party developers.
In case you determine that a number is from a spam caller, you can block the number manually on your device. Telephone numbers that you manually scam block appear under blocked contacts. In case you no longer need the app, you can remove it.
Call blocking specific numbers on iPhone
Spam and robocalls cycle through thousands of phone numbers and may include the same telephone prefixes as your telephone number. To stop them as they come in on iPhone, tap recent on your phone app. Touch the info icon next to the number you need to block. Tap block this caller.
Use nomorobo to block an unwanted call on iPhone
Various third-party mobile apps enable robocall blocking and spam calls based on a list of known offenders. Available for Android and iOS, Nomorobo attempts to stop robocalls and other telemarketing calls by scanning a blacklist of known phone numbers. The app can block spam call and send it to voicemail or allow it through and then recognize it as phone spam. Nomorobo will also protect you against spam text messages and serve as an ad blocker on the web and assist you in reporting a robocall or spam calls.
Using Hiya Caller id and block
Made for iPhones and Android phones, Hiya Caller ID and Block can block contact or alert you of robocalls and scam calls based on a datum of known scammers.
The app manages phone calls linked to fraud and illegal activities, as well as those connected with telemarketers; the app will then block caller. Hiya can recognize spoofed calls that use the deploy initial digits as your own number. You can even key in a phone number into the app, and Hiya will show its source and tell you if it is a suspected spam number.
Use robokiller
Robokiller a call blocking app which tries to not only block spam calls but also attempts to mess up with the spammers. The app's answer bots can automatically answer calls with pre-recorded nonsense built to frustrate them and waste their time. You can also make your bot responses. The app attempts to block incoming VoIP calls based on the name id of known spammers. However, you can also add specific numbers that you need to be blocked.
AT&T VoIP calling protect 
AT&T facilitates the support page with directions for blocking spam calls on your iPhone and other VoIP phones. The phone company also offers a call blocking app and service known as call protect for iOS and Android, and service referred to as Smart limits. AT&T is also planning to provide a stripped-down version of att call protect to all customers for free, which will add automatic fraud blocking and suspected spam call alerts. Premium call blocking features, such as sending various certain categories of calls directly to voicemail or reverse phone numbers, will cost you.
Verizon call filter
Verizon Wireless now provides a free version of its call filter service for users with compatible phones and postpaid plans. This version tries to detect and filter out spam texts and calls. It alerts you when an incoming call is possible spam, allows your report unsolicited numbers, and can automatically block robocalls based on your set level of risk.
A call filter provides a caller ID, a personal spam list, and other features. Iphones users can download the call filter app from the App store. The app should e pre-loaded on Android devices, but it is on google play.
Truecaller
Designed for iOS and Android, truecaller strives to block unwanted phone calls and text messages. The app identifies each incoming call, particularly those from unfamiliar numbers, so you know if it is legit or not.
Truecaller can automatically block unwanted calls based on known spammers, and numbers you manually add. You can also lookup specific names and phone numbers to get info on them. You can even place phone calls directly from the app to identify and call friends and other contacts.