Free toll-free 800 number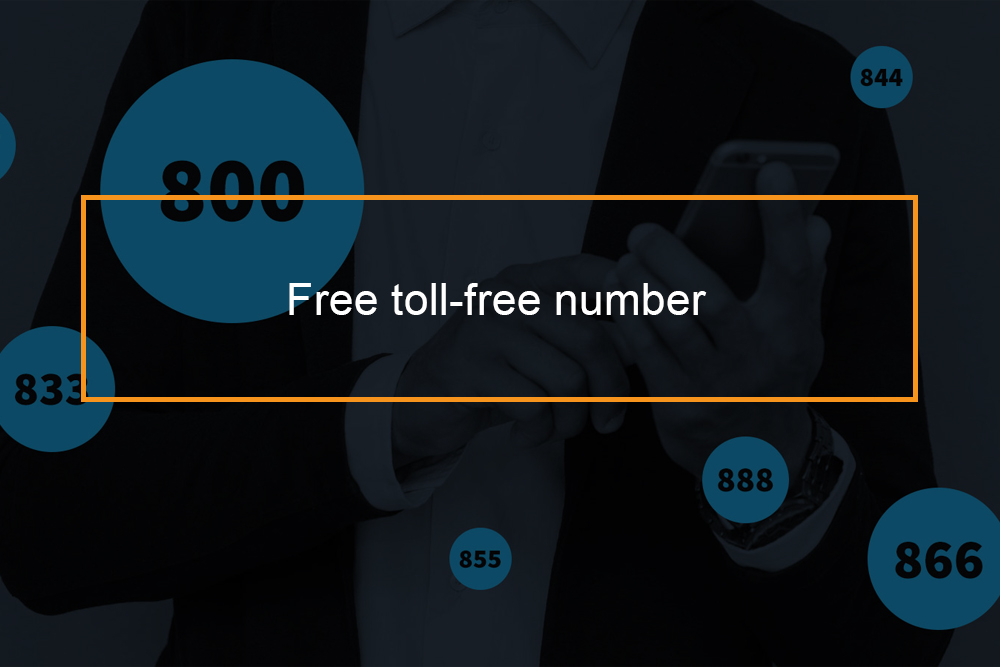 To get a free toll free number, visit TollFreeForwarding.com. You can manage all your call forwarding configurations online and access real-time call logs.
No matter where your toll-free numbers are answered, they are crystal clear quality. There are never cancellation fees, and all taxes and surcharges are comprised in the rate. There also no hidden charges. 
What is a toll-free number?
A toll-free number starts with a toll-prefix-888, 800, 877, 855, 866, 833 and 844. The name is assigned by an entity known as the Responsible Organization. The FCC configures all rules related to getting and using toll-free numbers. FCC needs toll-free numbers to be portable, so a user can move their number to a new RespOrg in case they switch providers.
Toll-free business numbers are free of charge for the caller, even when calling long distance within the same country. Rates apply in case you call a toll-free number internationally. However, you are not charged when receiving an international call.
How does a toll-free number work?
Toll-free numbers are routed via the internet. They are cloud-based, and they operate digitally. You can have toll-free numbers connected to any other line that makes sense for you. In case you want to answer calls from your number on a specific line, such as your mobile number, or your office number, you can arrange this accordingly.
A toll-free number allows people to contact you or your company at no charge to them. Thus, toll-free means free of charge for the caller. Therefore, the owner of the number pays for the service, letting others reach them at nos cost. Naturally, every business owner is interested in making customers prefer his business over competitors. Apart from marketing campaigns, toll-free numbers enhance user experience.
Even though toll-free digits are different, all prefixes work identically- rather than charging the caller, an incoming call is paid for by receiving the party. Toll-free numbers are widely used by contact centers of large enterprises, which operate on a global or national scale.
---
How can I get a toll free number for without being charged?
Are there free toll numbers for free?
Toll-free numbers are a valuable asset; a business uses to enhance its image in the eyes of the public. Typically, there are hardly any toll-free numbers for free. However, most toll-free numbers come with a free which could range from seven to thirty days. For example, Freedom Voice has 30 days trial, and Grasshopper has a seven-day free trial. While others offer guarantee return of money if you are not happy with their services.
The best part it Toll-free numbers are not expensive, and it does not take much time to get one.
How to get a toll-free number?
There are six different types of toll-free numbers to choose from.
Vanity number brokers
Vanity number brokers assist businesses to secure hard to get custom 800 numbers and other vanity numbers in any toll-free prefix. Usually, you would buy a toll-free vanity number for a one -time fee ranging from $50 to $10,000 or more, and then transfer the vanity number to a toll-free service provider of your choice.
Attempting to find a good number that is accessible for purchase is challenging than trying to find and purchase the perfect domain name for your organization. The idea is that there are limited supply available toll-free numbers, and often another business has beaten you already.
Business number renters
This toll-free service provider rents vanity phone numbers to business owners in specific geographic areas. For instance, a dental office Huston could use and promote 1-855-DENTIST, and at the same time, a dentist office could use and advertise the same business number from Chicago. Clients who call the phone number from an Huston area code will be routed to the Huston dentist. Clients who call the number from Chicago will be routed to the Chicago-based dentist.
The virtual phone system provider
This is an inexpensive way to get a toll-free number loaded with phone system features. Virtual phone system providers, such UniTel Voice let small business owners, entrepreneurs, and mid-size businesses to operate their enterprise using cell phones and still have all the power of a professional business telephone system. 
It is a cloud-based business phone system with a virtual PBX that functions with your existing phones (home, office, or cell). You can decide to use a toll-free or local number as your primary business phone number when your clients call your business line they will be routed to the proper extension, voicemail, or phone.
Full business VoIP phone service
A full business voice over IP solution provides customers physical IP-phones and computer-based soft-phones that use your local internet service to place and receive calls. The main difference between a virtual phone system and full VoIP solutions is virtual phone systems function with your existing phones, cell phones, and have unlimited subscribers but per-minute pricing. While complete business VoIP needs equipment (IP-phones, high-speed internet, and special routers) to function and are priced per user (even though with VoIP providers, adding toll-free phone line is almost always an additional per minute cost).
SIP Trunk toll-free number service
SIP trunks are phone line trunks delivered over IP using the SIP protocol. This lets VoIP telecom providers connect one or more toll-free phone lines to a customer's existing PBX. SIP trunking a toll-free or DID number is typically cheaper than just forwarding a toll-free or local number to your existing telephone lines. That is why high call volume call centers use SIP trunk free service. SIP trunking also enables international toll-free forwarding since it is internet-based.
Traditional toll-free service providers
Traditional toll-free service was offered over the old Public Switched Telephone Network (PSTN), with it is Analog, ISDN BRI, E1 or t1 lines. Even though this kind of phone service is still provided by numerous telecom carriers, it mostly being phased out by the much more advanced, affordable, flexible SIP trunk services.
---
Comparing the best US toll-free number providers
Whereas there are so many providers available for toll-free numbers in the US, we will compare services with four of the leading options. In this area of the article, we will take a look at the pricing for the following providers.
Avoxi

800.com

MightyCall

Global Call forwarding

TollFreeForwarding
The Standard United States toll-free service programs starting at:
Global Call Forwarding at $12.95 for a month

MightyCall at $19.99 for a month (two numbers included in the plan)

TollFreeForwarding at $5 for a month

800.com for $23 per month

AVOXI at $4.49 for a month
Premium 800 United States toll-free service plans starting at:
800.com at $23 for a month (and $25 activation fee)

AVOXI at $7.99 for a month

Global Call Forwarding: not available

TollFreeForwarding at $9 for a month

MightyCall: Not available
The Vanity the United States Toll-Free Service programs beginning at:
AVOX at $14.49 for a month

MightyCall at $19.99 for a month (two numbers included in the plan)

Global Call Forwarding at $7.95 for a month

TollFreeForwarding at $5 for a month

800.com at $23 for a month (plus $30 activation fee)
Average inbound call rates in the United States beginning at:
MightyCall at $0.04

TollFreeForwarding charging $0.0105 to $0.046

Global Call Forwarding at $0.0197 to $0.04

800.com beginning at $0.023

AVOX for $0.0095 to $0.041
Premium toll-free numbers call recording feature comparison 
AVOXI at 15 Days Free, $5 to $7 for a month for 30, 60, or 365-day plans (no per-minute charge)

800.com at $23 to $239 per month (included in all plans)

Tollfree forwarding: $7 per month + $0.03 per minute (extra$0.03 per minute over 30 days)

Global Call Forwarding $3 per month + $0.02 per minute

MightyCall: $39.99 – $99.99/month (only available in Standard or Ultimate Plans