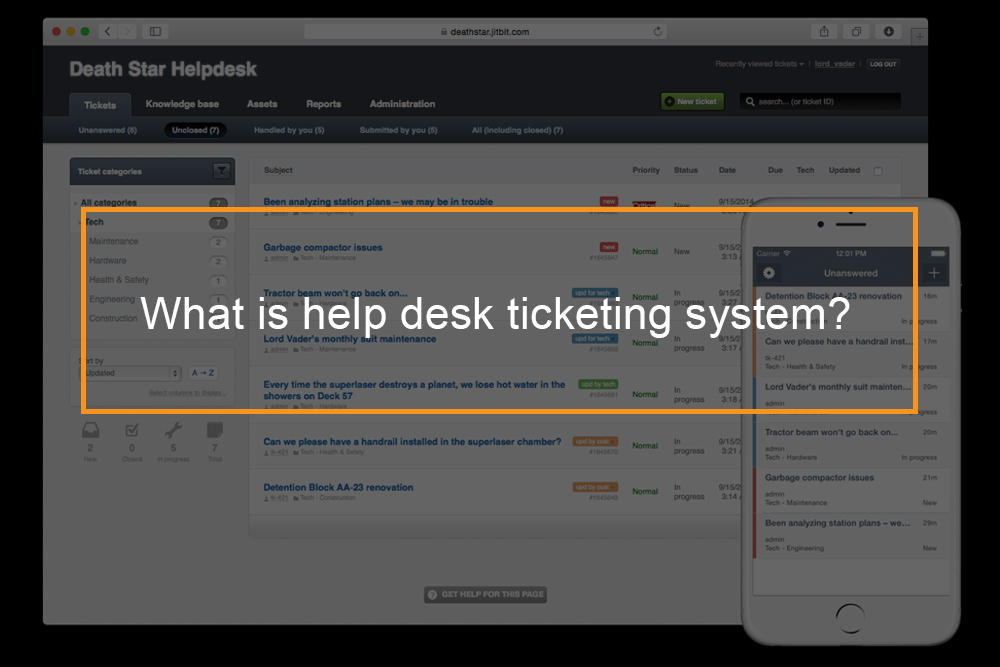 Over the past two decades help desk ticketing system has greatly evolved. Initially introduced to replace spreadsheets and aid desk professionals in managing customer issues, help desk ticketing systems have become the backbone of help desk operations around the world. But if you are new in the market or you want to upgrade your desk ticketing system ideas this article will help you evaluate the different options that you have. 
---
What is ticketing system in customer service?
Help desk ticketing system in customer relation
A ticketing system is basically a means to support and aid you to handle any issues in your company, managing the issues from the moment they are captured through to their resolution.
Typically a ticketing system enables IT support to be well organized, focused, efficient and effective. The best part about help desk ticketing is that the system has a direct impact on costs and revenues, customer relation and public brand image.
Moreover, the software enables you to speed up your customer response by automating incoming emails and managing the support queue.  Below are two main reasons why help desk ticketing is an important asset in customer service:
Help desk ticketing enables desk professionals to deliver great customer service by ensuring all requests are dealt with efficiently and that nothing is forgotten. This basically means one can be able to prioritise support requests with customisable SLAs and real time response reporting on your dashboard.

The help desk system offers insight on closed cases, response times and frequently asked questions.
---
Requirements to look for in help desk ticketing system
If one of your resolutions for your business is improving your customer service, then help desk ticketing systems are a great option for you. Systemizing and automating your desk always make customers happy-as a result you get more customers. But, how do you ensure you have the right help desk ticketing for your company. Below are requirements you should ensure your help desk system fulfils.
Automation

A ticketing system should be able to let customers submit a ticket fast and efficiently. This may seem obvious but not many systems do it the right way. Think of it this way if you were a customer, you would want to submit a ticket and be done with. No one wants a system which will require them to take more steps. Purchase a system which gathers more information from the customers while keeping it quick and friendly for customers.

Ticket Deflection
Look for a ticketing system  which does not have to be touched by a customer service agent. Let easy questions be answered with an auto response. Your system should have pop ups such as helpful frequently asked question, questions and answers and other ideas to help the customer resolve the issue. This will help customers find answers to questions even without clicking submit. The good part with this requirement is that it is beneficial to both you and your customer-it helps your clientele right away and frees up your support team leaving them with enough time to deal with tough issues.
Reminders
Purchase a help desk ticketing system which allows you to set reminders for every single ticket that comes in. This lets you not to forget about an issue especially if a customer service agent is taking long. The ticket will just pop up with a reminder that you need to perform the task. This saves you from irritating customers. A customer should not wait for a problem to be solved without the solution being provided.

Tickets Tags
This feature will allow for easy organization of tickets and spotting popular or common problems. They can be of great value directly within tickets by automatically recommending knowledge base articles depending on the tags assigned.
Customizable Ticket Templates
Purchase a system which can enable you to build various templates since not all tickets similar. The system should also be able to combine templates as required that is the ticket has more than one question.
Individual Ticket Queues
Choose a system which your team can organize tickets more efficiently and can also be able to see colleagues who are in the queue and are indeed of help.
Customizable ticket status options Look for a help desk ticketing system which has various status options which you can customize for your organization. A system which you can be able to trigger emails and send to customers automatically when status changes.
Public and private actions on tickets
A desk ticketing system should be able to keep some conversations in the system private until they are ready for public customer action-not all conversations should be seen by a customer.
Product and inventory association
With a help desk ticketing system you should be able track product information for every customer -the information should show up directly on the ticket page of each customer.
Personalized ticket pages by customer
Customized ticket pages allows employees to know about your clientele, this helps them to resolve their problems easily. Such information could be how satisfied a customer is and how many tickets are open.
Related Tickets
The system should be able to allow employees to access recurring requests and the process of answering them all individually. This will make it easy to aggregate the requests and reply to them at once to save time.
Customizable Ticket Submission Form
Purchasing a system which empowers customized fields in customer facing ticket forms is vital for capturing the information you require. This feature will help to minimize the amount of basic follow up queries and speed ticket resolution time.
---
Why do we need a ticketing system?
Importance of ticketing system
There are various advantages which come with a desk software solution for the customers, agents and the business.
Customer satisfaction
Faster ticket resolution
Usually customers are not concerned with what happens with your business, they only care about their own concerns. A help desk will therefore help you to resolve tickets faster and efficiently. Your customer service agents can also use repository frequently asked questions to answer the customer questions faster and improve customer satisfaction.
Keeping the customer in the know
Customers like to keep track of what is happening to their question.  A help desk ticketing system will help you to send out regular updates on the condition of the query and get to know what is happening. Indeed this keeps customers  in the loop of the cycle of the ticket and get to know when it is resolved.
Multi-channel customer support
It is important for customers to connect with the customer service team through the channel of their choice.  Help desk ticketing enables just that. Your customers will be able to raise questions and complaints from any channel-voice, social media etc. Ticketing system enables agents to build tickets despite the channel through which they hit the CRM.
Agent productivity
Automating ticket creation
Creating tickets can be time consuming for a customer service agent. But with help desk ticketing system this can be avoided. The agent will not make a ticket manually, they will create a ticket every time the customer contacts for the same or different issue. This enables the agent to focus on solving the challenge at hand and avoid wasting time when creating a new ticket every time.
Unified agent interface
With a help desk ticketing system will save time and improve the efficiency of agent by reducing the number of clicks the agent has to make to gather customer information or get a task done. A help desk ticketing system enables an agent to have a single view of the customer details-personal information and any past interactions.
Knowledge base
With help desk ticketing system  an agent can create a respiratory or a knowledge base to enable him to answer queries and complaints. The agent is then able to record and store the solution to the query for future refer in case of a similar situation.
Business benefits 
Monitoring and reporting
Help desk ticketing system empowers the supervisor to be able to monitor the functioning of the contact center with real time dashboards and detailed reports.The system enables the supervisor to make informed decisions regarding resource allocation to ensure agent operational is efficient.  
Service level agreements (SLAs)
The help desk system will help you keep track of the service level agreements thus making sure they are not breached. The customer service team will not only be able to set the SLAs but also move issues up in case of priority.
Ticket prioritization
The customer service supervisor is able to set the rules about prioritizing various tickets, he or she can also let agents do so. This is actually important in case of high net income customers or in case of tickets where past interaction with particular customer has not  been satisfying.
Streamline operations
A help desk ticketing system with customer relation management , a business can achieve seamless functioning. The agent is able to do tasks such as creating ticket, assignment, merging tickets, or even editing of the customer information easily and efficiently. With this the business is able to get rid of the challenge with silos. Therefore there are more disjointed conversations and better customer service.
---
What is best ticketing system?
Best helpdesk system for your business
Customer relation is not a not a way for resolving customer complaints and queries but also a way  for improving business competitiveness and boosting sales opportunities. But, with the number of processes involved in providing customer service, this can be quite a challenging task.
To simplify the process we have analysed a list of helpdesk systems to help you find the solution which suits you.
This system is popular for its feature selection, powerful scalability, and great tech support nature. It is suitable for both small and large businesses. Moreover, the system is easy to use and offers affordable plans, making it great for businesses of all sizes. It is also economical as you do not have to hire external tech support or pay high installation fees.
The best part is that Freshdesk allows you to effectively stay on top of all customer queries. A single dashboard can enable you to sort, prioritize and assign tickets.
You are also get several channel support including phone, email, live chat and self-service portal. This means your customers will know you are paying attention to their concerns 24/7.
Highlights of freshdesk include:
Other highlights of Freshdesk include:
Knowledge base

Satisfaction surveys

SLA customization

Corporate branding

Free mobile native app for Android and IOS

Satisfaction surveys
It is popular for small businesses solution for customer relation management. It is best known for its provision of robust ticketing systems and multi channel help desk tools for its users. Moreover it has comprehensive customer relationship management features. These features allows organizations to personalize the experience of every customer that gets in contact with them.
Just like Freshdesk, Salesforce essentials consolidates inquiries from all your communication channels and manage them in a single program. Then they are queued and routed to customer service agents automatically.
The best part is the system has an in built in database of customer information which includes contact details and previous interactions so agents can pick up conversations with ease.
Zoho desk system is suitable for all business sizes. Beside functioning as a ticketing system, zoho desk can also serve as a call center software, and social support software and also provide users with reporting and analytics tool to keep tabs on operational productivity and performance. In addition the software supports knowledge bases, forums and other forms of self service support.
Besides Zoho Desk, enables organisations to collect service requests and inquiries coming from different communication channels.
You can also determine if tickets and customer calls are being routed to the right people,as the information is sorted according to urgency, category, area and other custom criteria before being forwarded to your agents.
The cloud-hosted system is suitable for both small and large business. The best part is it is equipped with ticket management options for multiple communication channels and has a built in call center system that you may access on any browser. Moreover the system allows users to set up self service support options for their customers. The system has all the features you need to create knowledge base or frequently asked questions.